Sexy cars and hot women have had a great chemistry in the history. And it definitely turns out to be the deadliest combination even today.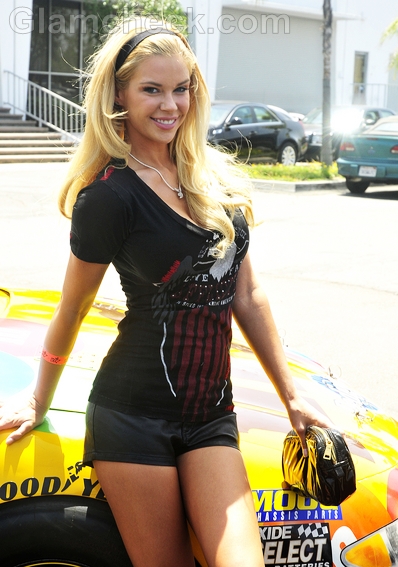 Jessa Hinton in shorts : Celebrity street style
The super sultry playboy playmate model Jessa Hinton was spotted at Perfect Dezign Celebrity Go Kart Tournament to Benefit American Diabetes Association at K1 Speed in Gardena on May 28, 2011.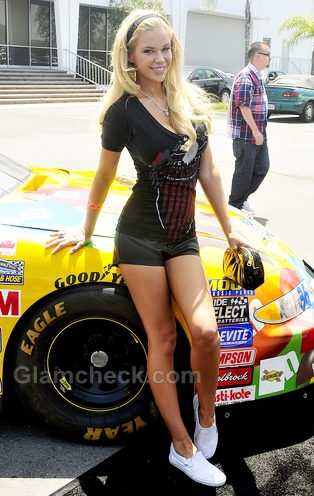 The lively and vivacious model was seen in a look seemed to be inspired from the 90's street style which also seems to be coming back into fashion.
Seen here in a black casual deep neck printed graphic tee and a pair of sap shorts. These looks can be easily achieved as they are easily available in the market. All you need to do is pick up the right color, size and fit, and you are ready to hit the road. The tee and shorts were teamed with a pair of white loafers which again seem to be the latest and comfortable choice.
She kept her gorgeous blonde locks loose with a hair band to keep the hair from falling onto her face. We like the school girl hairdo and it seems to be working quite well for Jessa.  The silver neckpiece is funky and goes well with the entire look. Also the printed pouch is jazzy but she could have picked up something better, like a sling bag or a tote hand bag.
Her makeup is absolutely zilch which only makes it better. Natural beauty is always worth all the praise and appreciation.
Image: P R Photos