Kirsty Lingman and Stephanie Christine sported Hawaiian look at the E3 Expo on its second day. The trade show is meant for promoting video games, however the duo make us want to hit the beach instead of discussing video games.
Both, Kirsty and Stephanie were dressed in a style that had us thinking – Hawaii and The Caribbean.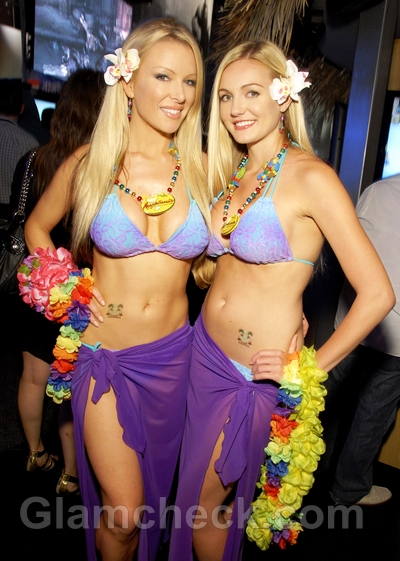 Hawaiian look
The Hawaiian beauties wore turquoise and lavender colored bikinis with matching sarongs that showed off their toned bodies to perfection. They were heavily accessorized with multi-colored beaded necklace and earrings, while garlands in matching flowers adored their wrists, and an orchid was tucked behind each of their ears. The duo also sported matching tattoos on their abdomens, next to the belly button. Both the chicas had left their hair open and wore it straight. Neutral make up added to the beach feel.
Now, that look is definitely something that we would want to sport on the beach or at the poolside with a tropical drink by our side. Even thinking about it brings about a heavenly feel – so blissful!
Image: P R Photos