American actress, singer and songwriter, former child actress Amanda Seyfried sure knows how to wear many hats. What she also knows and does beautifully, is to carry off different hairstyles with ease only industry stalwarts, many years her senior can! We discuss in this article the different Amanda Seyfried hairstyles that were also hugely popular.
Amanda Seyfried open wavy hairstyle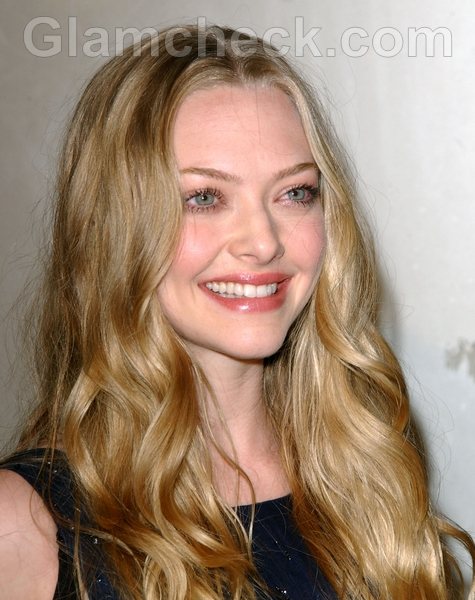 Amanda Seyfried hairstyle : open wavy
This is the simplest to achieve.
Amanda has kept her golden mane open and parted in the middle. Her mid shoulder length hair are loosely layered and cascade down at the front and back ending in loose waves. The look is casual and playful as there is no effort made to have any kind of symmetry to either the parting or the way the hair should cascade down the wearer. Wear this hairstyle with any outfit – casual or otherwise. The loose hair look is best worn to casual outings – perhaps a movie or for an ice cream round the block. This Amanda Seyfried hairstyle will suit almost all face types – including the chubby faced, as the focus is on the hair and not on the face, plus the hair covers the face.
Amanda Seyfried low curly chignon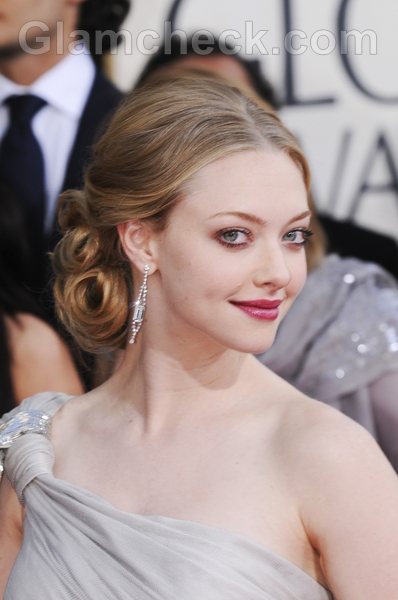 Amanda Seyfried hairstyle : curly chignon
Chignons have always been a favourite at formal events and Amanda Seyfried low curly chignon, is just the old classic style done up in a fashionable new avatar. Amanda has combed her hair back into a sleek style, parting it in the middle and stopping midway. Her curls have been neatly tied into a low chignon resting at her nape. Picture perfect, glamorous and refined are the words that best describe Amanda's hairstyle. Amanda wore this classic style to a red carpet event and wowed everyone around with the effortless charm this hairstyle provided her with.
This Amanda Seyfried hairstyle puts the entire focus on to your face, as it is pulled back. Remember to highlight your best features – they may be lips, eyes or cheek bones. Also ensure that the makeup is perfect.  This hairstyle suits most face types and especially the oval faced. Try this hairstyle at a formal do and appreciative glances are sure going to come your way.
Amanda Seyfried girl-next-door side parted hairstyle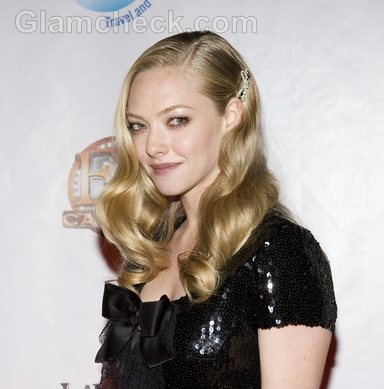 Amanda Seyfried Hairstyle : side parted
Amanda sure knows how to change her image from a sexy diva to the girl next door, by changing her hairstyle. Amanda has parted her hair on one side. The parted hair has been curled and falls to either side of her face neatly. A hair volumising product applied at the end of the hair helps Amanda to get the desired fullness this hairstyle demands, also adds a subtle sheen to the entire hair length.
We love how Amanda has accessorized this simple look by adding a crystal hairclip to hold the hair in its place. Very girl next door and very doable. The best part – this hairstyle is great for any sort of an event – formal, semi formal, casual and will suit almost all face cuts. Go ahead and try this look today and send us your feedback on the impact it had!
Amanda Seyfried loose side plait hairstyle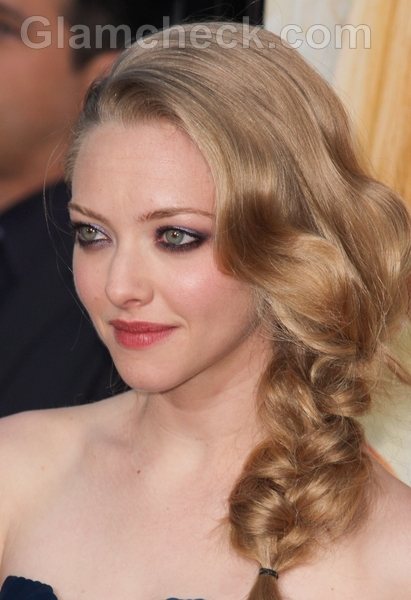 Amanda Seyfried Hairstyle : loose side plait
In this fantastic hairstyle, Amanda has parted her hair to one side and then plaited it, loosely. The plait sits on one shoulder, elegantly. What we love absolutely about this hairstyle and what makes it different from the other kinds of plaits is how elegant it looks, despite being anything but neat! The loose braid style has been rocking the red carpet, with different celebrities endorsing the style time and again.
Amanda Seyfried loose side plait hairstyle is great for formal as well as informal outings. It is simple to do – all you need is clean, blown dry hair to give it some volume. Though this style suits elongated faces, other face shapes such as diamond, square and round look good in it too!
Amanda Seyfried loose beehive with accessory hairstyle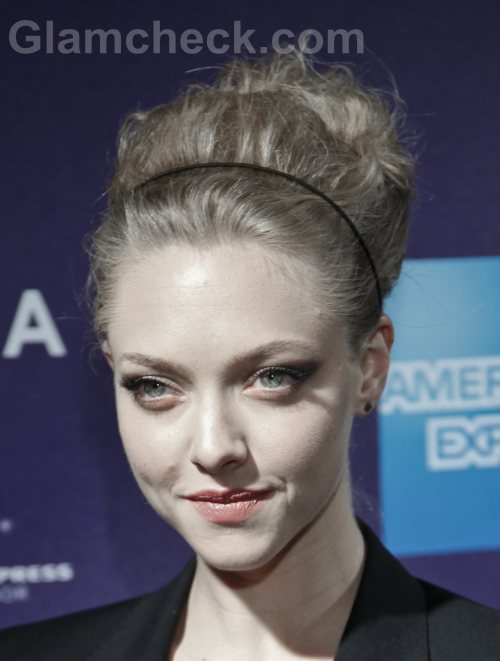 Amanda Seyfried Hairstyle : loose beehive
Again, a popular hairstyle this spring summer is the beehive hairstyle. Essentially, a beehive is a top knot – where all the hair is gathered together and made into a big loose top knot. It is usually worn to casual events, but if you pair it smartly with formal wear as in this case, it can be a great hairstyle for red carpet events as well.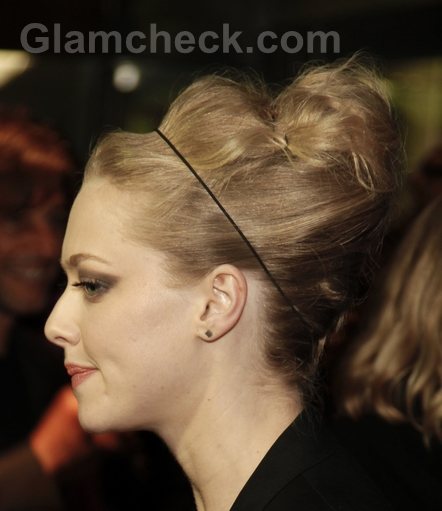 In this Amanda Seyfried hairstyle, Amanda has combed back her hair into a large top bun a la beehive. Her hair has been kept in place with the help of hair clips. She has accessorized her beehive bun with a simple black hair band that goes round her head. Amanda chose to wear this hairstyle with a blazer and this gave an interesting twist to the entire accessorized beehive look. Do pay attention to your face and you makeup, while sporting this hairstyle as it totally brings the focus to your face.
Amanda Seyfried prom loose up do hairstyle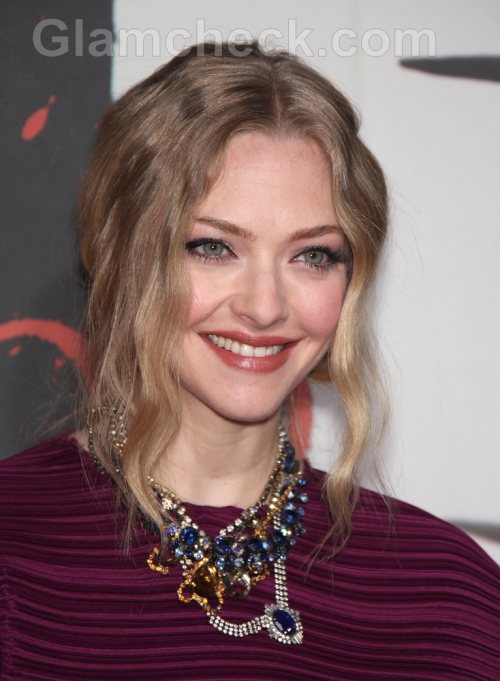 Amanda Seyfried Hairstyle : loose up do
Amanda Seyfried never ceases to surprise us with her style quotient and elegant hair dos. In this immensely wearable loose hairdo, Amanda has outdone perhaps all her previous hairstyles. The hair is crimped into small waves and parted in the middle. Leaving aside a few locks of hair on either side, the rest of the hair has been pulled back and the lower part of her hair has a loosely tied pair of knots.
Amanda's crimped hair really lends her an ethereal beauty and makes this hairstyle unusual, however, that is not the only thing which is unique. It is perhaps the bohemian, flower girl kind of image that Amanda is trying to portray with this look that really clicks. A shine spray adds the much needed gloss to this careless beauty of a hairstyle. Apt for wearing to any occasion – formal or casual, do pay attention to achieving the look as close as possible or you may end up looking like a hairstyle gone wrong!
Amanda Seyfried's romantic up-do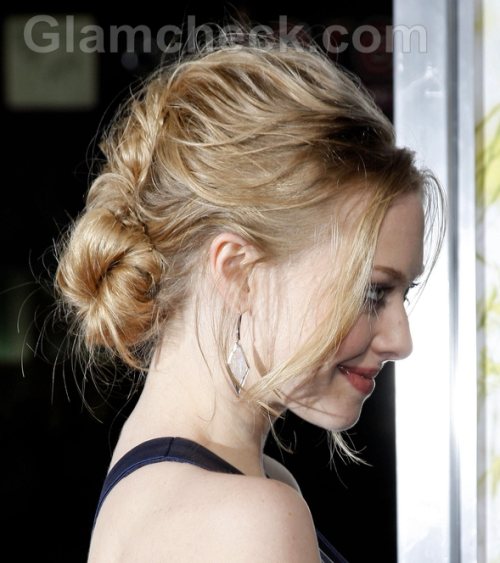 Amanda Seyfried Hairstyle : romantic up-do
Amanda Seyfried's romantic hair up do at the Hollywood premiere of the movie Dear John early last year has gone down in the history as perhaps one of the best hairstyles of the year. It is hardly surprising to see why.
Amanda has once again used her beautiful golden blonde hair by leaving it in a loose, wavy hairstyle she is best known to use at a number of public events. Her hair has been pulled back into a messy way, leaving locks of golden hair dangling around her face. The hair has been loosely pulled back into a knot resembling a French roll, and resting at the nape of her neck. Amanda Seyfried's hairstyle was accentuated by the plunging neckline short evening dress. Wear this whacky, sophisticated hairstyle to an event you please. It is sexy and romantic and will bring out the best in you!
So which of the Amanda Seyfried hairstyles do you like the best and which one would you want to try personally? Do let us know!
Image: P R Photos, Shutterstock