It is definitely a brighter option to be naturally beautiful rather than cosmetics covering your face 24*7 and hiding your actual beauty beneath the thick layer of makeup. It totally becomes a style statement for most of the girls and women across the world if their favorite celebrities are donning the "Sans makeup look". A lot of celebrities including names like Kate Winslet, Angelina Jolie, Salma Hayek and a few more to name have made public appearances without the unnecessary makeup with pride.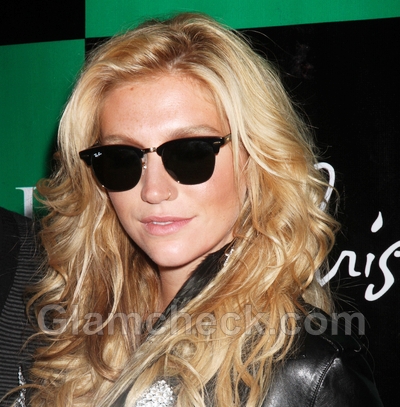 Kesha without makeup
The recent one to join their bandwagon of celebrities without makeup is the young American pop singer-songwriter and rapper, Kesha.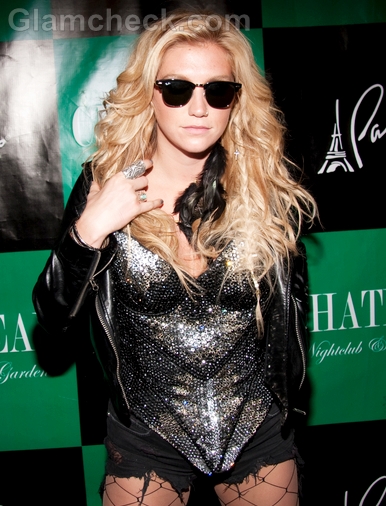 Kesha was spotted at the Chateau and Official "Get Sleazy" Afterparty in Las Vegas. Dressed in a shiny Silver sequined corset, a classy leather jacket, chic frayed shorts and sexy fish net stockings with killer biker boots, Kesha looked every bit of a rock star that she is. But what caught our eyes in a total shock was that she was absolutely without makeup. If I walk past her, I would not even recognize her, unless she is surrounded by a crowd of her fans or photographers. It does become a huge risk for actors and artists, especially when you are out for an event. But there are very few who look immensely beautiful without the makeup too.
It worked for Kesha for some odd reason. We would have appreciated a single coat of lip gloss or lip color, because those nude lips made her look totally dehydrated. But I appreciate the effort to be bold and yet look beautiful in front of the camera without makeup. The most important part was that she looked absolutely comfortable with it. In fact those Ray Ban wayfarers look utterly cool, though it would have been better if the sun shined inside and the purpose of those glasses could have been solved. Her overall appearance gave way for her personality to make an impact. Her usual messy hair and love for bizarre silver accessories complimented her look.
It's always better to be your natural self than letting the makeup make you look like someone who is not you. If you don't believe me then give it a shot, I am sure you would be surprised.
Image: P R Photos