Rose water is a natural, safe and healthy ingredient to add to your skin and hair care routine. Check out the time-tested ways in which rose water can make an invaluable addition to your beauty regime.
Cleanses and Refreshes your Skin
Instead of lathering up with face wash, splash some cool rose water on your face in the morning. Your skin will immediately feel softer and more supple while the delicate fragrance of the rose water will make you feel refreshed too.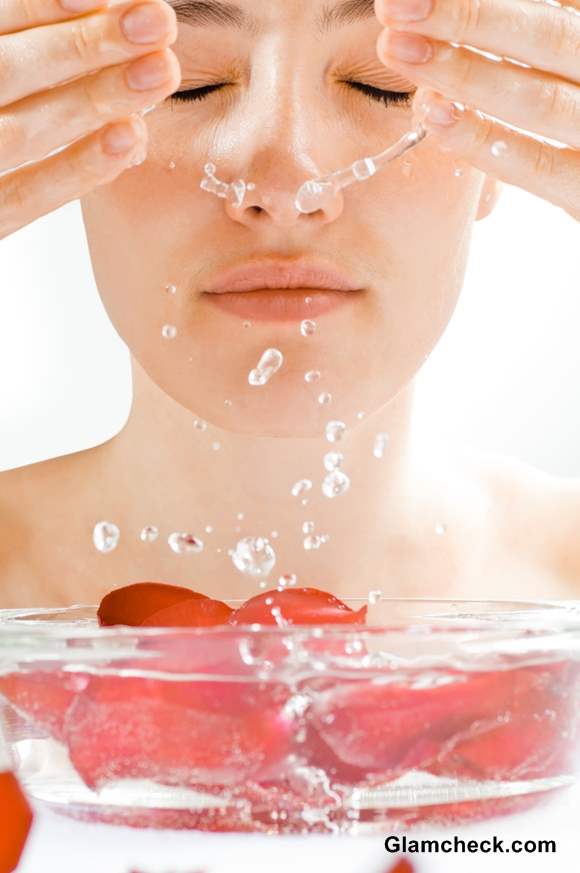 Benefits of Rose Water
What's more, rose water is actually a pretty great cleanser. To use, douse a cotton ball in rose water and wipe across your face. You'll see dust, grime, and even makeup come clean away.
Natural Toner
We all know the basic skin care routine – cleanse, tone, moisturise. Rose water not just cleanses, it tones skin too. What a blessing to have a two-in-one natural product in a world where everyone's pressed for time.
While plain rose water is perfect for dry skin, combination and oily skin can benefit from a little camphor mixed into the rose water. This not just reduces that oily sheen that comes on at noon but also helps to dry up acne.
Plus, it Moisturises
Well, not so much on its own for very dry skin. But rose water does make skin softer and it can be added to oil and then applied on the face for natural hydration and a healthy glow.
Reduces Redness
If your skin has gotten a little red from being out in the sun too long, rose water's anti-inflammatory properties will cool you down and reduce the redness.
Reduces the Appearance of Blemishes
Have pesky pigmentation left on your face from pimples and blackheads? Use rose water on it regularly and watch it fade away. To speed up the process, mix fresh lemon juice with rose water and then apply.
Rose water may also reduce the appearance of under eye circles. Because the skin around the eyes is extremely delicate, you have to be extra careful about what you put on it. Rose water is one of the few substances that is both gentle and safe for regular use. Just apply under your eyes and leave it on. You can do this multiple times during the day and leave it on throughout the night too. This will not only let the rose water work its magic uninterrupted but the subtle, uplifting aroma will also help you get a good night's sleep.
Hair Tonic for Softer Tresses
Dull, dry hair is everybody's problem now thanks to rising levels of pollution. Rather than spend a lot of money on expensive spa treatments, try rubbing some rose water in your hair and on your scalp, leaving it on for an hour and then wash it off. If your hair is particularly dull or dry, mix the rose water with an oil that suits your skin and hair type.
A Natural Conditioner
You can also use rose water in place of conditioner. After shampooing, just massage your locks with rose water. This will make them softer, shinier and will also encourage hair growth.
Eye Cleanser
You've probably had to contend with goopy black gunk in your eye several times during the day, especially if you live in a city. Washing the eyes out with rose water will help to wash that gunk away and make your eyes sparkling clear.
Mouth Wash
This is a little-known use of rose water. Incredibly, it has anti-bacterial properties too which can help to eliminate bacteria that cause bad breath. Just gargle with rose water for immediate fresh breath. What's more, the anti-inflammatory properties will help with any oral pain that you might be experiencing too.
Stress Reliever
It's the smell of roses, really, that transports you to a better place in your mind even though you may not be consciously aware of it. That's why rose water is used in spa treatments like face masks, massages, body wraps and hair treatments. It just makes you feel pampered. There are cheaper ways to get these stress-relieving benefits of rose water.
Add a cup or two of the divine-smelling liquid to a hot bath and soak in it for an hour or two with a good book.
Put rose water in a small spray bottle and put it in the refrigerator. Whenever you feel a little worn out or in need of a lift, spray on some rose water instead of heading for the coffee pot or the cookie jar. You'll feel refreshed immediately and your skin will thank you too.
Other Ways to Use Rose Water
Apart from the methods listed above, you can also use rose water in face masks. Most get you to add water in them anyway to make a paste. Add rose water instead to gain all the natural benefits. You can also mix rose water with your regular shampoo for the same reason.
Because rose water is a safe ingredient, you can leave it on your skin or hair and it won't adversely affect either. There is no wrong way to use it, so as long as you are sure that you are not allergic to roses, experiment with ways to incorporate it into your current skin and hair care routine.
How to Make your Own Rose Water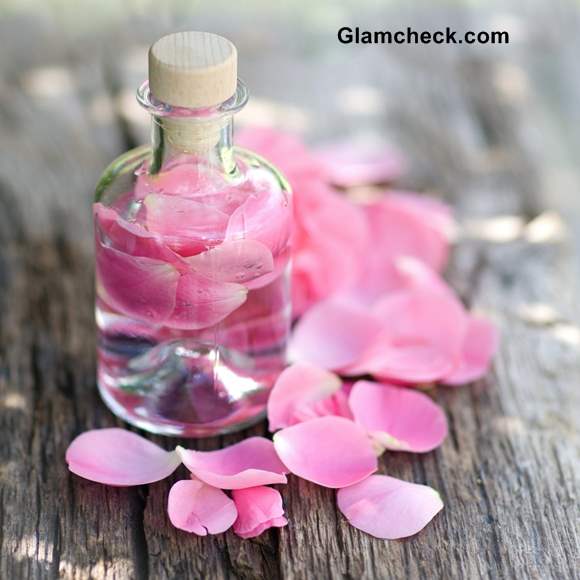 How to Make Rose Water at Home
You never know the chemicals, preservatives and whatnot that have been added to commercially-available rose water so you really are better off making your own. Especially since it is so very simple to make and requires only two ingredients – roses and water.
What you'll need
1. One litre of pure, distilled water
2. 6 cups of rose petals, preferably from roses grown organically
Add both ingredients in a sauce pan and heat till water boils.
Lower the flame and simmer till the pink of the roses infuses the water.
Your rose water is ready. Just let it cool, strain out the rose petals and store the water in a clean container. Don't try making a larger batch than this as this natural rose water, though best for use on skin, will go bad quickly since there are no preservatives. Put it in the refrigerator for a longer shelf life.
Image: Shutterstock