At the recently concluded Black Entertainment Television awards, one hair trend seems to be on the rise – that of having two toned hair colour. It cannot be a mere coincidence that so many celebrities are sporting the two toned hair colour trend at the same event. Let's have a look at some of the celebrities sporting this look.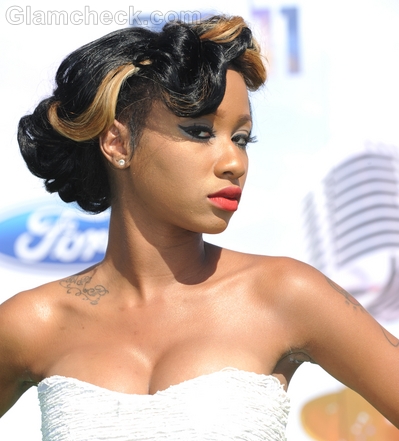 Two toned hair color : Diamond
Diamond's hairstyle was as eye catching as her two toned hair colour. Diamond's short and twisted hairstyle sported not two, in fact three tones. The prominent shade was black, but locks of her hair at front were dyed in dark blonde and a small section of her hair at front was dyed in a light blonde tone. I like the way Diamond is experimenting with her hair style and color – it is subtly different.
Two toned hair color : Free
BET awards saw artist Free sporting a short and funky hairstyle too. The inspiration of her hairstyle seems to come from twists again, with her short hair being quiffed into small sections of upward brushed locks. Free was a little conservative in her choice of the two toned hair colors. She preferred to play it safe and chose shades of brown ranging from dark blonde to golden blonde.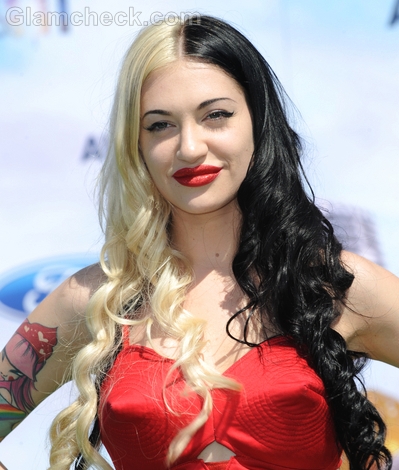 Two toned hair color : Porcelain Black
Now, if the two tones of the two toned hair color look need to be as different as chalk and cheese, Porcelain Black can surely be its poster girl. It takes guts to sport a hairstyle in two diametrically different hair colors. Porcelain has parted her hair in the middle and the two sections of her long hair end on either side of her shoulders in small curves. Each side of the hair parting has been colored in different tones – one a light blonde and the other jet black. The hairstyle is very adventurous, definitely not for the faint hearted, but the question is whether this version of two toned hair color is wearable on a day to day basis or can only be relegated to fancy dress parties?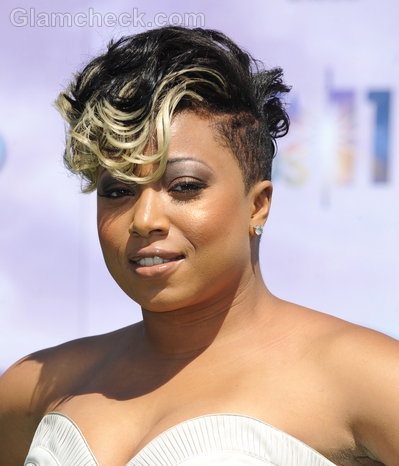 Two toned hair color : Porcelain Black
Demetria Lucas was spotted sporting a short bob, with wavy front bangs. Her front bangs were colored in light golden blonde while the rest of the hair was jet black. I love her short cropped bob and the wavy bangs. The two tone hair color that Demetria uses is practical too!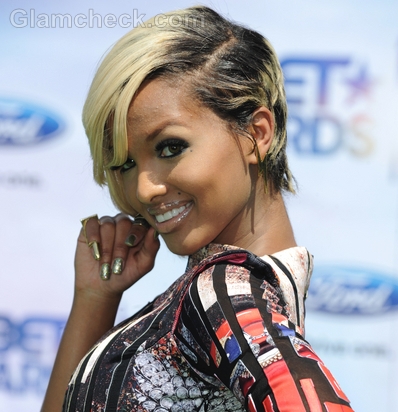 Two toned hair color : Lola Monroe
Blonde seems to be the evergreen favourite with celebrities all over, with Lola Monroe sporting the color liberally too on her front bangs and as highlights with a darker brown shade. Lola's short boy cut looked cute and the two tone hair color suited her overall persona.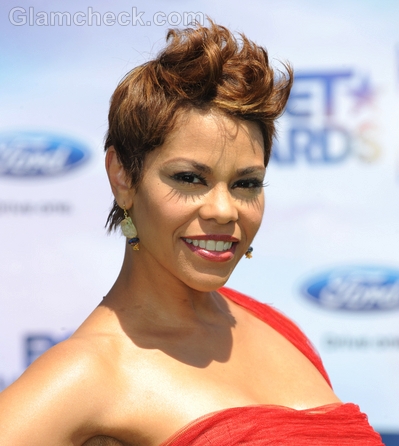 Two toned hair color : April Woodard
We love what April Woodard has done with her hair. The short pixie cut suits her oval face and we just love the two tone hair color she has used – a mix of golden honey brown with just hints of blonde in between. Very smart, adds a lot of class to the super cool hair cut and very trendy.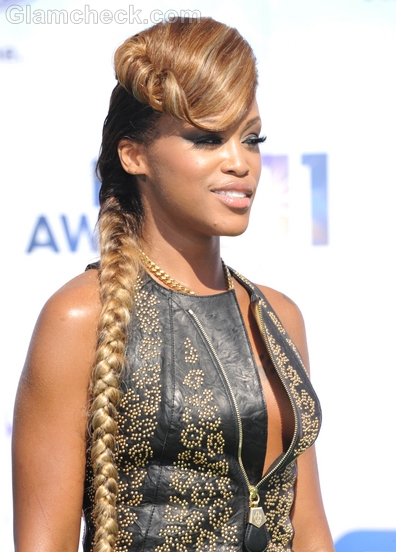 Two toned hair color : Eve
Eve sported a beautiful long braid with a quiff made at the side with her front bangs. Her hair were a mix of golden blonde and black, with the quiff and the end of her plait in the golden blonde and the back of her hair in black. We love Eve's beautiful plait and the hair color too. What do you think about Eve's two tone hair color – is it a hit or a miss?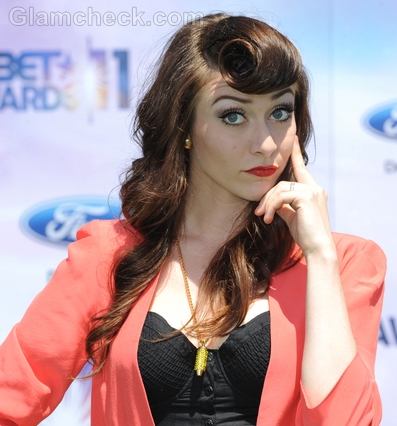 Two toned hair color : Amy Heidemann
Amy Heidemann sported the twisted hairdo too. The front hair was twisted downwards, whereas the rest of her hair was combed neatly to fall all over her shoulders in loose waves. Amy's hair had a rich auburn and deep dark red hint to it. In many ways, Amy played safe with her two tone hair color – I mean you obviously can't go wrong with the two tones that Amy has chosen. Her downward twist notwithstanding, her choice of hair style too was a safe bet. I love her dramatic expression though – it kind of adds to her entire look.
The two tone hair color does not necessarily need to be similar shades, as some celebrities sported. As we can see, the more flamboyant celebrities are endorsing absolutely different shades of color in their hair style. Do you think the two tone hair color trend is going to stay or is it only a fad?
Image: P R Photos