Ever wondered how those girls on television look like they have skin made of plastic or wax? Air Brush Makeup is the answer to this mystery. The flawless makeup that you see, is the magic created by this kind of makeup. Airbrush makeup makes you look like you were born with exclusively smooth skin, pink lips and cheeks. This would be a dream come true, for most women. Airbrush makeup does to the face exactly what photoshop does to a picture.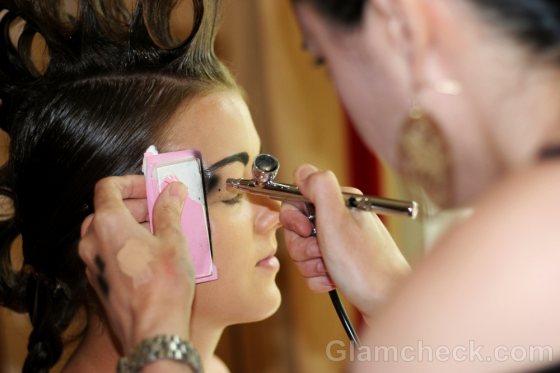 Instead of using makeup tools like brushes or sponges, Airbrush makeup is applied onto the skin in the form of spray. This professional, face and body makeup, is very popular for theatre and films. 
Francis Edgar Stanley created the Air brush makeup in 1876. It is a pen sized wand that sprays out the makeup. The spray provides full coverage and even application.  Air brushing can be used as a tanning or a bronzing agent for the whole body. It is very useful in covering up tattoos, scars and bruises. The cosmetics used in air brushing are high on pigment content and are usually of very thin consistency. There are products available for the eye and cheek makeup too.
Airbrush makeup is used on several areas of the body such as the face and eye lids. Some airbrush makeup manufacturers have created airbrush tanning systems, which gives you a bronzed glow.
There are companies that make airbrush specific makeup. The foundation, blush, eye-shadow or the bronzer all are made by these companies. The product needs to be mixed with a precise amount of water and then applied through the pen/wand. There is a small container attached to the pen that holds the colour or the foundation. The machinery needs a power source, to be plugged into, for functioning.  
Air Brushing is not often used for non-professional makeup. Though, it is very easy to use.
Airbrush makeup Application Process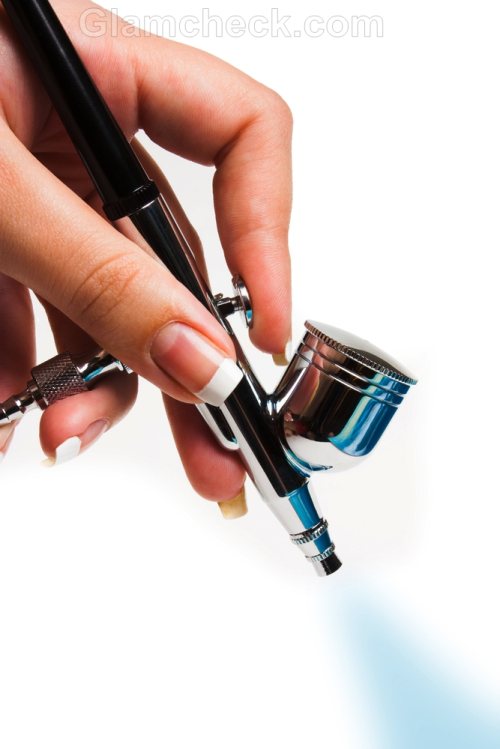 Mix water and the foundation/colour and attach the container to the spraying machine. Different companies have directives of exactly how much water to use with the product.
When the wand is ready hold it about 8 inches away from your face and start spraying, never holding the wand in one place.
Keep moving the wand around your face so as to cover the whole face, evenly.
Keep your eyes closed in order to keep them safe from letting the spray in the eyes.
Let the foundation dry on your face before applying a second coat.
Airbrush makeup for Eyes, Cheeks and Lips
Once you have covered your face evenly with the foundation and have achieved the desired complexion, you can use the eye-shadow and the blush in the same machine. Though, the shape and size of the head or the nozzle needs to be changed, for this purpose.
The benefits of using Airbrush makeup
The coverage is much defined.
The makeup is applied more finely and is more even than its contemporaries.
Conceals imperfections (dark-circles, bruises) much better than other products.
It doesn't give a cakey look to the makeup, even when it is layered. Due to the pressure of the spray, the makeup is set in the skin making it look natural.
The makeup does not fade or rub off easily and has to be removed manually.
Lasts almost a day without touching up.
The airbrush pen does not require as much maintenance as other makeup tools.
Even though it might seem like a free pass to looking like a Hollywood diva every day, this product does have its short-comings.
It is expensive.
The application requires time and isn't something you can use in a car or last minute.
Without any help you might not be able to get the application absolutely perfect as you need to keep your eyes closed during applying the foundation around the eyes.
Cannot be carried around in a clutch bag or a small hand bag like other make-up, which you can just throw in your bag.
Colors
There is a vast range of colours that are available for every skin tone. You can choose from an array of colors to choose from for the face and body. Choose the one that precisely matches your skin tone to get the best effect.
There are also various shades available to suit every skin color for the eye-shadow, lip-colour and cheek-stain.
Several brands deal in this make-up. There is Dinair, Kett, Luminess and Viatek to name a few.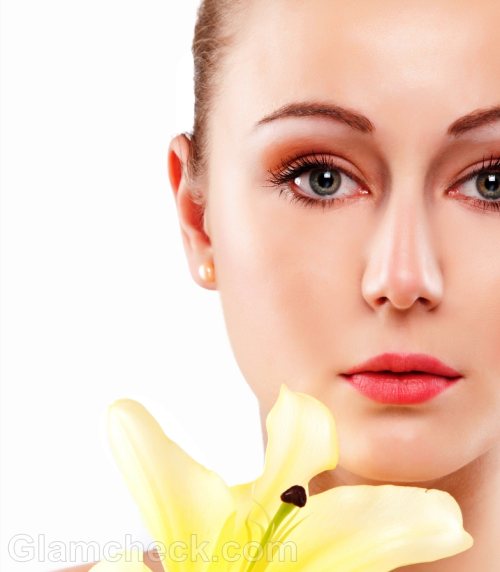 Though the product does have a flip-side to it, those would not be the glitches that would put you off that 'magic wand' that can change the way you look. From wrinkles to almost wrinkle free, patchy skin to flawless no makeup look, pores to no pores, cakey look to naturally beautiful, are just some of the things that might help you over-look the cons of Airbrush makeup.
Airbrush makeup is a one way ticket to non-transferable, smudge-proof and water proof natural beauty. More and more consumers, besides celebrities and models, are opting for this wonderful product that definitely has more pros than cons.
With the magic kit in hand and a few practice sessions you are good to go. Once you have mastered the art, there is never a bad makeup day for the rest of your glamorous days. Though, this comes with a warning: you would be a victim of appreciating stares every time you move out to a public place, with that gorgeous face.
Image: Shutterstock