The latest buzz from the fashion arena is that the classic and much forgotten sneakers are back and they are quite en vogue today. This comfy pair of classic shoes has, after years, finally found its way back into the heart of the glam world.
Watch for all those revered stars who strut their pair of stylish sneakers on red carpet and walk away with oodles of confidence.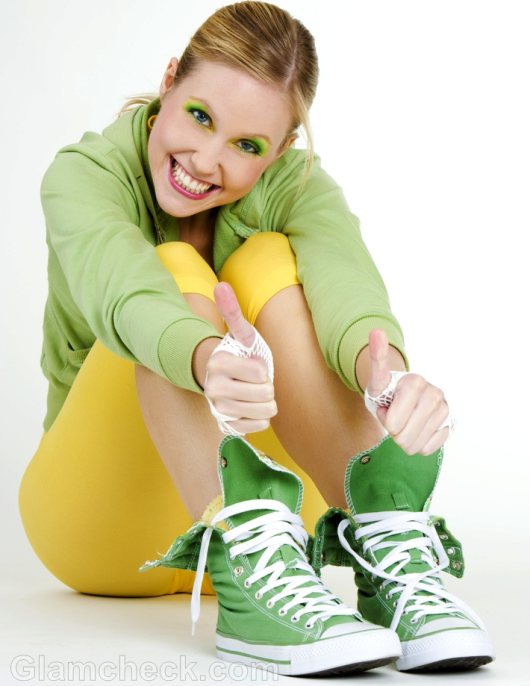 According to the style gurus, a nice pair of sneakers can never go wrong with any dress, but it is important to follow the right direction and steps to team them up with your outfit.
 Here's a briefer on the right steps to wear these shoes with six outfits that are most popularly found in the closets of most of us.
Wearing sneakers with a pair of skinny jeans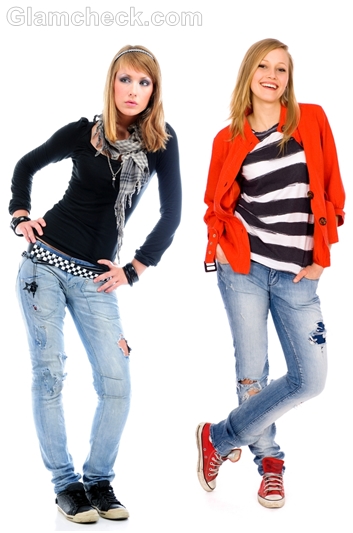 You can count on a pair of skinny jeans for a svelte look any time. But if you pair it up with the wrong shoes, you can invite undue public attention for all the wrong reasons. So, the first step is to slip into your jeans well. Lift up your knees, bend and squat several times to make sure that you are comfortable in your jeans. Next, pull out the bottoms of your jeans and then wear your sneakers. Make sure to tie the laces well so that the bow is tight enough and rightly positioned at the center. Again pull the end of the jeans so as to make them fall over the top rim of the shoes.
Wearing sneakers with Bermuda shorts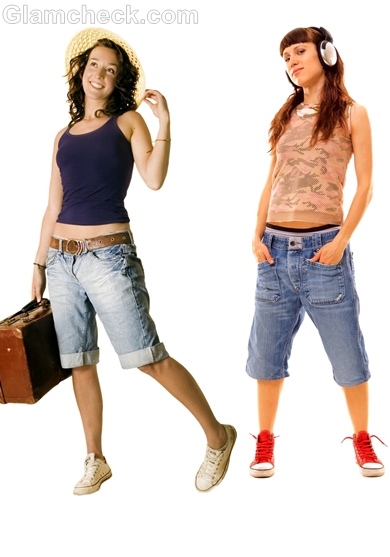 The combination of Bermuda shorts and sneakers makes for a perfect sporty look. However, lest you spoil the sporty look by making some wrong choices, here's how to wear Bermudas with these shoes. The look of the sneakers to pair with this casual dress must always be athletic. Look for colors that'll match with most of your shorts' collection like navy blue, ivory and white. Consider wearing only short socks to complete your sporty look. These athletic socks don't show much above the shoes, hence, are perfect for your exciting sporty endeavors.
Remember to stay away from knee length socks with this kind of look. These socks may look appalling with your outfit and do all that it takes to completely spoil the sporty look.
Wearing sneakers with shorts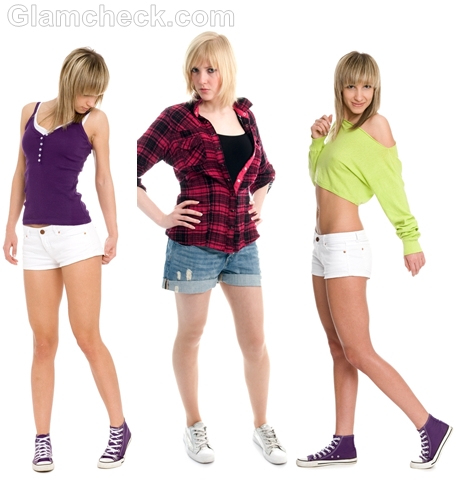 The whole behind wearing shorts is a stylish yet comfortable feel. So, it definitely makes sense to pair ensemble with a comfy pair of stylish sneakers. Since the idea is to make your shoes the center of attraction, it is ideal to wear shorts that fall above your knees. Avoid wearing striped shorts in case your sneakers are printed. Pick a common color for your shoes which goes well with most of your shorts.  Make sure that the shoes are lacy and not too bulky or dressy.
Wearing sneakers with your workout clothes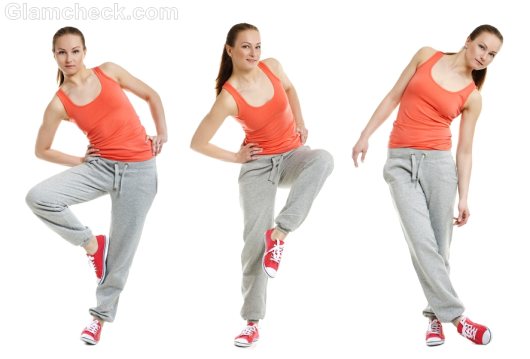 Every workout ensemble is incomplete without the right pair of shoes. Since sneakers have great gripping power they are ideal for your exhausting workout sessions. They are light in weight and have a decent shock absorption power, hence are most recommended for the tiring workouts.
Your loose fitted track pant or lower should not touch the heels of your shoes so that you have enough freedom of movement. For that perfect athletic appeal, wear a plain loose fitting tee with a track pant and further complement the look with a nice pair of sneakers.
 Therefore, there is nothing wrong in investing into a good pair of sneakers that make you feel light and support your physical activities.
Wearing sneakers with a mini skirt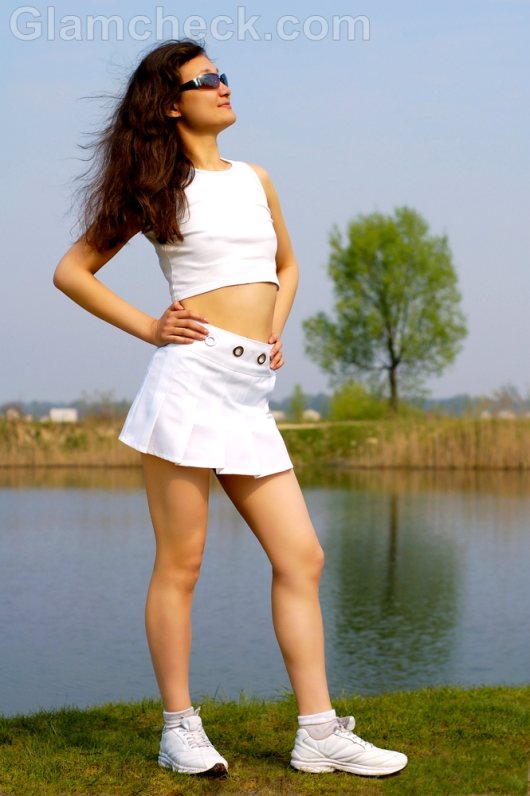 The main idea behind wearing a mini skirt is to show off your assets… legs! If you can team up your petite little dress with a pair of sneaker, then why not your skirts! A loose striped tee with your flowy skirt would just look chic with a pair of striped sneakers. Just make sure that your skirt does not hit the rim of your shoes so that you give eye space for people to notice your footwear and appreciate it. Pick up a silky and nicely pleated skirt to team it up with your sneakers for a sporty and flirty look.
Wearing sneakers with a dress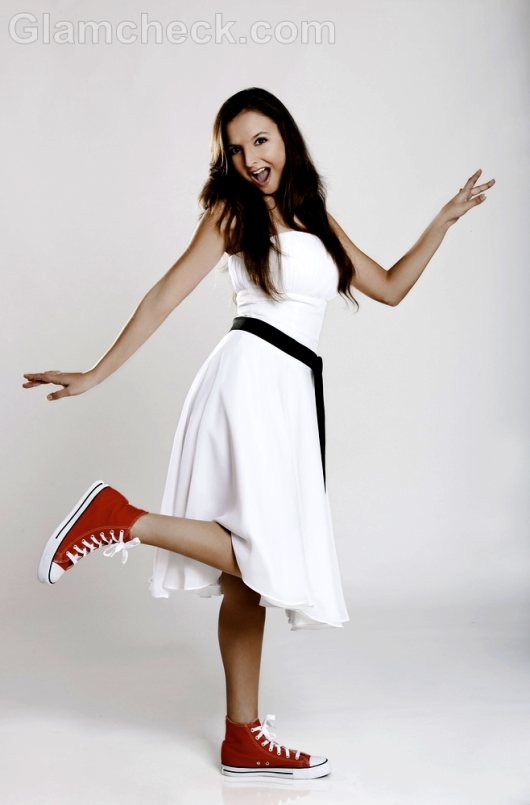 This one's especially for ladies. Sneakers are a great and most importantly, comfortable option to team up with your cute, petite dress. If you are tired of wearing those uncomfortable heals, try slipping into a pair of classic sneakers for the most comfortable yet stylish look. Now the trick is to experiment with colors. The brighter and prettier you're your shoes, the better is your look. So, hunt for the shades of baby pink, red, peach and all those colors that make you look more feminine. Try the combination of high-tops and sneakers for a retro feel. If colors confuse you, try the classic black and white combination, as it never goes wrong.
The right knowledge of how to wear your sneakers with your dress can really make the difference. All you need is some fashion sense and oodles of confidence.
Image: Shutterstock