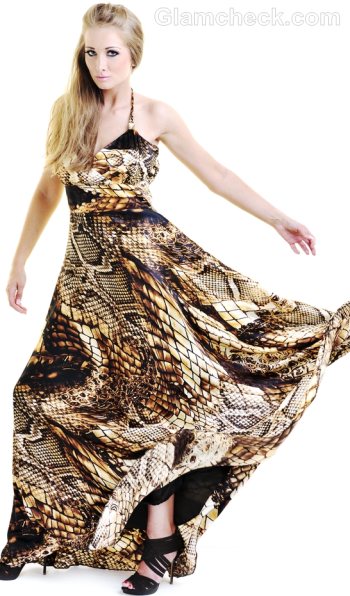 In a time when the fashion changes faster than you can even say 'Fahsionista'- it's very difficult to stay updated and in vogue. But certain things you can never go wrong with, one of them being – The Maxi Dress! !
The maxi dress suits every occasion. It is a perfect garment for day and night both. The soft fabrics used and the long length of the dress besides pretty patterns makes it glamorous enough to transform it from daywear to nightgowns. They are comfortable, stylish and affordable.  So we can sum up the maxi dress in three   "C's": Cool, Chic and Classy.
 Maxi dresses came into the fashion scene in the mid 50's with Marilyn Manroe's iconic white maxi dress flying up the air. It was in high fashion in the 70's and 80's with rock'n'roll and the hippies patronizing it. It was thought the maxi dress would die along with the bohemian clothing style. But the maxi dress never went out of fashion. It came back with a bang in 2011.  It's fashionable yet casual feel and ease to wear has made stars like Nicole Richie, Eva Mendes, Paris Hilton and Jessica Alba incorporating it in their wardrobe.
Types of Maxi dress
The maxi dress comes in various styles to suit your personality and preferences — Maxi dress with a halter neckline, with spaghetti straps, with sleeves, without sleeves, empire waist line and the ones with smocked detailing etc. are available. With the right accessories, you can go from funky and classy to trendy and chic, from casual to formal and from day to night.
Maxi dress for different body shapes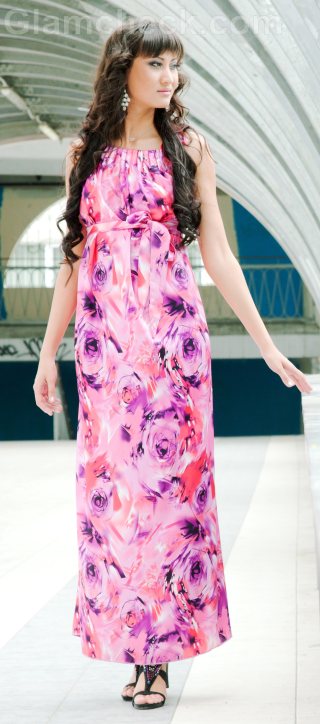 The versatility of the maxi dress is one of its greatest assets. It flatters all body shapes. From tiny girls to moms-to-be to the plus sized, maxis are 'oh-so' flattering.
The trick for getting 'maxi'mum style from the maxi dress is to choose the right type for the right figure. A little error can prove to be a fashion faux pas.
Maxi dress for petite women
The long legged celebrities like Deepika Padukone, Katrina Kaif or Paris Hilton swear by these dresses. On the contrary, if you are short or have a petite figure, a maxi dress can really make you look shorter and heavier. So here the trick is to choose the style that is well-cut – which means you can go for a full-length dress with a V-neck to make you look taller and fuller and gives panache to the look. Dark shades always increase height and slim down the frame.
For a better, neater silhouette try a Maxi dress with a highlighted waist like an empire waist-line. Wear a belt around the thinnest part of your waist to look every bit like a Diva.  The best hemlines/cuts for a small frame are: Straight, A-line and bias-cut which tend to flatten your tummy and give elegance to the garment. To add height wear strappy sandals with high heels. Wedges or high heeled stilettos go very well with the attire. Pick up maxi dresses in dark colors, like greens, black, reds, deep blues and purple and dark brown as they give an outline to your figure. Avoid horizontal and large patterns or stripes that may make you look even smaller and shapeless.
Maxi dress for plus-size women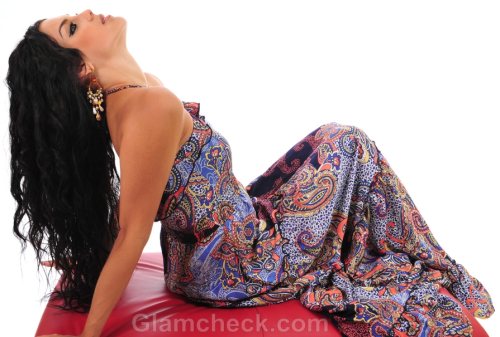 Maxi dress
If you are on the heavier side and have a big bust then the halter maxi dress with thicker straps will flatter your built. Wear small prints and dark hues to trim your size. Wear a broad belt around the slimmest part of your waist to achieve the best look. That emphasizes your waist and adds balance and gives you a leaner frame. Instead of opting for the loose flowy maxi dress which makes one look unattractive choose one that fits closely to your body but still gives you the flirty feel of the dress. Bolder prints on pastel shades make you look sexy without highlighting your curves a little too much.
Maxi dresses in neutral colours go with most accessories as you don't have to think too much about matching. Black, white, grey, brown, blues, greens. The thing with these shades is that you cannot go wrong with the accessories.
Accessorizing Maxi dress

Accessorize the look. A dark hue permits more freedom to experiment with necklaces, earrings, belts, shoes and bangles/bracelets. The long necklaces and wooden bangles are a classic team with these dresses. Strappy sandals go well with this look. Gladiators, wedges and heels are all safe choices as footwear for maxi dresses.
You can add glamour to a maxi dress worn as casual wear with sparkly jewelry and high heels. A clutch purse will definitely dress up the look. A shrug, stole or a formal jacket can be used for the formal look and warmth.
Maxi dress for bohemian look
The bohemian look ads instant feminity to the maxi dress as daywear which is very comfortable yet chic. To accessorize this style use beaded necklaces and bangles. Cross body bags and bright clutches go very well with this look. Wear chunky jewelry and carry an oversized bag to exploit the look. Complement it with oversized accessories whenever possible. For a free and easy demeanour, go for flat and strappy sandals like gladiators in golden or tan.
Maxi dress for a night out
 For the evening look, if you want to ad personality and prefer to look elegant and sophisticated, the single coloured maxi dress is a safe bet. For the formal look add more height with high heels. Maxi dress in chiffons, georgette and silks are great for the evenings, with details like pleats and smocks and plunging necklines. Add instant glamour with a sequined belt or clutch. 
A black maxi dress with embellishments is perfect for a night out. Wear a necklace with big shiny beads, hoop earrings and you are ready for a night of fun and frolic.
Though the maxi dress  is more of a summer wear, for the winter look soft, fitted cardigans, jackets or shawls can be worn.  Teaming up the maxi dress with closed shoes or boots is a fashion disaster and so are horizontal lines.
Once you have mastered this look there is no need to look at the recipe again and never again will you have to sit in front of your wardrobe, in a fix, thinking of what to wear to a party or for a coffee.
 Image: Shutterstock