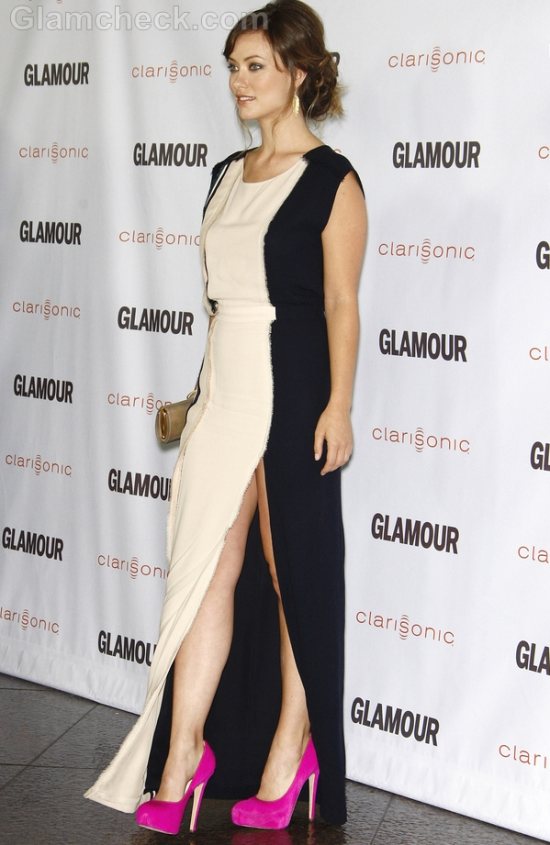 Actress Olivia Wilde is generally quite a hit on the red carpet. But her attire at the premiere of the 2011 Glamour Reel Moments left much to be desired. The event was presented by Clarisonic and was held at the Directors Guild of America in West Hollywood, California on October 24.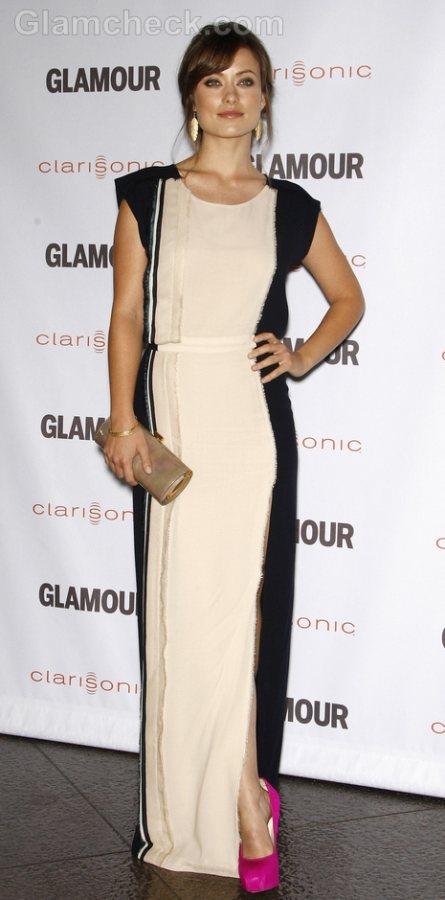 Before we get down to the real downfall of the ensemble – her shoes – let's take a look at the other disappointing aspect of it – her dress. Olivia chose a J. Mendel black and white paneled, sleeveless gown from the Resort 2012 collection. The full-length dress had a slit starting at the thigh and leaving her toned legs and those shoes(!) on display. The dress hung loosely on her frame and seemed to be very ill-fitting. Anyone who looks at her can tell that she has an amazing body and the carriage of a princess. So why she chose such an unflattering dress is beyond us. While the dress itself is not all that bad, we've seen Olivia make much better choices in the past and we wonder how long her fashion sense plans to be on vacation.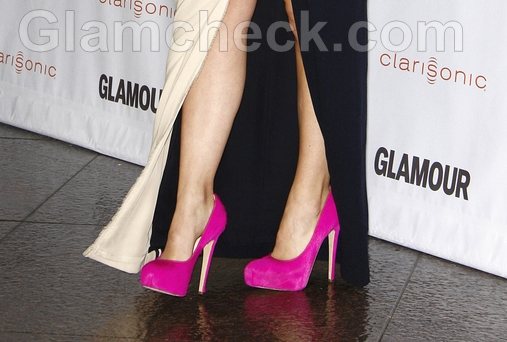 And now to the shoes – a pair of calf-hair fuchsia pumps by Brian Atwood. A blinding pink that's in your face and refuses to be ignored. Granted the outfit could have used some color, but such a bright fuchsia – really? Why not a deep burgundy or a coral red? The shoes she chose just dominated the whole look and drew the eyes to her feet rather than balancing out the look or at least drawing on the stronger points of it like her hair and lovely face.
Thankfully, there's not much you can do to ruin a face as pretty as Olivia's so that at least was the saving grace. She chose a soft shade of red for her lips and went with dark eye makeup. Her hair was put up in a low chignon and her bangs were softly swept to the side. She completed the look with leaf-shaped gold earrings, a simple gold bracelet, and a gold clutch purse. All very nice to look at, but then your eyes are drawn to those shoes again. Try it. Look at the picture and you just can't get your eyes of those shoes for longer than a minute.
Get The Look
Having designer dresses in the wardrobe is every woman's dream. But just because it's in a famous designer's catalog does not make it fashionable or suitable for every woman or every occasion. Try on clothes before you buy them so that you know for a fact that they look good on you and not just on the rack. Very often, you will need to get it altered to fit you well. Take the time and spend the extra money to get this done – it's a worthy investment.
If you want to add color to a plain black and white dress and don't have time to experiment, just go with red because it's the safest choice. Try to add color with your makeup, jewelry and perhaps with the addition of other accessories like a scarf or belt.
Image: Shutterstock