Accessories have the power to steer an outfit to any direction and these can be manifested forms of any amount of creativity and quirkiness as that doesn't destroy the essence of the garment it accessories owing to their size. The importance of accessories is often beyond their functionality as these are subtle ways of making the garments your own and adding your personal taste and touch to it. A lot of times these are mere extension of the personality of the wearer and this makes for a good reason why the feather headbands showcased at Poco Pano's Swimsuit Collection for Spring Summer 2012 during Mercedes-Benz Swim Fashion Week is the choice for the style pick of the day.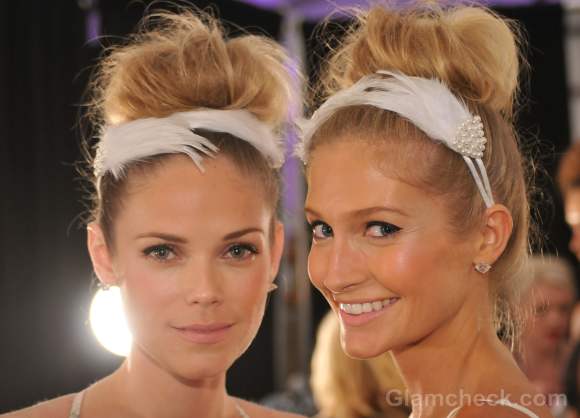 We have seen feathers taking the fashion world by a storm recently and most commonly in the form of earrings, however, the latest translation of the trend is as a headband. How one styles their hair can drastically change how one looks and can have such a strong role to play when it comes to the overall looks and hair accessories have a huge role to play in that.
The delicate feather headband is a great choice for the summer as it not only enables the hair to be off your face when you want them to be but aesthetically the lightness of the feather is appealing and refreshing in a way.
Looks to get it Right:
A fun accessory to wear this season, here are the various styling options and ways to adorn the feather this season:
The first way to get it right is by taking a direct inspiration from Poco Pano's styling. A messy bun at the top with the feather head band pulling the hair back is a fun and a fresh way to do so.
Make it romantic with a sassy fringe and hair tied in a bun with a side parting. Wear the style with a crisp simple cut dress. Frills and flares will only dramatize it further and make you look straight out of a fairytale and that isn't the way to go when one strives for an impeccably stylish look.
The feather headband is perfect accessory for a bohemian look and a great option to go with your resort wear that usually has a tropical inspiration. Match it with the prints of same family and wear it over soft loose curls.
Image: Shutterstock