If there is any category of accessories that uses a huge variety of materials and sometimes so unimaginable and unique, then that is jewellery. Formed out of the most precious and luxurious elements that have ever existed to the most basic natural elements found around us, the variety of elements that contribute to the expanse of jewelry we have seen over centuries is unmatched. Often the crafts of jewellery making are reflective of the state technology and the advance in material technology with everything else. Mankind has not only explored the world and its gifts to us but has successfully created elements if they did not exist.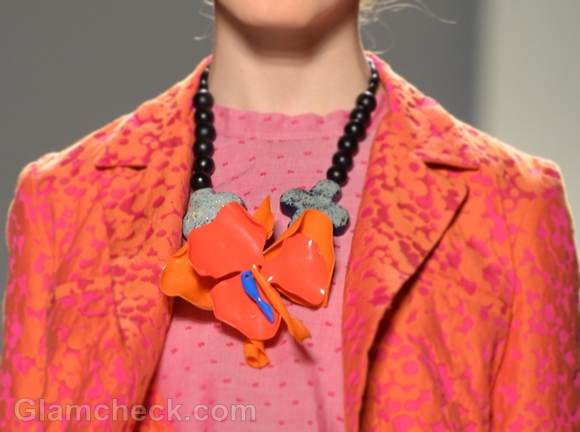 Of many such examples that exist today, plastic is one of the most dominating ones, making its way to Timo Weiland's Spring 2012 fashion show on September 11, 2011 in New York at Mercedes Benz Fashion Week  in the form of a neck-piece. The interesting curation of one of the most common materials has also established itself as our style pick for the day.
The Ramp Cues: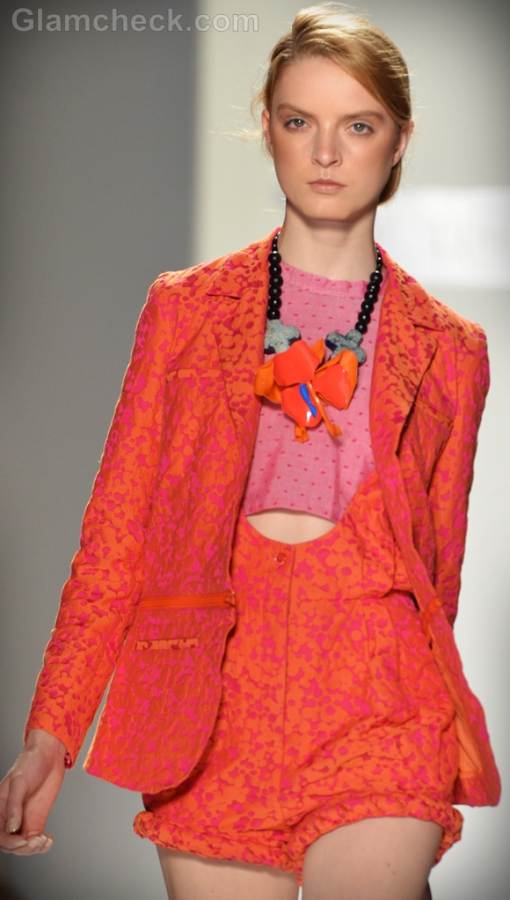 The power of statement jewellery has enabled one to effortlessly complete a look and in a stylish way too. However, fitting a bright orange hued statement piece successfully with a textured jacket of the same hue was more of a challenge but well tackled by Timo Weiland for the show. The look is definitely a daring one otherwise. The tangerine petal forms beaded between black beads looked quite a catch over a layered pink and orange look.
Style it your Way:
One of the best things about jewellery is its versatility and the ability to be used with multiple outfits and in a new way every time. An all tangerine look can be a little more than expected. Here are a few styling guidelines to have fun with this funky piece:
The first idea is to tone down the colors. Use the color of the neck-piece to liven up a monotone outfit. A plain white summer dress with equally funky pair of shoes to match the neck piece is a great day wear option while wearing the piece with darker tones can translate into a night one.
On the casual days of a tank top and denims, the addition of the neck-piece instantly transforms your attire into something one can step out stylishly in.
One can also use the neck-piece as a color blocking element. Teaming the orange with the blues of the cobalt might do the job for you or take the color direction of Timo Weiland and wear the piece over a pink that shouts.
Wearing the piece over prints is one of the most difficult looks to achieve successfully, however if one manages to get it right, the look also makes for one of the most high fashion ones.
When people are treating themselves with so much color, this neck-piece is makes for another reason to do so.
Image: Anton Oparin / Shutterstock.com