Ke$ha highlights her eyes with the Egyptian look. To do it yourself: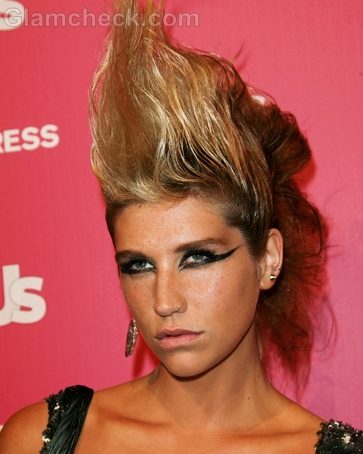 Kesha : Egyptian Eye Makeup and Mohawk Hair
Focus on keeping the rest of the makeup subtle.
The face and lips should sport subtle hues – like beige, or, if possible, nothing at all. Keep the rest of the face scrubbed clean.
Apply some white highlighter or light eye shadow all over the upper eyelid. Don't forget to apply it on the inner eye creases too.
Take a kohl pencil and deftly draw a line, starting from the inner crease on your lower eye lid, going up to your hairline. See that the line is not shaky. To ensure this, you can draw three dots extending from the outer corner of the eye to your hairline, once you do this it will be easier to join the dots – resulting in a straight line.
Next, with the same kohl pencil draw a line on your upper eyelid and join it to the lower line at the outer corner of your eye.
For the hairstyle, Please refer Kesha Mohawk Hair.
Image: P R photos