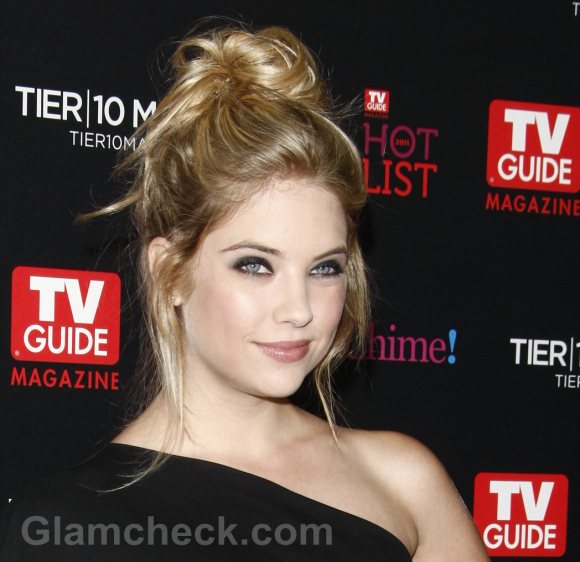 Multi-talented Ashley Benson sported a rocking hairstyle as she attended TV Guide Magazine's Hot List Party held at the Greystone Manor on November 7, 2011 in Los Angeles, California. Of course, the lady looked awesome from head to toe, but her messy top bun was the undoubtedly the focus of her look.
Ashley's honey-blond highlighted hair was casually put up and tied into a shabby little bun that nevertheless went very well with her off-shoulder black dress. In fact, this hairdo was done so well that we can't imagine anything else that would achieve the casual sophistication of her attire. Wisps of stray hair – looking almost accidental in their simplicity and perfection – were left to frame her face and gave an impish appeal to an otherwise purely sexy ensemble.
Steering away from the hair for a bit – don't you just love her makeup? The smoky eyes are extremely  seductive and those lips could tempt even the most happily married men and women to stray. But this sultry babe is out of out of your league, boys and girls; no one's stopping you from dreaming though.
She has never looked better. A full 10, two thumbs up, and five stars – the fashion police will be holding Ashley up as a picture of excellence in style for other style-impaired celebs to follow.
Get The Look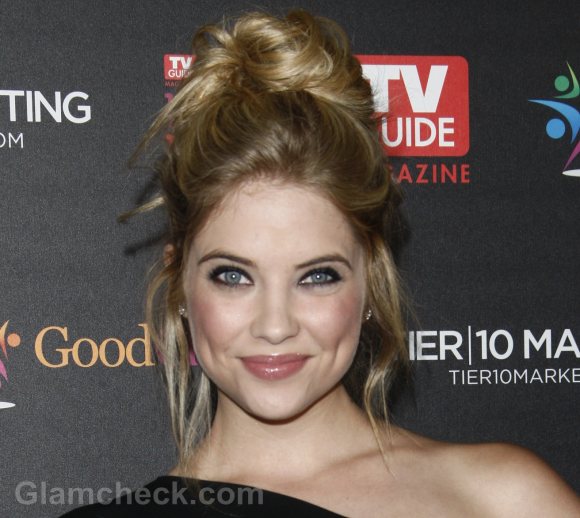 Messy hair would have been unacceptable at a formal do a few years ago. But as Ashley proves, something like a messy top bun is fashionable and does not take away from the elegance of an outfit for a formal occasion, depending on how it is executed of course. Ashley's hair looks casually messy, but it in no way looks uncombed or untended.
Getting this hairstyle done might seem easier to some, while many may find it difficult. Hire a hairdresser if you are keen on sporting this hairdo or ask a friend who is talented in the hair department to help. You can also try out the hairstyle all on your own at home.  Start with applying some hair wax all over your hair & then casually lift up your hair to a high pony tail. Make a casual bun and secure it with some bobby pins. Once you are done with creating the bun, take out some loose strands of hair from the sides with the help of a rat tail comb and you are done.
The shabby or messy topknot/bun can be worn practically anywhere – work, the beach, day events, casual get-togethers – as long as you increase or decrease the "mess" factor depending on the event you are wearing it for. And the best thing about a shabby topknot is that there is no set way to do it – it can be versatile and done up in hundreds of ways. This means that it can be created to suit any kind of face or body type. Now that's rare with hairdos.
Image: Shutterstock