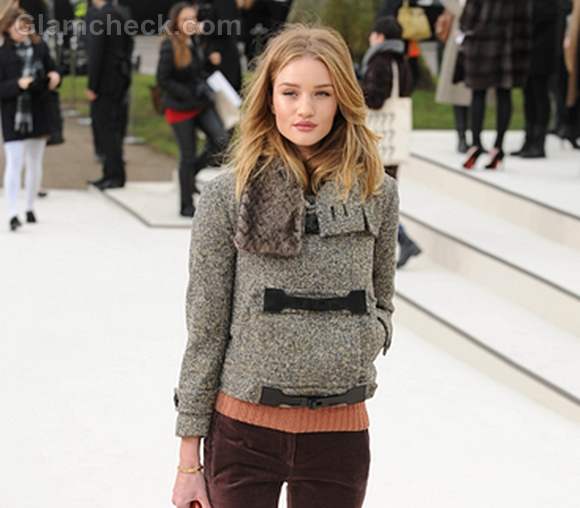 While all the big names in fashion geared up to get their designs right on the catwalk, the audience did their bit too to make the London Fashion Week Autumn/Winter 2012 a crowd-puller. The Burberry showing on February 20 in particular drew many big names to Kensington Gardens. Model and actress Rosie Huntington-Whiteley was one of the attendees who wowed in her stylish ensemble.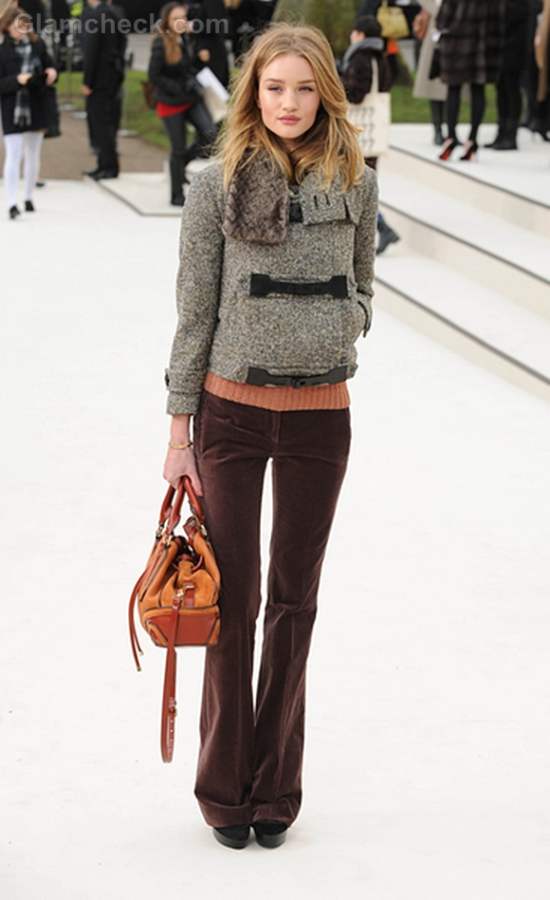 She wore maroon cord wide-legged trousers paired with a peach blouse underneath an absolutely gorgeous grey tweed jacket. The jacket is the piece de resistance of her look and we have to say we've been lusting after it since we saw it. The stunning 24-year-old completed her outfit with a burnt orange handbag, black boots and a gold bracelet.
Her makeup consisted of coral-orange lipstick, light eye makeup and peachy blush while her blonde hair was casually center parted and left loose in a windblown style.
Rosie did a great job of using shades of tangerine tango in her look. We've been seeing the Color of The Year 2012 in all its different hues on celebs and socialites across the world. This very 'in' color and its several variants work wonders in glamming up any outfit. Rosie's bag, blouse and lip color prove that the lovely lady is right on top of things when it comes to keeping up with trends.
Get The Look
Tweed is a timeless fabric that immediately makes you look elegant without even trying. But you have to ensure that your tweed jacket has a modern cut or you will look outdated. Waltz into work in a trendy tweed jacket and be the envy of your co-workers and the pride of your bosses.
Image: P R Photos