Symmetry and circular elements are caught by the eye-immediately and we fancy them more for their shape and structure. Similar is the case with this, de-rigueur hairstyle with which one can easily pass for a movie-star.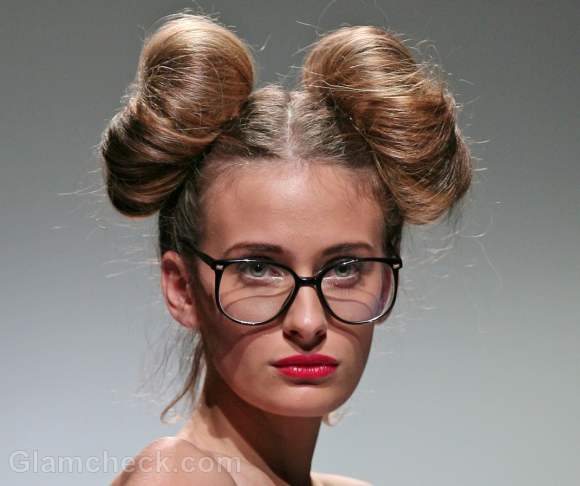 This hairstyle with two-side buns made using hair donuts is a way to be chic without being a show off and can help you beat the heat with instant allure.  Follow these instructions below and have an insight on how-to achieve this hairstyle and glam up to be the Belle of the ball.
Things you need:
Brush/Comb
Hair Gel
Hair bands
Hair clips or pins
Dress sock to create the donuts/Ready-made hair donuts
Hairstyle How To: Donut Side Buns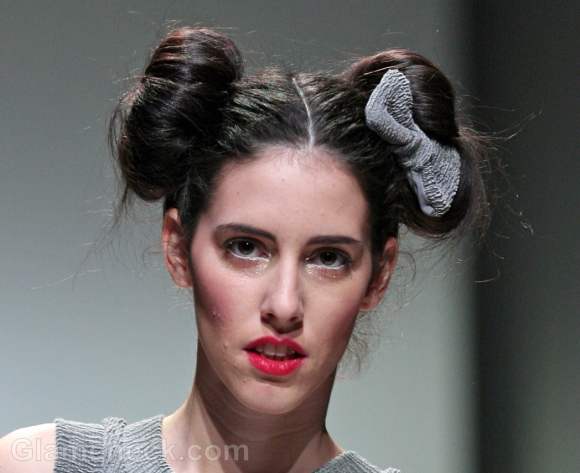 Cleanse your hair with shampoo and apply conditioner if required. Dry your hair with a towel.
Dry your hair with a hair dryer and a round brush. Brush through your hair while drying, so that they become untangled and smooth.
Part your hair into two sections, and apply small amount of styling hair gel.
Tie high ponytails above the ear on each side. Secure them tightly with a hair-tie.
For a donut, take a dress sock. Roll it from the top to bottom uniformly, till the bottom of the tip. Cut the toe from the sock and make sure there are no lumps while rolling. Cut two of such kinds for both the buns. Ready-made hair donuts are also available in the market.
Now, have your ponytail go through the hole made in the sock. The donut should go to the start of the ponytail and fit tight on each side of the head. Repeat the same, to fix the donut on both the sides.
Spread the hair around the donut and make sure the donut is not visible.
Secure the hair around the donut with a hairband and make sure the hair is tight and the bun does not get messy. Tuck in any loose hair falling outside.
Use another hair-tie to secure the ends of your hair to the base of the bun. All the hair should be going in one direction and the loose ends can further be secured using bobby pins.
Repeat the steps for both sides, to achieve double donut buns for your laid-back hairstyle.
Tips:
For a fancier look, add hair accessories or clips onto the bun or to secure the loose ends into the bun.
Use a sock which is either white or matches with your hair-color.
Use a scrunchie for decoration if needed.
To smoothen out bumps, one can start the hairstyle using a hairspray.
Image: Shutterstock