We're always thrilled when we see Milla Jovovich on the red carpet. The actress has an incredible sense of style that rarely goes wrong. The Resident Evil babe didn't disappoint as she attended the 23rd Annual GLAAD Media Awards at the Westin Bonaventure Hotel in Los Angeles, California on April 21.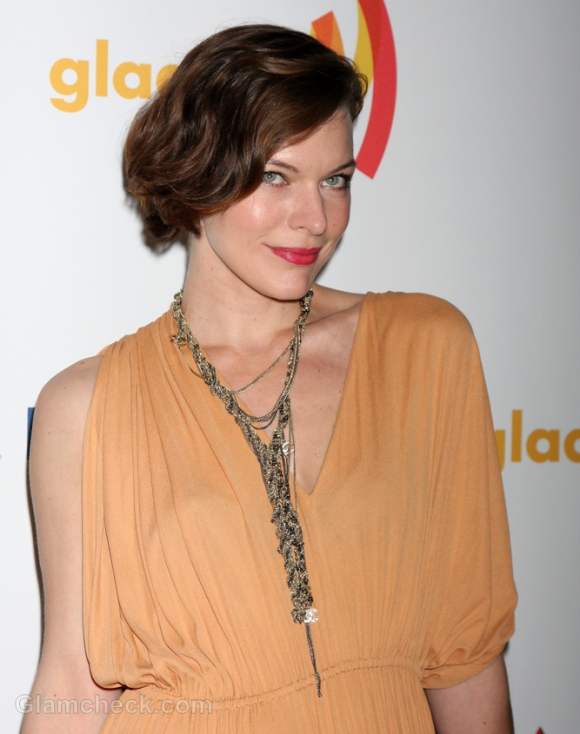 Milla wore a camel-colored vintage Halston gown with a draped style. With a slightly off center V neckline, a draped sleeve on one shoulder and sleeveless on the other, the dress gave off a careless, stylish asymmetrical feel that exuded a confidence only Milla can pull off.
Her outfit was accessorized with gathered gold chains around her neck, tiny gold hoop earrings, a large diamond ring, a black clutch purse with large gold sequins and very trendy nude strappy heels.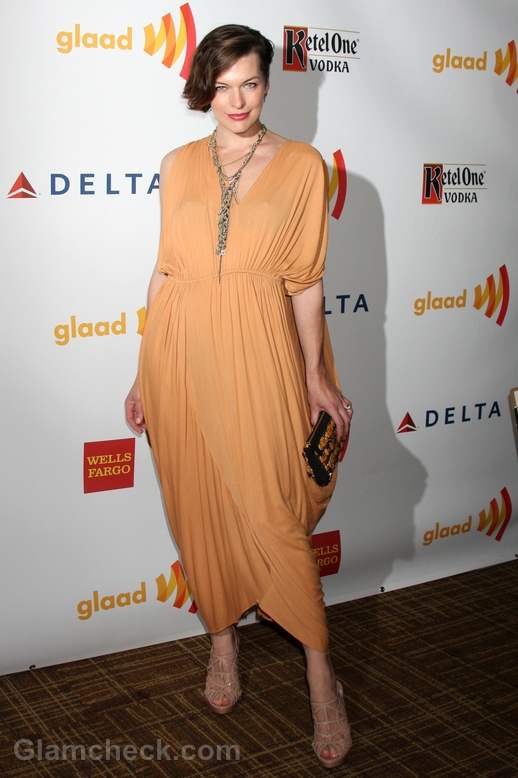 Her whole look from her makeup and shoes to her accessories is all about Hollywood glamor. Nothing demure or deferential about this ensemble. She's gorgeous, she's rich and famous, everybody wants to know her or be her and she knows it. Every bit of this ensemble acknowledges and celebrates that.
Would you just look at that beautiful orange blush she has on. There's just a tinge of it there but it transforms her look completely. It doesn't at all clash with the coral lipstick and it allows her lightly mascaraed and lined green eyes to pop. She brushed her short brown hair to one side to finish off her enviable red carpet look.
Get the Look
Spring is here and summer is very close on its heels, ladies! Bring out the colors and the lighter shades which have been tucked away in your closet since winter!
Milla's camel-colored dress is an inspiration to begin wearing lighter, earthier shades for the season.  Various lighter hues of brown, orange and green are wonderful for summer attire. Earth colors look good on all skin tones and are well-suited to versatile garments from shorts, tops, shoes and scarves to dresses, skirts and hats.
Accessorize your earth shades with gold for maximum effect. Tribal jewelery also looks quite dramatic. Avoid silver as it has a tendency to fade into earthy tones.
Image: Shutterstock