You've probably been using hair spray for years. Or maybe you just started using hair spray and are looking for more information on the subject. Hair spray is a common hair care product on most bathroom shelves today. It is taken for granted that this is a necessary part of hair care and it is used without much thought. Of course, the results are undeniable. Hair spray works wonders in keeping your fancy hairdo in place. It gives your hair a finished look which makes all the difference in the success of your ensemble. Looking good makes you feel good as it boosts your self confidence. So yes, hairspray is a godsend and we're thankful for the invention.
Like all things in life, if you know what you are doing with hair spray, you'll use it more efficiently and it will have better results. Some folks just have a knack for using hair care products right from the first shot. Some of us take a little time getting there. Then there's a few of us who will use something for years without really knowing whether we're doing it right. For those in the last two categories, here are some tips you should keep in mind when using hair spray.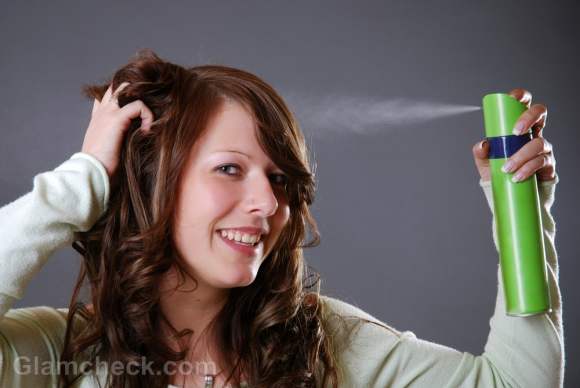 As for those in the first category, don't forget to leave a comment if there's a hair spray tip you know of that we left out.
Is Hair Spray Safe?
No beauty product is 100% safe. They all have potential side effects which only become apparent in the long run. Hair spray is no different. Like all beauty products, hair spray contains hundreds of chemicals which are bad for your hair and can be bad for your health too. Let's take a look at some of the side effects of using hair spray.
Some of the gases used in hair spray are flammable. If inhaled on a regular basis, they can be poisonous and even cause death.
Frequent use of hair spray can lead to acute poisoning. Some of the symptoms reported by patients of hair spray poisoning include low blood pressure and difficulties in breathing. Some have even gone into a coma.
Using hair spray can cause lung problems in the long run. Thesaurosis, a condition characterized by the presence of foreign substances in the lungs, is often linked to the use of hair spray.
Hair spray may cause allergic reactions in some people like sneezing, rashes, red eyes or itchiness.
Many hair sprays contain propylene glycol – a substance that is characterized as a carcinogen, which is a cancer-causing agent.
Different Types of Hair Spray
There are hundreds of different types of hair spray in the market today. Hair sprays for curly hair, those that imbue softness to tresses, heavy hair sprays to harden hair into shape, lighter ones that give a more bouncy, natural feel… the list is long and varied.
It's impossible to say which hair spray is right for you. Even you would be hard-pressed to come up with an answer on the spot because your hair spray needs will differ depending on the hairstyle you're planning on wearing. There are some basic types of hair spray which we will briefly cover. You may realize that you need more than one type.
Light Hold Hair Spray
As the name suggests, light hold hair spray is the kind that will tame your unruly tresses for just a few hours after it is sprayed on. This type of hair spray is also used to prevent frizz after a perm. The texture is a little sticky until it dries.
Medium Hold Hair Spray
This has a little better holding power than light hold hair spray. It allows better control over hair and does not make hair sticky or heavy. However, this generally works best for those who have easily manageable hair in the first place.
Super or Strong Hold Hair Spray
If you frequently spend a lot of money on complicated hair styles, then this is the hair spray for you.  It will make the hair stiff to the touch and will freeze the style until you wash your hair. Also useful for those whose hair is difficult to manage.
Restructurant
This hair spray is actually a spray-on conditioner. If you have badly damaged hair then this is the right hair spray for you. It makes the cuticle layer smooth and your hair will feel softer and easier to brush and style.
Hair Spray for Shine
Damaged, dry, dull hair which is prone to frizz will benefit from this type of hairspray. It adds instant gloss and shine to hair in addition to making it more manageable.
Remember that these are just the basic hair sprays. If you have recently straightened or colored your hair, you'll find specially-designed hair sprays for that too. Ask your hair stylist or salon which hair spray they would recommend for your hair type. However, do not go on their word completely because they are usually just trying to up-sell the products in their salon that they get a commission on.
Tips for Using Hair Spray Properly
Once your hairstyle is finalized, hold the can of hair spray about 12 inches away from your hair and start to spray.
Move across hair instead of focusing on one spot so that the mist covers your hair evenly.
If you want extra hold, bring the can closer to your hair and spray until you feel the hold you desire.
Most hair spray cans will have written instructions about how long to spray your hair. However, it is really a matter of personal preference. You will feel your hair begin to harden a bit when you spray the product. Stop when you feel like it is holding strong enough for your purpose. For example, if you are just heading out for a casual evening and your hairdo is simple and no-fuss, you will need less hair spray. If you spent a couple of hours in front of the mirror doing your hair up in a complicated style then you will obviously need more hair spray.
If your hair is prone to high static, then mist a thin layer of hair spray on your styling tools like your combs and brushes. This will help to prevent static and thus frizz.
If you want more volume, you can easily achieve it with your hair spray. Flip your hair upside down and shake your hair. Now flip hair back to normal. Take individual strands of hair and give them a little mist of hair spray one by one. Allow each strand to dry before you move on to the next. You don't have to do this to each and every strand, of course. Just to those at strategic locations on your head which will give the appearance of more volume and body.
Here's a tip to style bob cuts. Lift the hair on the upper most layer and spray at a forty degree angle from below the hair. This will make the bob really stand out.
If you have oily hair, hair spray can help to prevent your hair from getting oily too soon after a wash. A small amount of hair spray applied on clean hair will help your hair to remain oil-free a few days more than usual. However, keep in mind that this tip should only be used if really needed and not as a general rule.
Hair spray can even work to tame just a few tresses here and there if you'd rather not use it all over your hair. Just spray some hair spray on your hands and apply on cow licks or any dry tresses that refuse to set in.
Precautions to Take While Using Hair Spray
There are hair spray shields available which are like visors with handles. You put this against your forehead when you are spraying the hair spray and any residues of the hair spray mist collect on the visor. This prevents the spray from getting on your skin or getting in your nose or eyes. Hair spray shields are a worthy investment if you plan on using hair spray on a regular basis.
Before spraying, ensure that the nozzle of the hair spray can is clear and not clogged by doing a test spray in empty air. If it is clogged, then the spray will not be emitted as a fine mist but rather as a sticky fluid.
Always apply your hair spray near a window or in a room that is well ventilated so that you reduce your risk of inhaling it.
Hair spray has alcohol and other substances that dry out your scalp. So ensure that you do not spray directly on the scalp. Also, spray in the direction of the ends.
Those with oily hair should avoid hair sprays which are made to provide extra shine as these contain ingredients which will make hair look super oily.
Wash your hands after using hair spray.
Do not use hair sprays if your are pregnant.
Store your hair spray in a cool, dry, dark place away from sunlight.
Do not use hair spray near an open flame.
Do not use hair spray when you stop for gas at a petrol pump.
Image: Shutterstock