The Burberry Prorsum fashion show at London Fashion Week 2012 in Kensington Gardens on February 20 brought in more celebs than any other presentation. Many of the invites said the reason they were there was because Burberry offers contemporary and within-reach fashion and they could not wait to see what their Fall/Winter 2012 collection had in store.
One self-proclaimed Burberry lover who we liked the look of was Leah Weller. She was a regular throughout London Fashion Week, turning up in a variety of gorgeous outfits, sometimes alone sometimes with her mod rock dad Paul Weller. We love the whole ensemble Leah donned during the Burberry showing.
What She Wore: Floor-sweeping black skirt, khaki jacket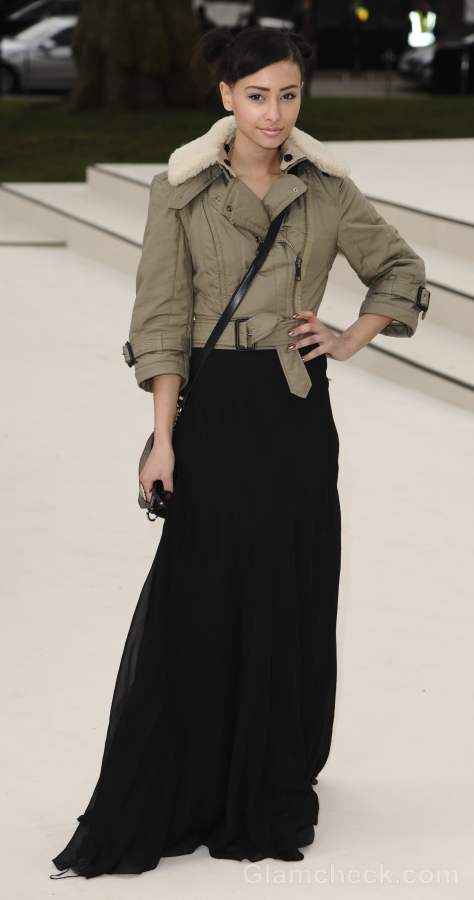 A khaki jacket with a wide fur-lined collar made up the top half of Leah's outfit. Zippers and clasps accentuated the arm-length piece and gave it an outdoorsy look.
She paired the jacket with a full-length flowy black skirt that contributed to the femininity of her ensemble. Leah accessorized her outfit pretty simply with a black sling purse and a large ring with a turquoise-colored fixture.
Hair & Makeup: Natural makeup with gold accents, messy ponytails, golden nail polish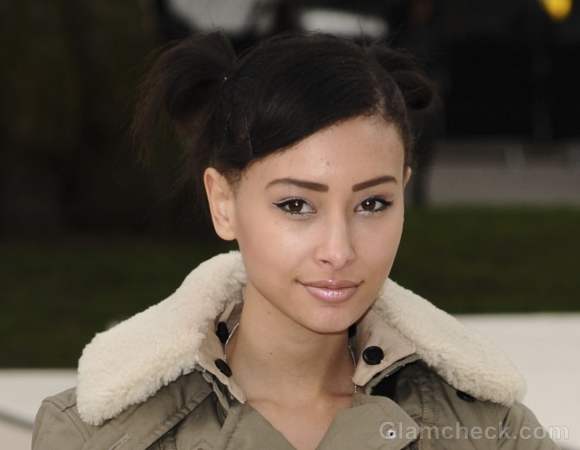 We love Leah's hair and makeup because they are both glamorous and girly. We first noticed her bronze nail polish. The metallic touch is very fashion trend 2012. She must like the look too because she also had delicate gold accents around her winged eye makeup. The rest of her face was done up in natural tones.
Her hairdo was super-cute. Swept back from a side parting, her brown locks were then teased into sightly messy, doubled-over ponytails. Her long, edgy bangs, which we saw a lot of during the rest of fashion week, were pinned to the side to lend an air of schoolgirl neatness to the hairstyle.
Image: Shutterstock