Gloves have a way of enhancing your feminity, what with Queen Elizabeth I taking them on and off during public ceremonies to draw attention to her beautiful hands way back in the 16th century!
 And they were a plenty in different fall winter 2012 fashion shows the world over strongly leading us to believe that the Glove trend is going to be steaming hot the coming winters!
Elbow length Gloves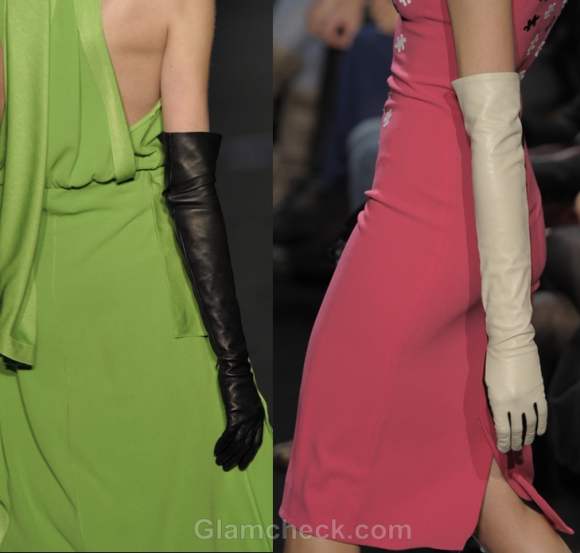 In her Fall-Winter 2012 presentation in Lincoln Center during New York Fashion Week, earlier this year, Diane Von Furstenberg used elbow length gloves with almost all her dresses, adding to the charm and enigma of the runway models.
The opera gloves were in soft leather for a classy drape and great fit and mostly in neutral shades such as ecru and black. Paired with bright neon color dresses such as a bright green or a strawberry pink, these looked great!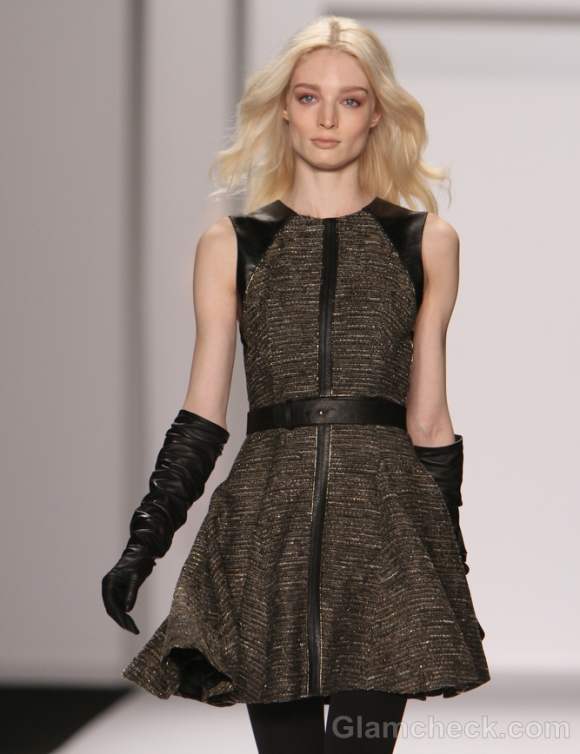 Designer J Mendel too used the elbow length gloves in the runaway collection. These elbow length gloves had more gathers to them nearing the elbow, making them a bit more contemporary and stylish than the staple gloves used by Diane in her collection.
Mid arm length gloves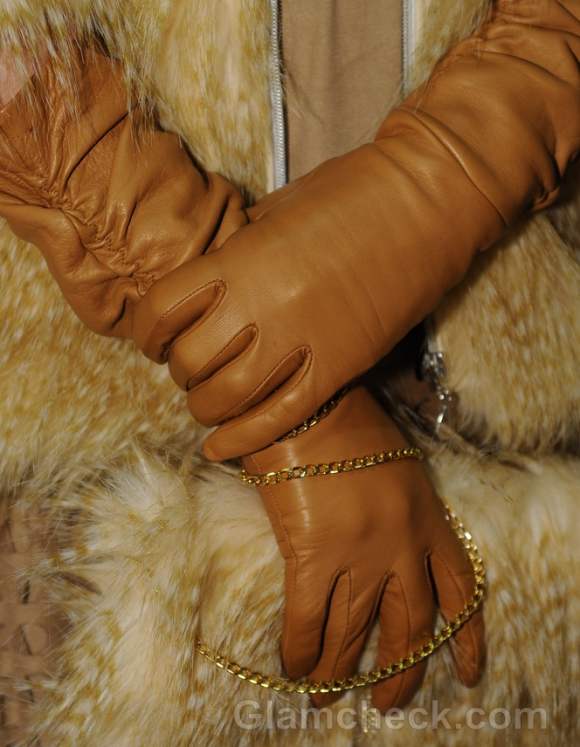 The trend of leather gloves continued in the Belarus Fashion Show for Fall/Winter 2012 presentation in Moscow Russia, where the gloves became shorter, barely reaching mid forearm and of thicker leather, also accentuated with chunky metallic chain. The color though remained a neutral shade of tan.
How do you make this trend work for you?
While the designers show you the trend, we at Glamcheck.com guide you to make the trend work for you.
Material and trimmings
Leather seems to be the obvious choice for gloves, as it not only protects you from the cold, but looks great and classic with almost all attires. You could however choose the more contemporary knit gloves with your denim jeans or dress. If you are game for more excitement and drama, team your outfit with gloves made of lace ( look great with feminine, delicate dresses, skirts), suede( look great when paired with leather pants/ skinny jeans) or even gloves accentuated with fur, ruffles, chains or studs. Animal print gloves are also doing the round and they look great and break the monotony of a neutral colored outfit.
Long or short, loose or tight?
We just saw that the length of the gloves could be till the elbow, or just above the palms. While these two are the most popular lengths of gloves, gloves, reaching mid upper arm are also not uncommon.  So how do you choose the length of the gloves?
It is usually the kind of attire that you want to wear, that decides the length of the gloves. Classy attires such as a little black dress, a gown or a mermaid skirt look great with long gloves. Usually these are fitted and not rouched or slouchy as the look is vintage and classy.
The short gloves, usually covering just your palms or a little above the palms are more for casual outings and smarter look. Owing to the volume of the gloves and the attires these are teamed with, these tend to be more relaxed and represent a laid back attitude.
The coming winters, try out something new, stretch your comfort zone and try out a new style of glove. They are a great way of adding oodles of feminity to your get up. Choose from the many varieties available in the market and do let us know how you made it work for you!
Image: Shutterstock