Dark lips might occur as a result of unhealthy diet plus unsuitable lipsticks. Some other causes of dark lips include excessive consumption of tea and coffee. The best way, therefore, to avoid the occurrence of dark lips is eating healthy as well as stop the use of local and cheap lipsticks. Many a times, lips may also become dark as a result of food allergy. So, go for a food allergy test.
Well, dark lips is no more a matter of worry as there are numerous time tested remedies and makeup tips to treat and hide them. You do not need to follow any drastic methods to do away with this problem. The best way, however, to reduce the occurrence of dark lips is exfoliation. Being soft, lips cannot be exfoliated as often as other parts can be. Lack of exfoliation is, however, responsible for dark lips. The lips can be exfoliated best while brushing the teeth. Try to rub the brush gently on the lips to do away with the dead skin cells thus making way for the new ones.
Another way of exfoliating lips is applying glycerin onto the lips followed by putting on some lemon juice and let it get soaked by the lips. Then, open your mouth to tighten the lips followed by gentle rubbing with fingers, just like brushing your teeth. You will notice the dead skin going away. Follow the exfoliation process with application of Vaseline to make the lips softer.
Yet another way of lip exfoliation is to rub them gently with a toothbrush soaked with Vaseline onto the lips. Besides, you can also go for purchasing an effective exfoliate from the market. The key purpose behind exfoliation is removal of dead skin cells which get accumulated thereon.
Lip makeup for dark lips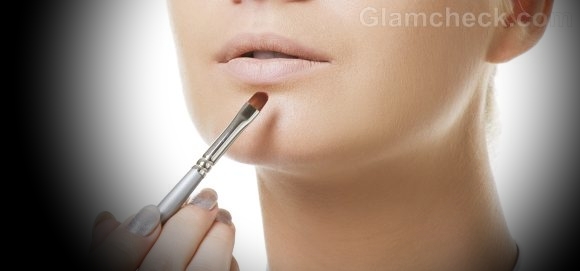 Makeup Tips: How to lighten Dark Lips
In addition to treating dark lips through exfoliation, these can also be flaunted with some clever makeup techniques. Makeup application on dark lips should be accomplished in the following manner to cover the dark lips and get that cheeky look.
Foundation / Concealer
After exfoliation, another essential component of a makeup kit while applying makeup on dark lips. Even though foundation doesn't do much, it is helpful in lightening dark lips thus making it more convenient to go ahead with the lip makeup. Pick up a skin suiting foundation or a concealer and apply it over your lips followed by dusting some loose powder to set it.  Read how to apply lip concealer in detail.
Outline and lipstick application on dark lips
After you are done with the base makeup, it's now time to color your lips. Make sure the shade of the lip liner should match the lipstick instead of being a shade darker or lighter. Use a brush to fill in the color. You can also use the tube directly. Accomplish the procedure by blotting out the excess lipstick with a tissue paper.
Lip gloss
Finally, conclude your lip makeup by topping the lipstick with a gloss.
Makeup tips for dark lips
Those with dark lips are acquainted with the irksome extent of applying makeup on them. Many times, the lip shade applied onto the lips reflects a completely different shade. Also, sometimes even the dark color of the lips begins to show up from behind the lip shades. Furthermore, the problem gets even worse if the lips are flaky and dry. Well, keep the worries away and have a look at the solutions to this problem. Here are some quick tips to be taken care of while applying lip makeup on dark lips.
The primary makeup tip for lips is to know the reason for the problem. Some women might have dark lips naturally. Once the reason of the problem is revealed, it gets easier to select the makeup options for dark lips.
Another useful makeup tip for dark lips includes using a moisturizer or Vaseline on the lips. This would help the lips to stay hydrated thus preventing them from appearing darker on getting dried up.
In case of flaky and dark lips, you can try applying Vaseline and let it work overnight. Wash it away properly with water. This would help moisturize the lips in addition to providing a better look for the lip makeup to be applied on dark lips.
As concerning cosmetics, try investing in good brands. Prolonged use of local lip makeup cosmetics sold by roadside vendors can lead to dark lips.
Darkening of lips can also be a result of using lipsticks that contain excessive amount of lead. Therefore, it is advisable to go for mild lipsticks which are not armful for the skin.
Furthermore, lips can also become darker if you are into the habit of licking your lips very often.
For darker lips, it can also be a choice to apply a lip balm or lipstick containing sunscreen. If your dark lips are a result of exposure to the sun, this can be a good solution.
Try to avoid the use of shimmery shades and bright colors on lips as it gives a weird look.
Most importantly, after cleaning the makeup, make sure to apply almond oil and allow it to work overnight to do away with dark lips naturally.
Image: Shutterstock.com