The Barcelona Bridal week showcased some of the finest collections from the participating designers and set the trend for bridal fashion for Spring 2013. As a part of the event Yolan Cris presented their collection on May 09, 2012.
The sister duo Yolanda and Christina have had a huge influence on the international bridal scene in the recent past. They grew up between the finest of the fabrics in the bridal store their mother managed, and their bridal collection clearly showed this early influence of fabrics in their vintage and hippy designs.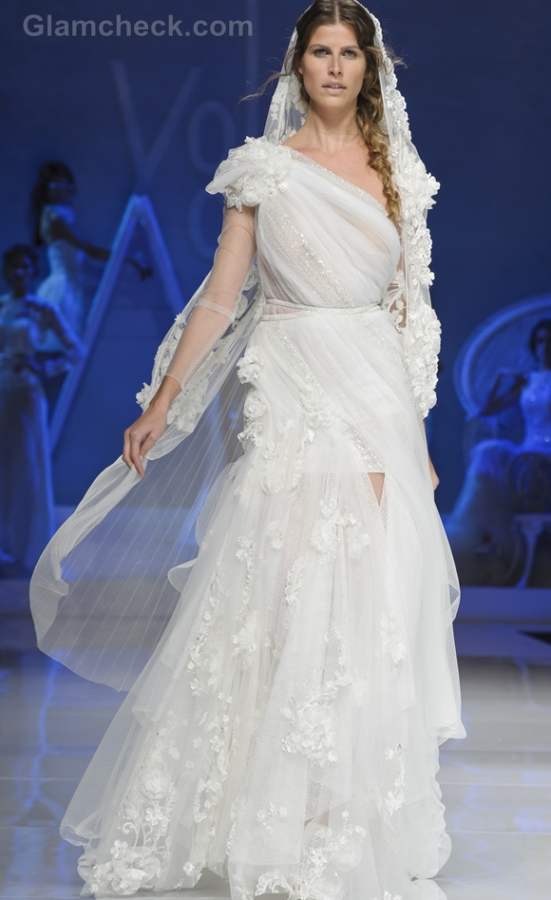 Bridal Trends 2013 : Yolan Cris Bridal Collection Spring 2013
The collection named 'Seven Promises' was an eclectic mix of seven lines, catering to seven different kinds of women. The lines named as Heavenly Sisters, Ibiza, Iconic, Chelsea Girl, Opera Prima, Mademoiselle Vintage and Couture Couture were unique and different, yet bound together by a common love for haute couture.
Silhouettes and shapes
In terms of silhouettes, there was a wide variety that Yolan Chris collection had. In terms of silhouettes, there were long flowy gowns sitting alongside baby doll dresses and fitted pants with loose blousons, 70's inspired mini dresses to sport deluxe gowns. It would be safe to say that the designer duo preferred to keep the look hippy – vintage.
This gown is perfect for any bride who is bohemian at heart.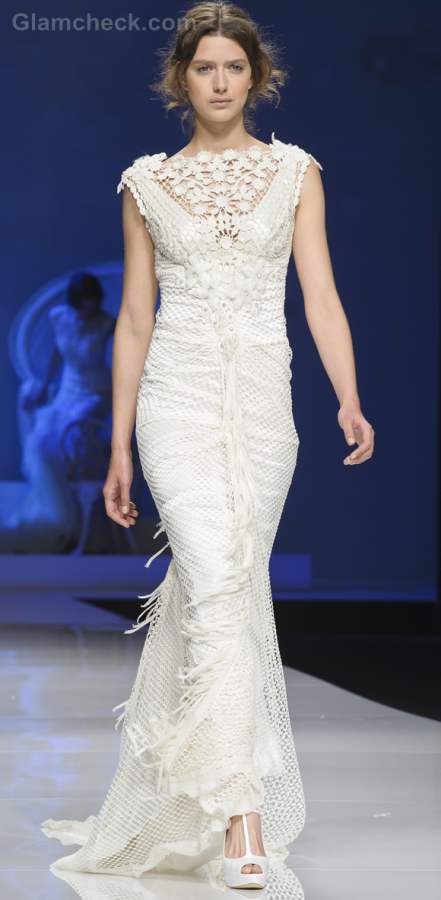 The gown is a conservative straight line, but with the crocheted fabric, tassels and lace embellishments makes for a perfect wear at the vintage bohemian themed weddings. We especially love the detailed crochet work that spawns the entire bridal dress.
This baby doll dress with an extremely cute design feature – peterpan collar from the Iconic line of "Seven Promises" is an unusual combination and manages to instantly up the fashion quotient of any bride.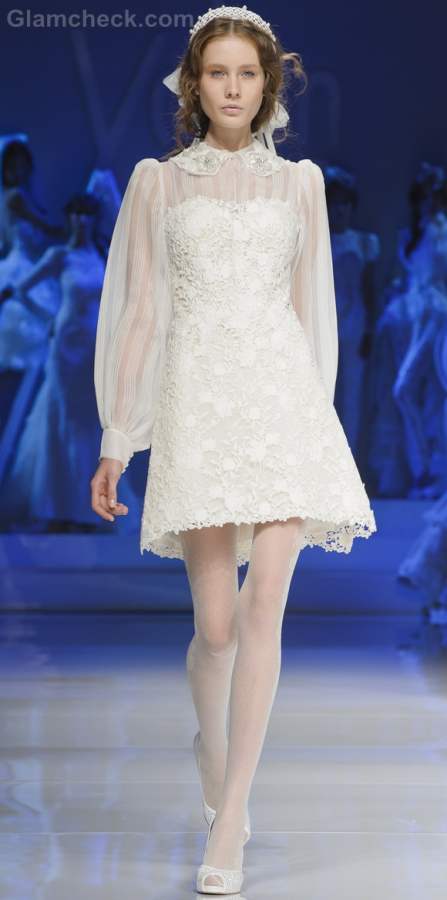 Inspired by the chic 60's, this dress will ensure that the stylish bride is at par with the style icons of that time such as the legendary Audrey Hepburn.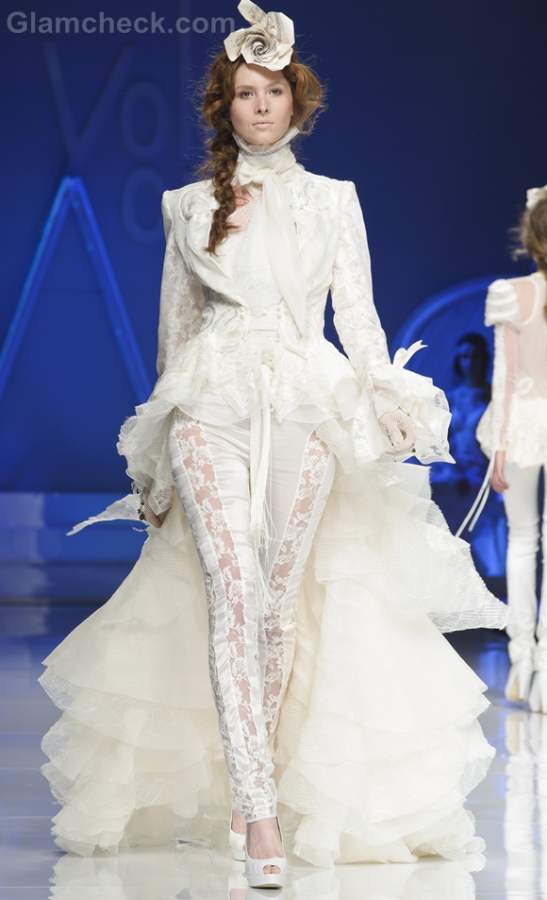 Fitted lace pants, Victorian era inspired blouson with a medium length but voluminous train – this design has all the elements of a winner – vintage classic yet with a bold modern twist.
Design elements and embellishments
Shimmer, glimmer and tons of embroidery and floral corsages ruled the designs of the designer duo. Yolan Chris had a generous sprinkling of handmade crochet lace in almost all of their designs.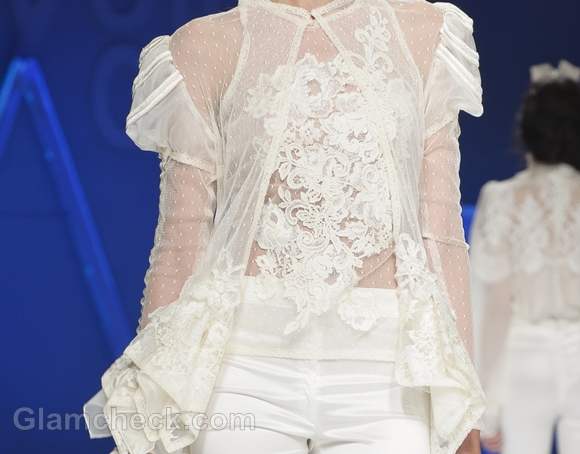 Lace insets on a see through top, reminiscent of the Victorian era added a lot of drama.
Tops made of entire crochet lace looked great too.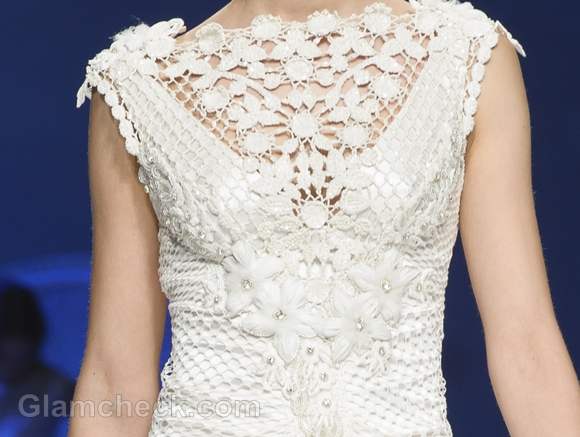 The pattern of the crocheting was floral and made in pristine white thread and complimented the bridal dress beautifully.
What was striking was also the use of shimmer in some or the other form on all the bridal gowns. Shimmery embroidery, studs and sequins placed on the dresses brought a lot of glimmer and sheen to the bridal gowns. Interestingly, Yolan and  hris used only silver shimmer to compliment their dresses.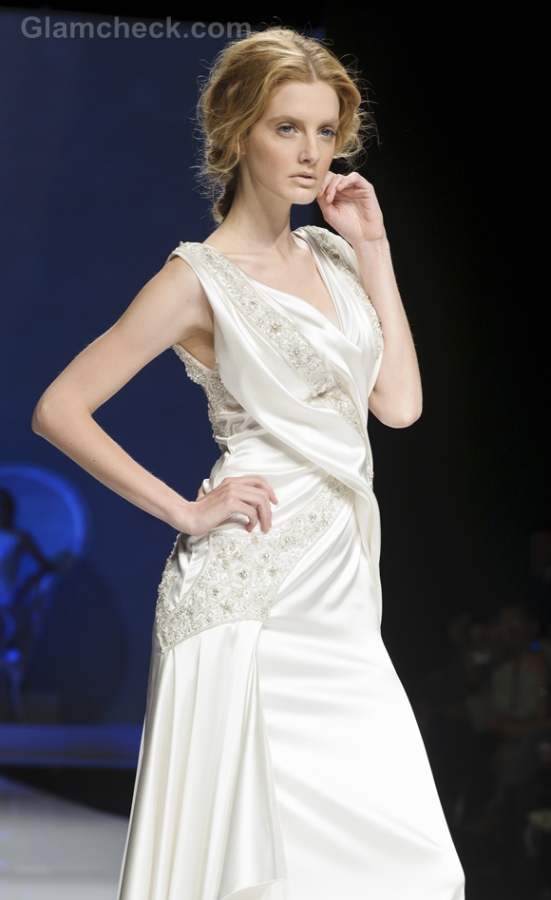 Silver beads and embroidery adorn this beautiful sleeveless satin gown. The embroidery in silver and tonal white looks great on all white ensemble.
Silver shimmer thread embroidery and sequins look great placed on the sides of this beautiful sheer dress.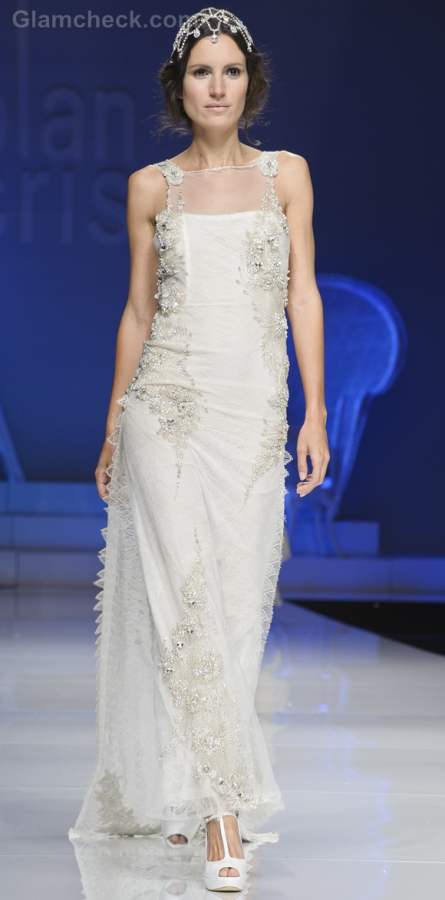 Also complimenting the entire attire is the silver stone studded head piece.
Flower corsages and especially roses as a part of accessories as well as a part of the attire looked great and blended beautifully in the theme of Seven Promises.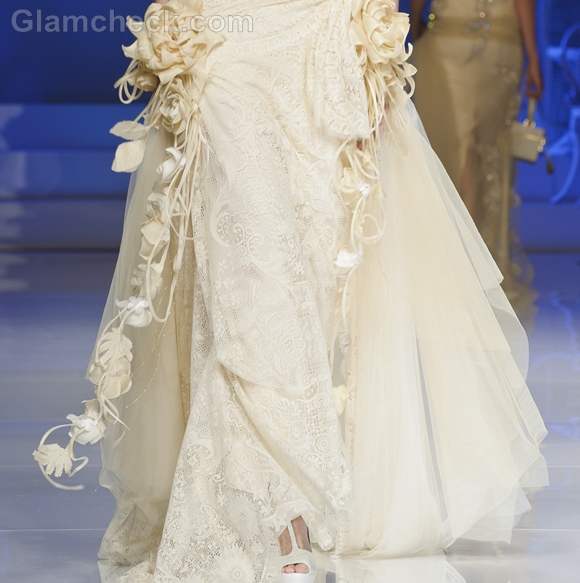 The beautiful fabric roses look great on the gown and add a beautiful flower power to the entire ensemble.
Shimmery beads embroidered on the neck and rose corsages as a part of the accessory looked great and were an integral part of the Yolan Chris designs.
Fabrics and Colors
Having found an early interest in fabrics, YolanChris used their flair for fabric knowledge very well in their designs. Almost all designs had vintage lace, good old silk satins, sheer nets and light weight chiffons. The fabrics sometimes were used in conjunction, and sometimes on their own to create an eclectic canvas for the boho chic designs.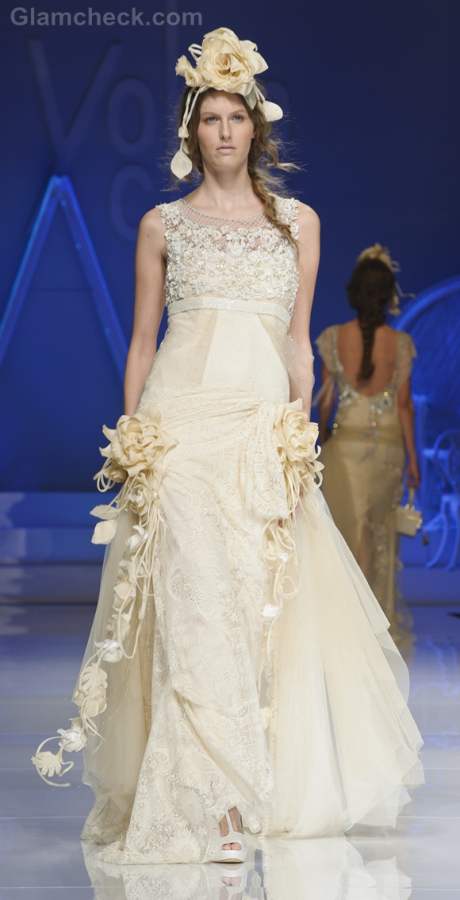 Cream embroidered lace teamed with tonal net train creates a beautiful illusionary effect. Vintage classic at its best isn't it?
Sheer lace blouson worn with big floral lace motifs camisole teamed with fitted silk pencil trousers is a perfect example of great union of different fabrics to create inimitable design.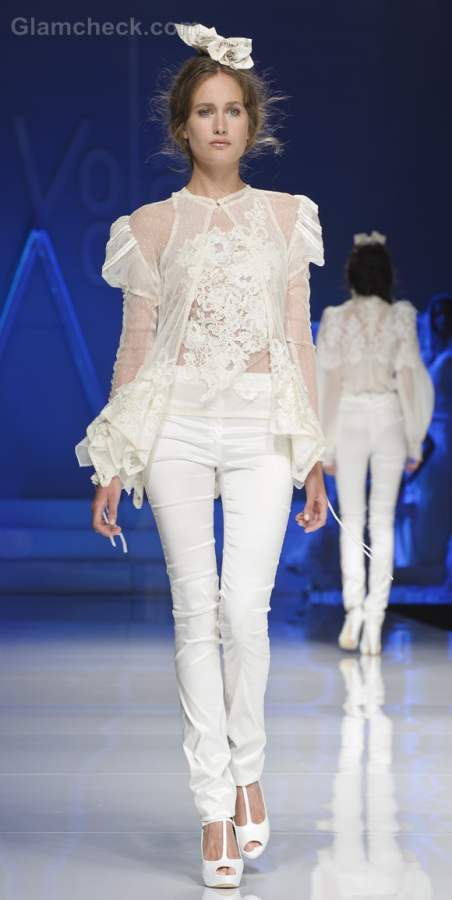 In terms of the colour, YolanCris kept it simple with just plain white and shades of cream – another classic and a sure shot winner with brides of every country. 
Hairstyle and Makeup
Messy hair looked great with the boho chic vintage look that the designer duo tried to create with their designs.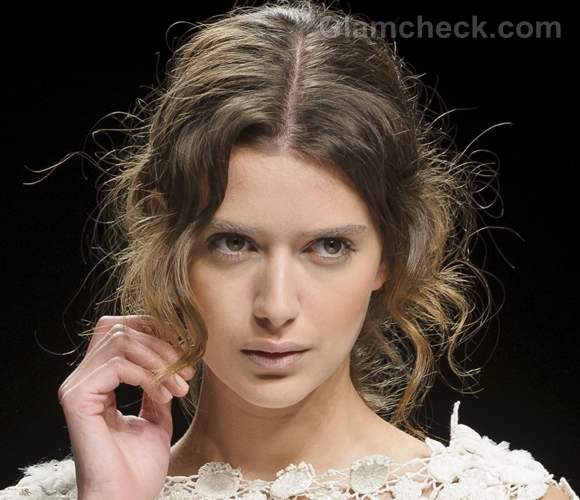 Loosely tied hair at the back with some loose curls framing the face looked great with the Victorian era dresses. Make up was kept to a minimal.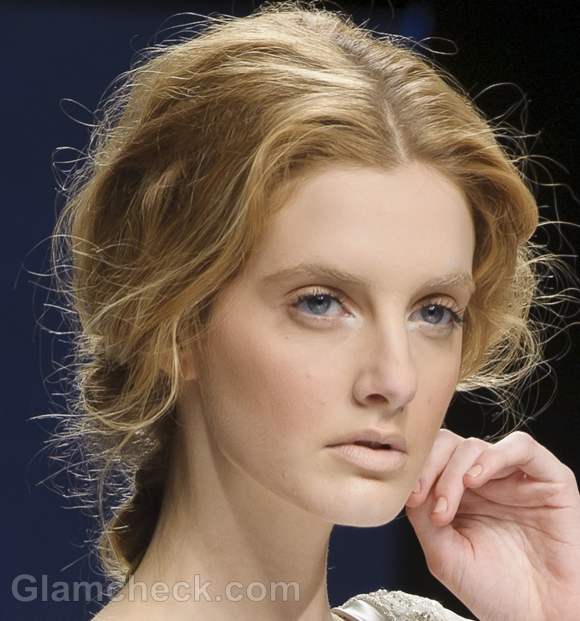 Nude makeup and loosely plaited hair at the back kept the attention focused on the designs and the beautiful models.
Partially covered loose fishtail plait kept onto one side was a classic choice with the wedding gowns with long veils and train. It went with the overall look.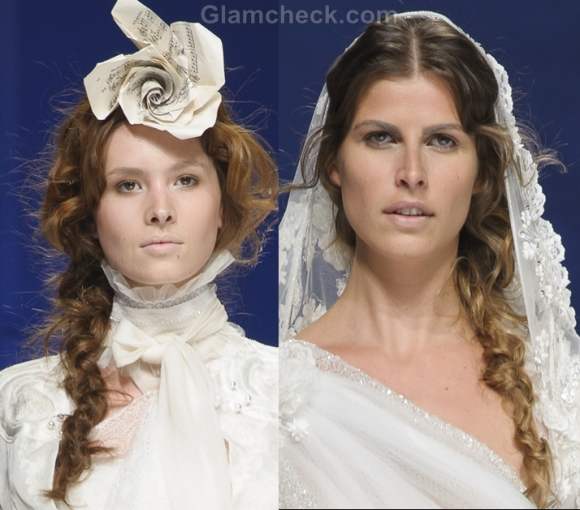 Loose fishtail plaits taken on to one side looked very chic with the avant garde yet traditional designs of Yolan Chris.
If you are looking for something exciting, yet traditional, modern yet classic to wear at your wedding Yolan Chris collection could be an answer to all your wishes.
Image: catwalker / Shutterstock.com