With the high and sometimes delusional standards of beauty that we all live with today, all of us, deep inside are sure to yearn to be appreciated for how we look when we get up in the morning. To enhance or to even hide flaws, makeup sure serves a great purpose. But to feel and look beautiful sans that mask is coveted by many.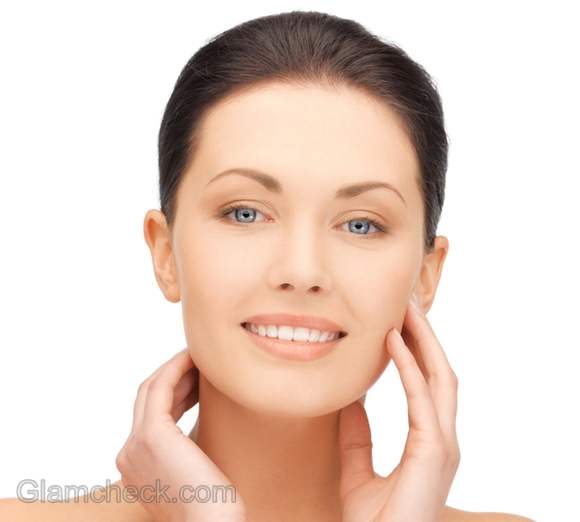 How to look beautiful without makeup
It might seem unattainable to some, and come naturally to others but beauty is, beyond doubt, possible without makeup. It needs a few good practices and a healthy lifestyle to say the least. So I share elementary secrets and tips in the following lines that truly work like magic.
Tips for beautiful Skin
Once it's bare, it's really just the quality of the skin that would shine through.
First thing your skin needs is a good night sleep. It could vary between 7-9 hours for every individual. Just be sure to have a regular sleeping pattern as our body adapts to sleeping and waking at a particular hour and the result is a healthy glow.
Listen to your grandmother, doctor, agony aunts, your favorite celebs and almost everyone else vouching for drinking enough water to keep your skin hydrated. It battles off an array of other medical problems too.
Follow a regular Cleansing – toning – moisturizing routine, twice a day (morning and night). These 20 minutes spent on your skin will turn out to be the most useful.
Cleanse
The cleanser unclogs all your pores of pollution and dust particles. Do not use regular soap as it would be too harsh for the skin. The cleanser you should use will depend on your skin type. Four major skin types are – Oily, Normal, Dry and Combination (Oily in T-Zone of face and normal elsewhere) For example – for an acne prone oily skin, your cleanser would often contain tea tree oil or salicylic acid.
So choose your cleanser wisely, and it is not difficult to do once you start reading the information on their packaging.
Tone
Toners restore your skin's pH balance an act as a foundation layer for your skin's pore protection. These, too depending on their contents will be suitable for different skin types. Astringents on the other hand are high on alcohol content and too harsh for normal and dry skin.
Moisturize
Yes, it is essential for every skin type to be moisturized. This leads to a supple and softer skin. The dryer the skin, usually the thicker the moisturizer gets in it's consistency.
Keep, cleansing wipes handy to remove any dirt instantly.
Applying sunscreen regularly through all seasons saves you from all a lot of harmful effects of the being exposed to the sun.
Exfoliating your skin with a face scrub combined with a facial pack once a week, too has it's own benefits for a healthier glowing skin.
Tips for beautiful Hair
The feature that sculpts your whole face, without saying, has to hold a lot of importance.
Wash and condition your hair as often as you can to prevent them from getting greasy. Twice or thrice a week works best for most hair types. If you sweat a lot, you might want to consider an alternate day routine instead.
A flattering haircut is a must investment. Front bangs or side sweep fringes, long hair or short bobs, follow your hair stylists advice to find the perfect haircut for your face shape, age, profession (Yes! that is a factor) that lends you your own charisma and character.
 Opt for hairstyles that bring out your facial features and compliment your face shape. You could also use this as a tool to emphasize a certain strength you have. For example – front fringes pinned to form a mini bouffant will instantly draw attention to your perfect eyebrows and sultry eyes. Flirty side braids with naturally falling bangs draw attention to your cheekbones and a beautiful angular face.
Facial Features
Now that you cannot define the eyes or lips with makeup, the anchor becomes your brows.
Make sure your eyebrows are perfectly tweaked or waxed when sporting a no makeup look.
The shape of the eyebrows has to, very importantly; compliment your face shape too.  Arguably there are six basic face shapes namely – oval, round, long, square, heart, diamond. Determine yours and choose a flattering brow shape hence. Here is a little guide below to get you started.
Oval – Soft angled shape
Round – High arch brows (To make the face appear longer)
Long – Flat shaped brows (To make the face appear shorter)
Square – Softly angled thick brows (To compliment a strong jawline)
Heart – Low arched rounded brows
Diamond – Curved brows (To soften the angles)
If you have other facial hair that is visible, it will take attention away from your no makeup beauty. To prevent this, bleach the facial hair regularly or opt to wax them.
Chapped and dry lips will always come off as unattractive. A little lip balm to moisturize them would make them the most presentable without using lip color.
Curl your lashes to define your eyes. No, you do not have to depend on just your scary looking curler for the same. Employ a harmless spoon to your services. Gasp! I know! But it is true.
How to – Stand in front of a mirror. Hold a tablespoon from the handle (close to it's neck) with four fingers. Place your thumb below your top eye lash to be curled. Now move the edge of the spoon smoothly in an upward motion with bearable pressure and supporting the lash with your thumb. The spoon bowl curve (from which we eat) should go from facing the ground to facing the mirror during it's movement. Since we are not going to secure this curl with mascara later, repeat the movement a few times over to achieve a reasonable stay.
Final Tip: A smile, a clothing color that looks lovely on you and a little perfume would be the final touches you would require.
Image: Shutterstock.com