Compared to Hollywood A-listers, French celebrities were making more of an impact at the closing ceremony of the 38th Annual Deauville American Film Festival at The CID in Deauville, France on September 8. It must have something to do with being born in the country that boasts the fashion capital of the world. French actress Melanie Bernier put together a trendy outfit for the event.
What she wore:
Black blouse with textured gold shorts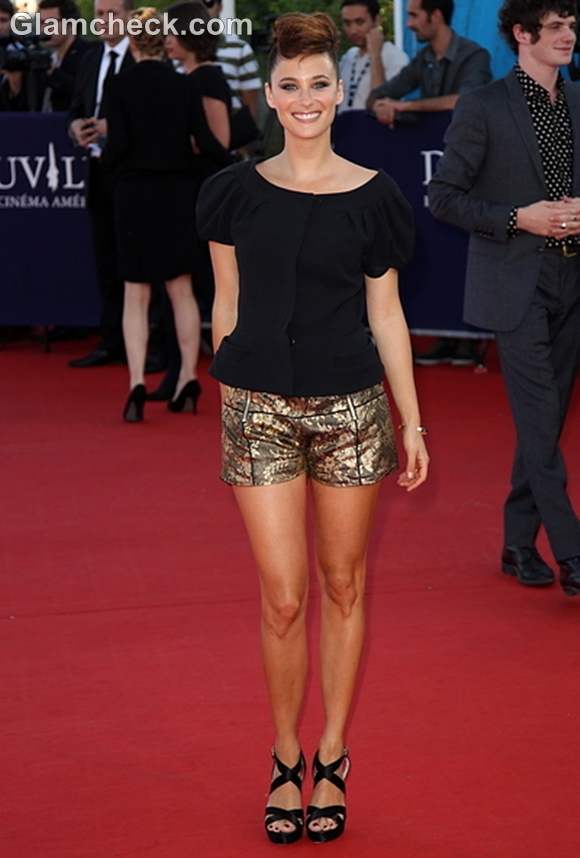 The 27-year-old donned a pair of textured, loose-fitting gold shorts with a black, front-buttoned blouse which boasted puffy sleeves that are reminiscent of the peasant top. She accessorized simply with strappy heels and a silver bracelet.
Hair and Makeup:
Messy topknot; glam makeup
Melanie sleekly swept all her brown hair on top of her head and loosely knotted them into a bun that is barely-discernible as one. Her makeup gave her the look of a model at a high-end photo shoot. Dark eyes, glossy pink lips and tangerine-tinged cheeks gave her a picture-perfect finish.
Get the Look
This is a great ensemble for parties or clubbing. You can switch the strappy heels for pumps to up its elegance.
Image: P R Photos