If you're looking for a natural, plant-based hair therapy that gives you multiple benefits without too much effort, then look no further than henna.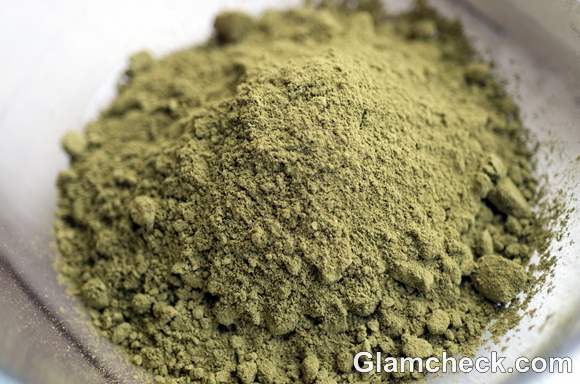 Henna powder is made from plants called Cassia obovata and Lawsonia inermis. These plants have anti-bacterial and anti-fungal properties in addition to nutrients that help hair to become thicker and shinier.
Benefits of Henna for Hair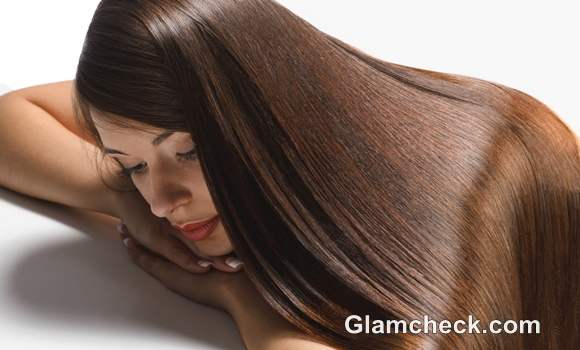 Benefits of Henna for Hair
Usually, henna is applied for its hair dyeing abilities which can cover up greys and impart a brownish-red hue to brown hair while staining lighter hair colors even more. Henna, by the way, is made of the same plant that mehendi is made from. It's a natural temporary stain on skin, but the effect is permanent on hair. Let's see in what other ways this humble little plant can benefit your tresses.
A Natural Conditioner
In the world of naturopathy and green living, henna is touted as a natural conditioner to make hair soft to the touch and glossy to look at. Hair looks richer with regular henna treatments.
Naturally Colors Hair
The main reason people use henna for their hair is because henna is known to naturally and safely cover random grey locks that show up as a natural part of the aging process and stress. If your hair is very dark, the henna will give your hair a slight reddish tinge which will be obvious in the sun. If you have lighter hair, the color will be more apparent, a deeper red.
Improves Hair Growth
This amazing little plant can also help to boost the growth of hair. Direct application on scalp twice a month will help. Another way to use henna to stop hair loss is to regularly apply mustard oil in which henna leaves have previously been boiled.
Detoxifies the Scalp
Henna is a natural deep cleanser for the scalp. It removes residues of shampoos, conditioners, hair sprays and gels that create a build-up on the scalp and create hair problems.
Can Reduce Dandruff & Scalp Conditions
Henna can fight off the bacteria on the scalp which cause itchiness and flakiness. So if you have dandruff troubles or any other scalp problems which are caused by fungus or bacteria, give henna a try.
Makes Your Tresses Stronger
There's no point to having shiny hair if it's going to break. In addition to all the above benefits, henna also strengthens your tresses, thus making them less prone to breakage.
Reduces Frizziness
Curly hair is gorgeous but can be tough to manage. Curls can sometimes get so tight they get hard to comb. Frizziness is another problem that those with curly hair complain about. Henna is wonderful for solving both problems. Because it is a natural conditioner and makes the hair softer, it also reduces the amount of frizziness even in stubbornly-curly hair. Henna is also known to make curls less loose, so to speak, so that hair becomes easier to comb.
If you want henna to reduce frizziness but not affect the curls, add amla powder to your henna mix. The amla powder will ensure that the active ingredients which loosen curls do not do their job. However, the amla will also reduce the intensity of the color that henna imparts.
Tips to get the best out of Henna for Hair
Use only 100% natural henna. The horror stories you hear about henna causing havoc to hair result from using commercial henna which often has chemical additives and preservatives that can do some serious damage to your tresses.
When using packaged henna, make an effort to look up the ingredients and figure out whether they are going to help or harm your hair. Not all added ingredients to packaged henna are bad, but most of them aren't the best thing for your hair either. Do your homework if you don't want nasty surprises.
Also ensure that the henna you use is fresh as these have undeniably better results than older henna. Fresh henna has a deep green color. There are no "colored" hennas that are natural. Other shades can only be achieved through chemical dyes.
Don't shampoo your hair just before henna application. Henna does a great job of locking in your natural oils and these are usually absent when you wash your hair. If you must wash, do it the day before application.
Apply henna on damp hair. This helps to make application easier and also enables better absorption.
There is no consensus on how long henna should be left in the hair for best results. Some types of henna need just 30 minutes, others can be left on while you sleep so that it really seeps right in and moisturizes your tresses. The variation will depend on the reason you are applying it as well as the type of henna you are using.
For best results, apply a little heat to your hair once you have applied the henna. You can do this with a hair dryer on a low setting and follow up by wrapping your head in a towel.
Apply a thin layer of Vaseline around your hair line. Henna is a pretty strong dye so even if you do apply it to the hair there is a pretty good chance that it will stain the skin around your hair, ears and the nape of your neck. The Vaseline will form a protective shield to prevent that from happening. Don't forget to wear gloves on your hands if you are applying the henna yourself or you could end up with bright orange fingertips.
If you have dry hair, do not leave the henna on for too long as it can dry out the scalp as well as the hair. Instead, mix the henna with yoghurt to moisturize your hair. You can mix it with yoghurt even if you have oily or normal hair if you are looking for a deep conditioning hair mask.
If you don't want to add yoghurt to the henna, then simply oil your hair before applying it. This will prevent hair from getting too dry.  
Although henna is natural and not something that can harm you, it is still safe to do a patch test before using it on your hair. There have been no reported cases of allergic reactions to natural henna yet, but you don't want to find out the worst way possible that you're the first!
If you want to maintain the hair color that you got from your henna, use herbal hair products thereafter and don't shampoo too often.
 Shutterstock