For us commons (as opposed to the gorgeous super models) the No-makeup look could be anywhere from intimidating to downright haunting. And believe me it is easier done than anticipated. You are sure to find that out after this tutorial.
The inspiration for today's 'Beauty How to' is the Kooey Swimwear presentation for Spring Summer 2013 during the Mercedes Benz Swim Fashion Week in Miami. Kooey showcased some fun and colorful pieces in cerulean blue, pink, neon orange, teal purple and black.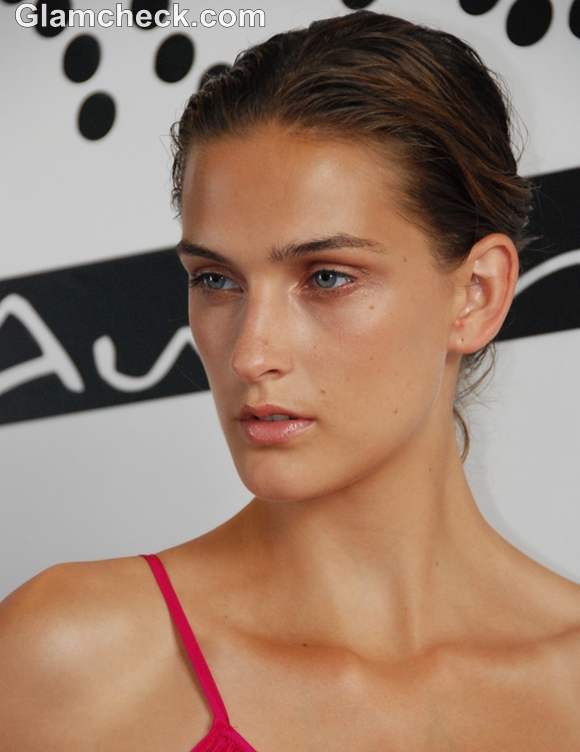 Beauty How To : No-Makeup Look Spring Summer 2013
The Australian label advocated a no makeup look, which brought out the natural beauty of each model, with no obvious visible beauty products.
Beauty How To: The No-Makeup Look
Though of course this look, does take the help of products but only to highlight your features and magnify the beauty you already possess, which we all do. So let's shed our fears and enhance our beauty with a subtle almost invisible layer of makeup.
Skin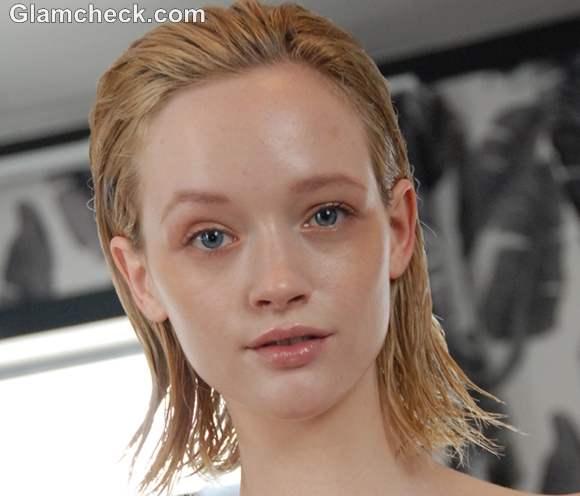 No-Makeup look how to Spring Summer 2013
A flawless skin, is a must for the no-makeup look. The models at Kooey to sported a radiating flawless skin. A general advice for getting your best skin is exfoliating often and following up with a face pack afterwards. Skin pores clogged with dirt are always an invitation to skin problems.
Apply an oil free moisturizer first, to have a smooth base for the makeup. If your skin is blemish free and needs no coverage, apply a brightening tinted moisturizer and you can skip the foundation.
For majority, who need coverage, use a thin concealer brush and go eay on the product and blend the best that you can.
Follow with a liquid foundation, closely matching your natural skin tone and apply just a few dots and merge with fingers. Alternately you could use a sponge too.
A cream blush, matching the color of your skin when you are flushed should be applied in small quantity. Apply on the cheek apples while blending towards the temples.
To make your make-up last longer you can set your t-zone with a slight brush of translucent powder. If the base looks cakey at this stage, use a Spritzer to naturalize your base more.
Eyebrows and Eyes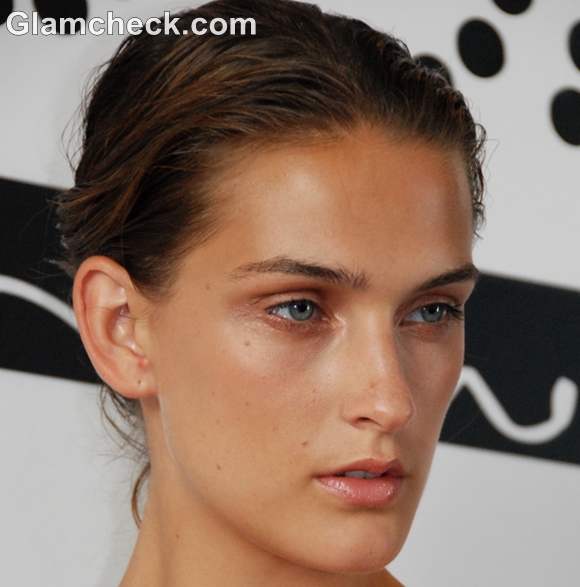 Beauty How To No-Makeup Look Kooey Spring Summer 2013
The eyebrows need to look natural but neat. Hence use a powder to fill in gaps instead of the pencil. If you have to use a brow pencil make sure it is in a lighter hue than your natural brows and use light strokes and blend. Drawn eyebrows will take away from the look.
Use a highlighter at the inner corner of your eye and contour with a natural cream based eyeshadow if you must. Though this can be skipped.
Do not use eye liner or Kohl. Just a very light coat of mascara which is lengthening and not volumizing. Run a tiny comb through you lashes to remove the excess.
Lips
The secret to naturally pink lips is exfoliating. You can use a toothbrush and Vaseline for that. The removal of dead skin enhances the softness and the color.
Apply a glossy lip balm, or a naturally pink lip gloss to channel the gorgeous Kooey Lips.
This look is great to wear during the day and can be worn with a breezy dress. Or if your work requires to stay toned down in the beauty department, this tutorial will be your best friend.
Shutterstock