As the season changes your make-up palette and preferences also need an update. For the complacent ones, the summer's lipstick will arguably work well even in winters but only in their head. In reality as the weather becomes gloomier, skin tone paler and clothes darker, the makeup needs to reflect upon its environment. While we covered the beauty guide to winter in another article, the colors that you should include in your winter palette is yet another story. The specific colors may change each winter season but as a general rule winter colors are richer and deeper as compared to their summer counterparts. So let's get right to business as we let you in on the best colors to opt for in Winter 12-13.
Lips
The spotlight is lips this winter. The classic but predictable always remains a favored hue, but take a plunge and experiment with the more fashionable colors this season.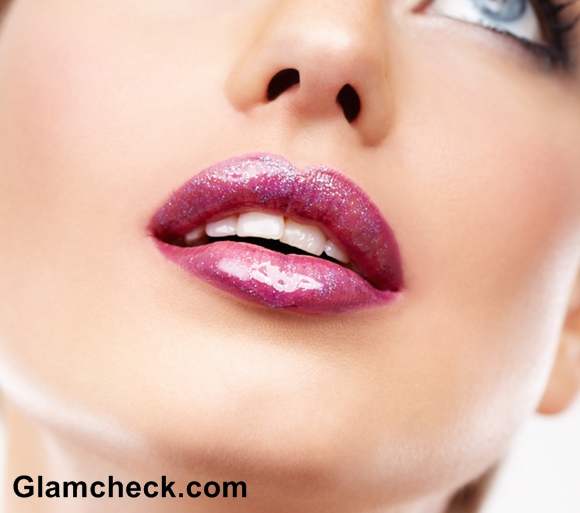 Winter Makeup Colors for lips
Wine and plums in an array of avatars for various skin tones are making waves on the red carpet. Think of Anne Hathway's perfect pout at the premiere of now Oscar nominated Les Miserables, and you would get an idea of what we mean. Think dark and vampy.
The next obvious color seeing the dark fascination is in the area of brown and chocolate tones. Again accentuating the lips in a unique way, there has to be a brown for everyone ranging from a dark caramel to the Hershey's bottle brown. The best part this color palette suits the Indian skin tones well.
 If it has to be a red, go for a richer crimson or one with burgundy undertones. An almost inky blackish red in matte is great too, especially for ones with a fair complexion.
The orange stained lip is one summer time hue, widely being accepted in winters too this time around. And why not, tangerine did made everyone's heart flutter in 2012 and continues to have its footing in makeup.
Application tip: As lips to dry up and get chapped in winters, applying lip balm before the lipstick is always recommended. Also look for lipsticks with oils or Vitamin E as ingredients in them.
Nails
You can have the right outfit and shoes on. The hair will be perfect as if you just stepped out of a salon and yet those nails if not right can kill your appearance. We spend a lot of time talking with our hands adding to their visibility and hence the importance of getting this one right.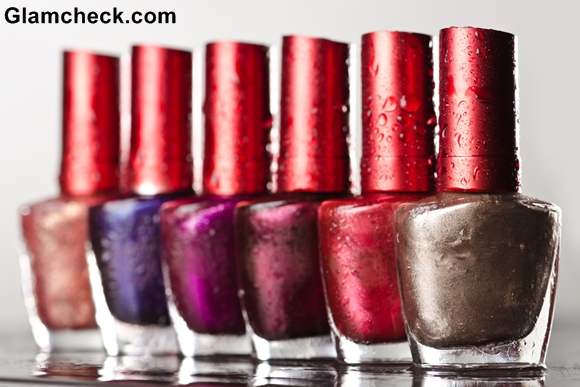 Winter nail polish Colors
First the evergreen almond nail shape is still strong, but for some bold styles you can experiment with square and blunt finger nails. Also gaining popularity is the reverse French manicure, wherein the tips are a darker shade or the ends are colored only. You would find the internet full of inspiration in many versions.
Metallic nail colors, resembling the molten gold and copper metals feel great on the tips right now. To give this trend another twist, go for metallic versions of hues mauve or the duo chrome and foiling variety. You could also apply a metallic coat beneath a nuder top coat to achieve one of a kind finish.
Electric blue, Klein blue , Navy and cobalt all are the hues for your nails this season. Contrast with your outfit or try them in harmony with other details in your ensemble. Do not go matchy-matchy on this one. It looks perfect on trimmed nails.
The jewel tones of emerald green, deeper turquoise and amethyst has caught the fancy of many fashionistas. Going with the mood of being richer, it feels rights to portray it on the nails too. Try the solid or the metallic varieties in this one.
The red is a classic for nails too but re-invented with its more vampy and metallic versions. Also do not forget to try the oxblood color. Great on the nails and goes well with most skin tones.
If going the subtle way and opting for nude colors, pick the ones who are richer and warmer. Ultra-subtle hints of mauve in them might help as well.
Application tip: A clear veneer top coat will seal your color longer and also protect against drying of nails. Stay away from cleaning dishes with bare hands and wear gloves often.
Eyes
If its not the lips, it's the eyes who are center stage this winter. If you want an evening look you have brilliant eye shadows to choose from. If you just want a day look to stand out opt for colored mascara and eye liner.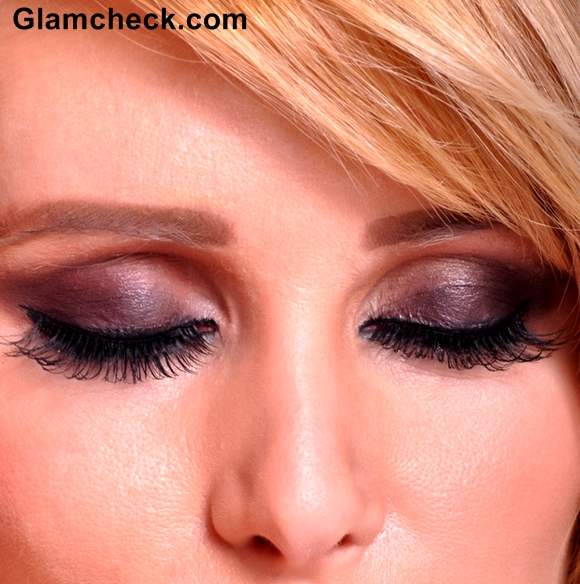 Winter Makeup Colors for eyes
Stella Mc Cartney introduced us to blue mascara this season and boy are we impressed! A highly recommended playful look to add a hint of color to your dull winter outfit.
The winged black eyeliner will continue to rule winters. For a twist, flick it into two at the end and use bold colors.
The black smokey look has given way to the jewel tone smokey eyes instead. Think of a bird's feathers and be inspired by its multitude of colors. Blend emerald green, gold and purple. Another great combination with emerald tone is with ruby red and peacock blue.
If black is what you desire in eye shadows, make sure there are pale greys in there and hint of metallic too.
Application tip: Cream based pigments work well in winter. Also consider using a primer before applying eye shadow to bring out a richer and long lasting color.
Cheeks
As the face appears dull and pale in winters, the flushed look always portrays a healthier looking skin.
Neutral eyes and lips will bring attention to your cheeks and hence pair flushed cheeks with neutrals.
To choose the right color, pay attention to your skin tone. For the fair skin, lighter is always better. For the majority of women falling under the medium skin category, deep peaches and rosy pinks work great. For the dusky beauties out there, deep oranges and rose can work.
Another way to select the perfect blush color for you is to notice your cheek color after workout or after you have been on a jog.
Use a hint of bronzer, shimmer or highlighter for a formidable sheen and contouring the face right.
Application tip: Use an angled brush for application. Also tap off the excess each time. Apply the blush the temples of your cheeks and blend backwards towards the hairline. The flushed look can only be achieved though, if your base makeup is right. Moisturize skin well before applying foundation and concealer on your skin in winters.
Hair
A high contrast ombre was great for spring. For the cold months, the hair color is deeper and richer too and hence the variation from roots to tips is lesser in ombre.
Redheads are making waves this season. But the color is subdued and not bold. Think mahogany red and dark auburn.
The trend only meant for a select few, the high maintenance platinum blondes is love at first sight. Though the right skin tone, a lot of patience, a brilliant colorist and good after care is the only way to rock it for Indian Women.
Application tip: Don't trust DIY kits when coloring hair, expert advice is must. Also deep conditioning masks are a must to take care of colored tresses.
So that brings us to the end of our list for color trends in winter.  Consider yourself armed with the right information hence. It's time to put it all to test now and rock the winters!
 Also Read:
How to Apply Makeup in Winters – Step by Step Guide

  Each season brings with it, its own complications when makeup is concerned. If sweating can fail your makeup efforts […]
The Essential guide to Beauty in Winters

Some say winters are their favorite season. It is really hard for some to maintain beauty during these cold months. […]
Shutterstock