Summer calls for all types of neat hair styles that make you look chic at the same time keep your tresses tucked away. With the latest runway shows we know for sure that buns are in for this season. There are a variety of ways you can execute a bun depending on your overall look. For a casual, vintage, peasant style look you can go for a low bun with twisted sides as pictured here. This hairstyle is easy to execute and very glamorous on a summer evening.
How to create the hairstyle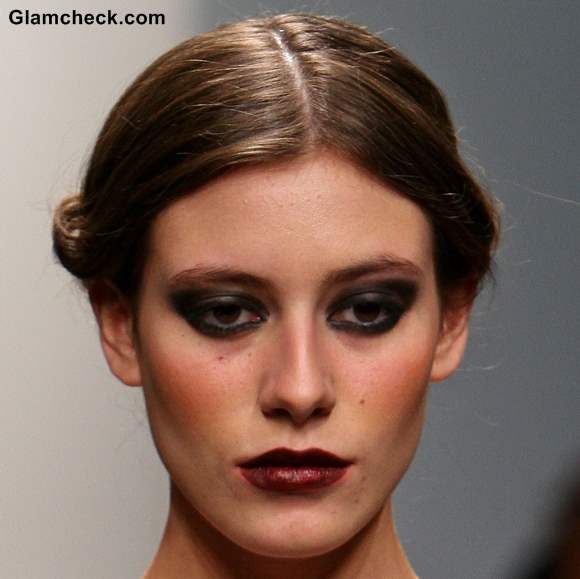 Hairstyle :  Center parted twisted low bun – Dany Tabet Fall Winter 2013
One of the main features of the hairstyle is the centre parting. It works best while keeping the parting in the middle which also helps to accentuate the eyes and cheek bones specially if you are blessed with a fairly symmetrical face.  So begin with parting your hair from the middle.
Take the two sections of hair on either side and gently twist them till the back. Start low and make sure to not tighten the twists too much or the hairstyle might not turn out as intended.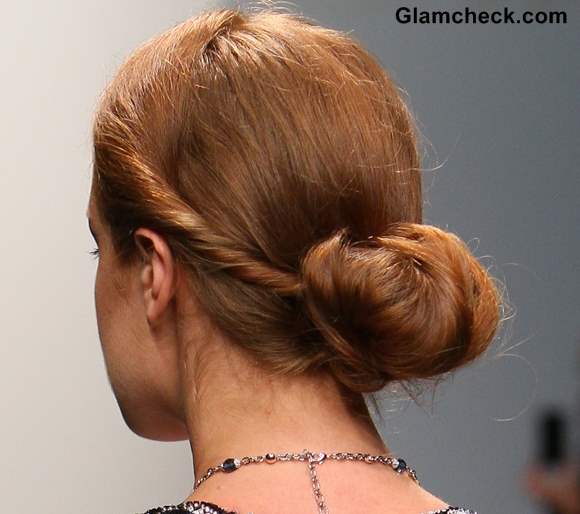 Hairstyle How To : Twisted Low Bun – Dany Tabet Fall Winter 2013
At the back, take the entire strength of hair and pull them up in a bun that hangs low on the neck. Keep the bun in the centre as well. There is a slight unkempt look about the bun as well as the twisted sides so make sure you retain that look by keeping the whole thing light and taking a few strands out if necessary.
Fasten the bun and the sides with thin clips and make sure they are not visible to get a neater look.
To complement the hair, go for highlighted eyes, preferably Smokey with thick outlines. This hairstyle will work both on loud or muted lips and makes for a great evening and day wear for a trendy maxi dress or gown.
Shutterstock