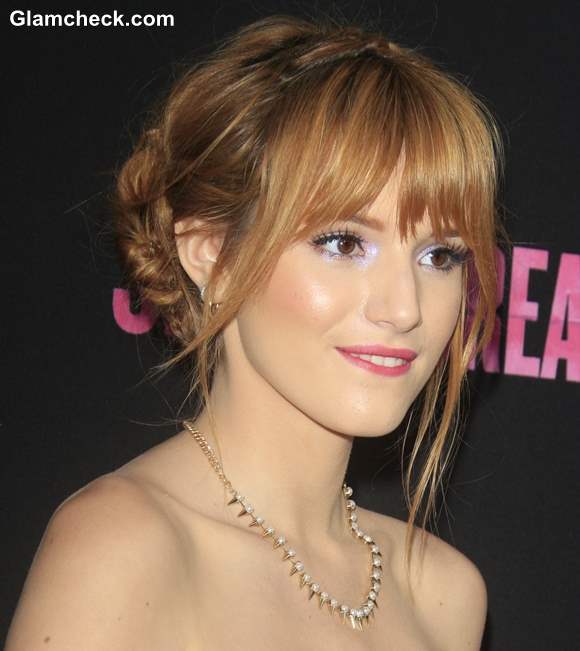 Bella Thorne hairstyle – Double Braided Updo 
Hollywood actress Bella Thorne has been sporting some really charming and versatile hairstyles in the last few months. We spotted her in another winning do as she attended the premiere of "Spring Breakers" at Arclight in Hollywood, California last month.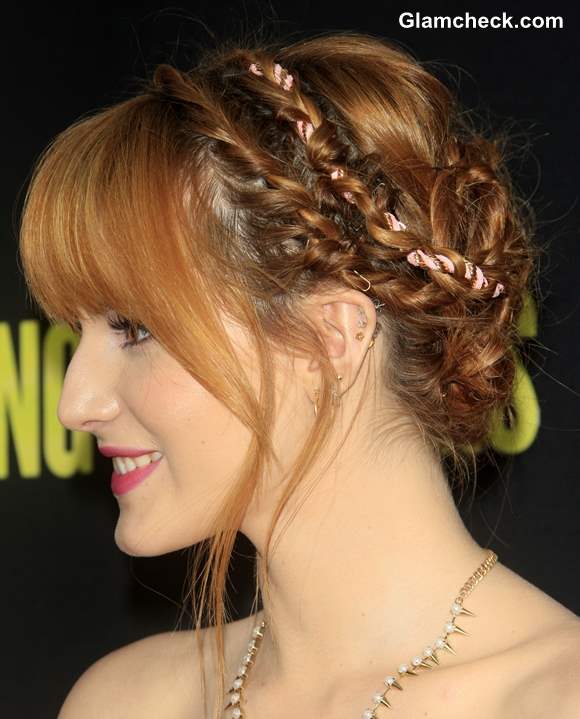 Double Braided Updo – Bella Thorne
Bella wore her hair in a gorgeous double-braided updo. Two braids made their way into a bun hanging low on her head. The cutest thing about it was the pink and gold ribbon that intertwined one braid. The texture was exquisite but also very youthful, lively, fun and flirty!
The do is not as hard as it looks. Here's how you go about emulating it if you have medium to long hair.
Part your hair down the middle.
Partition a portion of the section on your crown (just above the forehead) into two.
Clip one portion and set it aside. Create a braid with the other. Ensure that the braid is made close to the scalp. That's what will give it the dressy texture that defines the look.
Unclip the other portion and make a braid of that one as well. Remember to get a ribbon of your choice, something with a little spunk, and work it into the braid.
Now leave the braids alone for a bit and work on the bun. Take the rest of your locks hanging down your back and twist them into a chignon or bun of your liking. If you are skilled at buns, you can try something more complicated to make your hairdo even more formal. But a simple bun will do just fine.
Once your bun is in place, get a hold of both your braids and pin them randomly across your bun. With a little practice, you'll be able to pin them in such a way that they look like a part of the bun rather than stemming from the crown.
Shutterstock