One can hardly separate a celebrity from their tattoos, especially in today's world. The trend of sporting tattoos took the world of celebs by storm a few decades back – and, most celebrities are not seen without at least one tattoo, even if it stays tucked in a remote corner of the skin. Celeb feet tattoos seems like a favourite – perhaps, because they make their own statement without being too obtrusive. It is no wonder that people are most inspired by celeb feet tattoos, because they get the best of both worlds – a tattoo, and at the same time subtleness.
Here is a compilation of some rocking celeb feet tattoos that we have spotted in recent years.
Lea Michele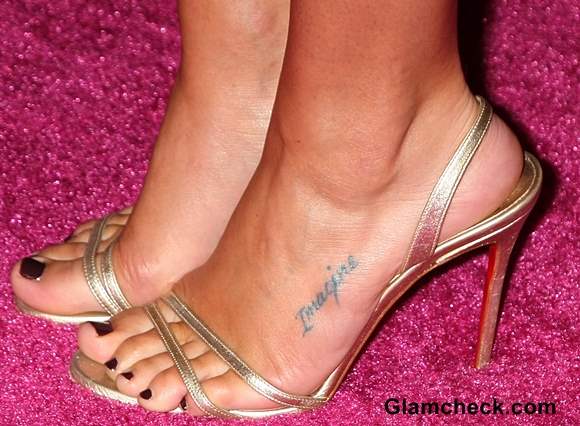 Lea Michele feet tattoo
Actress Lea Michele looks quite the fan of tattoos – especially in the feet. It is no wonder that she tops the list when it comes to celeb feet tattoos.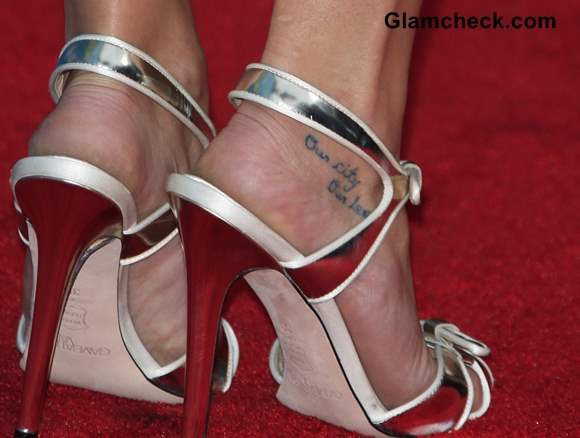 Lea Michele feet tattoo
She has the quote "Our city Our love" inked on her ankle. The word "Imagine" also finds a place amongst her tattoos on the feet. Then there are the cute butterflies on another foot.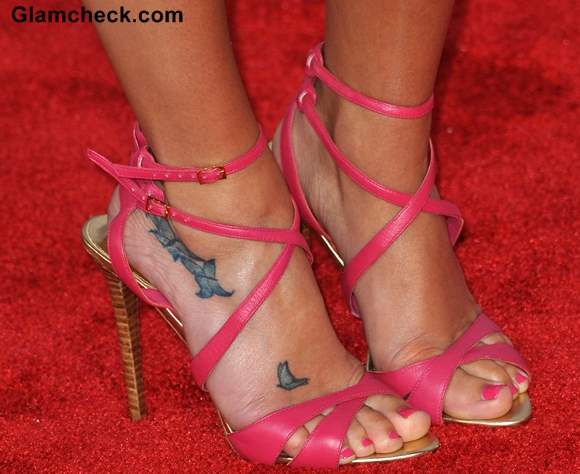 Lea Michele feet tattoos
There is something common about all the tattoos on her feet – they are all inked in blue.
Britney Spears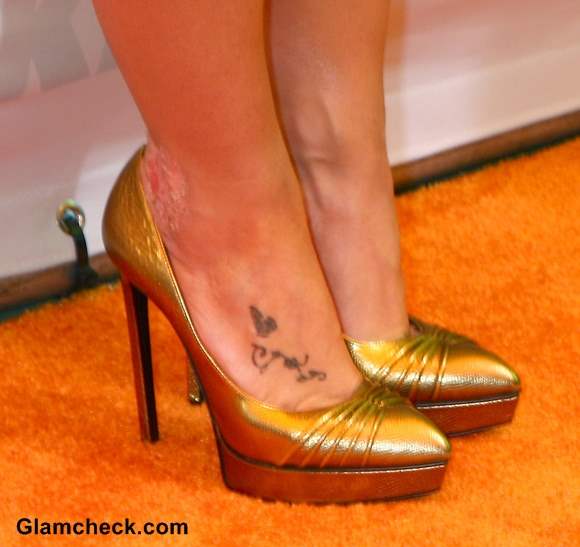 Feet Tattoo Britney Spears
Britney Spears tattoo is supposed to denote a butterfly leaving a vine – However, it looks more like gibberish. But then who is to question such a huge celebrity – whatever they do, becomes style for someone or the other!
Katie Cassidy
Katie Cassidy feet tattoo
Actress Katie Cassidy plays it safe with three stars inked on her feet. Stars seem to be very popular as far as tattoos go, and not just as celeb feet tattoos. Many celebrities sport star tattoos on various parts of the body.
Kelly Osbourne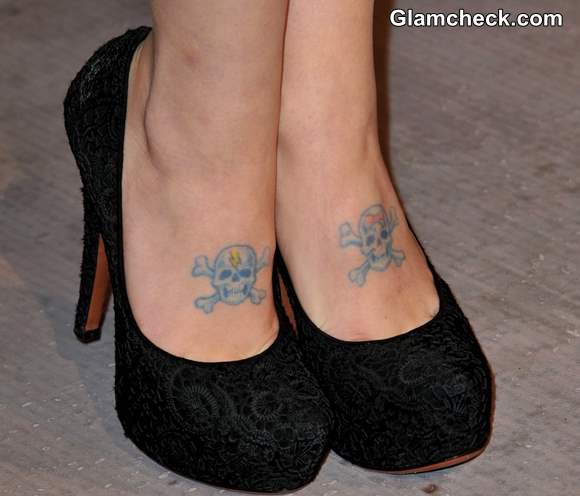 Kelly Osbourne feet tattoo
Ms Osbourne's sports matching tattoos on both her feet – a skull on top of crossbones in blue ink. The only difference being – there is a yellow lightning sign on top of one skull and a pink bow on top of the other.
Marisa Tomei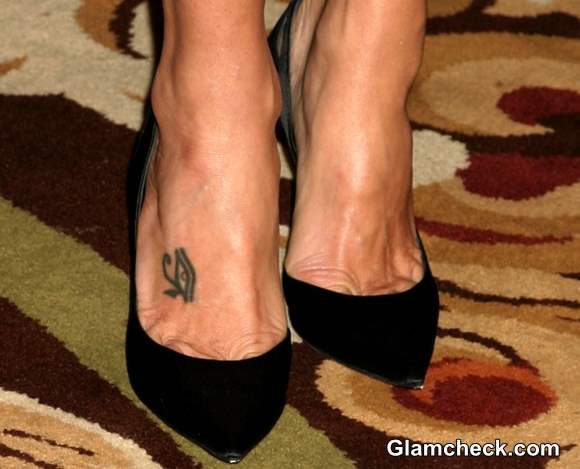 Marisa Tomei feet tattoo
Marisa Tomei has a very interesting Egyptian symbol tattoo on her feet. It is the Egyptian Eye of Ra – for good luck and protection. Looks like this particular celeb feet tattoo is more of a good luck charm!
Nicole Richie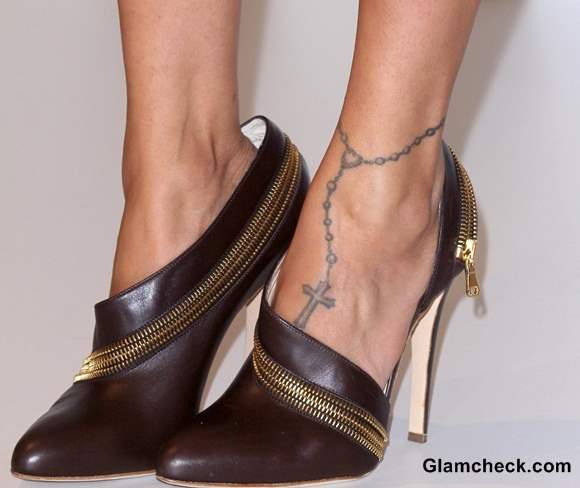 Nicole Richie feet tattoo
Richie has a cross chain, linked through a heart, extending from her ankle to her foot. Does this show a religious bent of mind? Well, that is for Nicole to say. We, on our part, like this celeb feet tattoo which also looks like foot jewellery. 
Poppy Montgomery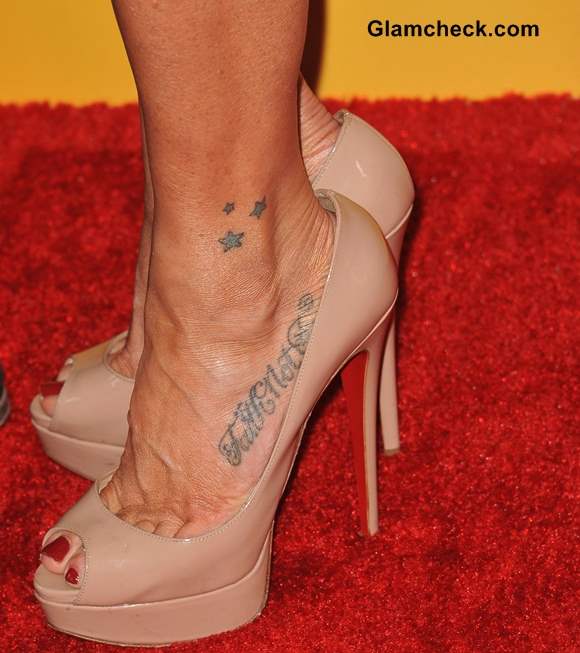 Poppy Montgomery feet tattoo
Australian actress Poppy Montgomery also seems to be a fan of stars – and three stars at that, inked in blue, just like Katie Cassidy. She also has another tattoo on the side of her foot.
Rihanna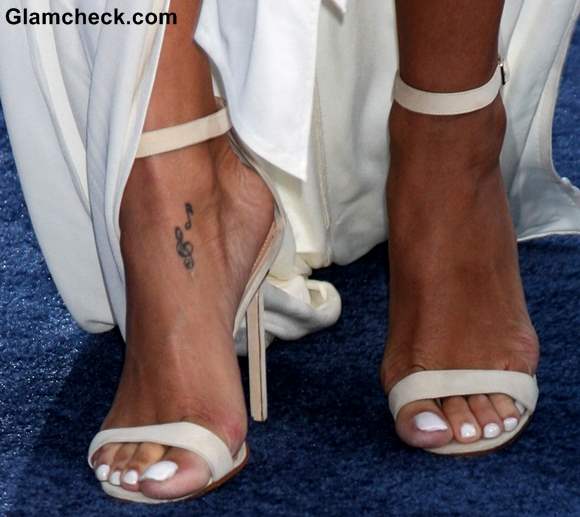 Rihanna feet tattoo
Rihanna proves that she is true to her identity as a singer by flaunting two musical notes inked on her feet.
Tara Conner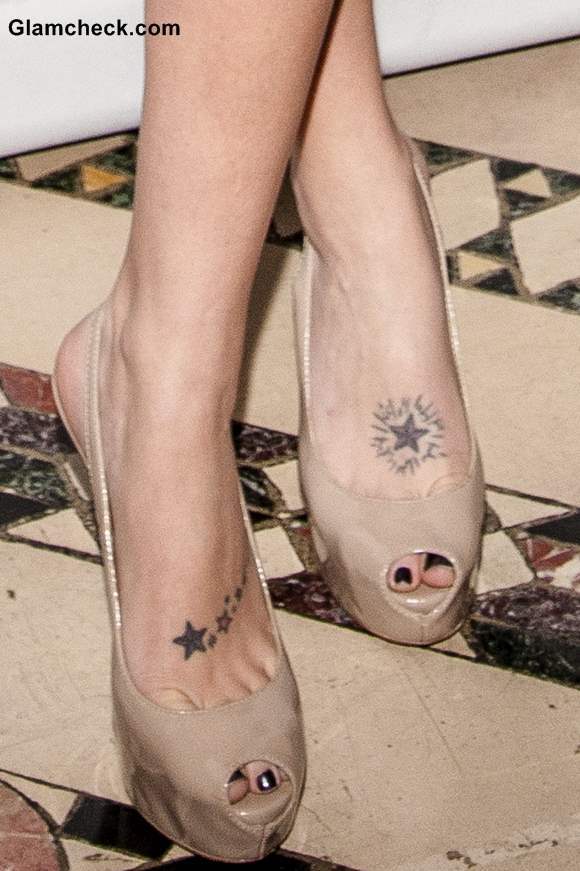 Tara Conner feet tattoo
Former Miss USA and American beauty queen Tara Conner, too, has a penchant for star tattoos. She has gotten them inked on both feet – but in different forms. On one foot, there is a line of stars inked in black and red. The other foot shows a single illuminated star.
Quite a collection of celeb feet tattoos there – so, which one are you inspired by?
Shutterstock