The monsoon brings a welcome respite from the sweltering summer heat, but it also brings a range of skin care problems that make us wish it a speedy exit. Indeed, the humidity in the monsoons wreaks much havoc on all types of skin whether dry, normal, oily or sensitive. But instead of wishing the rains away, try some of these monsoon skin care tips to keep you looking fresh, cool and confident.
Cleanse, exfoliate, moisturize, etc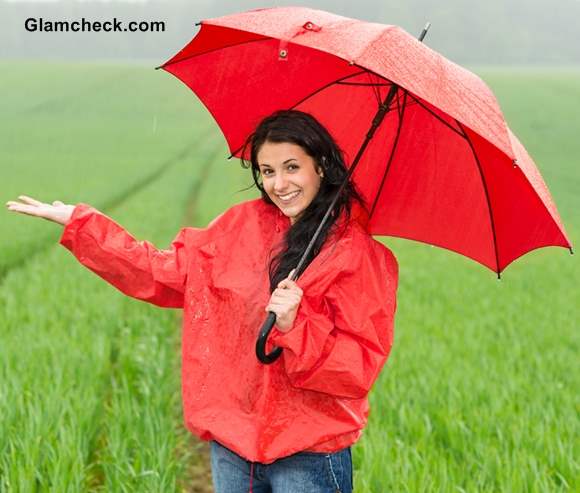 Monsoon Skin Care Tips
Yup, none of that changes during the rains. You still need to cleanse your skin, tone (if needed), moisturise, exfoliate and apply sun screen if you are stepping out. You may find doing all this a real hassle because the humidity may make you feel sticky in a very short time so that it feels like you never did any of it to begin with. But that stickiness actually sucks your skin dry in addition to making it more vulnerable to dirt and grime. So don't avoid any of your regular skin care steps. They are more important now than ever.
If you have dry skin, you may notice that it gets drier and thus itchier during the rains. Wash your face twice a day with a cleanser you know suits your skin and be generous with your moisturiser. Be careful when your skin gets wet in the rain to dry it off as soon as possible. Your skin needs hydration, not wetness. Skin left wet too long can actually be sucked dry of its inherent moisture which keeps your skin glowing. Wet skin can also lead to infections, a bane of the monsoons, so make it a habit to keep dry. This actually applies to people with all skin types so don't skip this step if you have normal or oily skin.
If your skin is oily, you may have a very hard time in the monsoon with more breakouts, super-oiliness which makes you cringes, and dullness. Wash your face three times a day (not more than that as it can dry your skin out). Use a very mild cleanser. Oily skin too needs moisturiser but go with a water-based one so that it doesn't sit too heavily on your skin. To deal with the dullness, exfoliate and apply a homemade face mask once a week so that the dead skin cells which tend to stick more to your skin, due to its oily nature, are sloughed off to reveal the healthier, glowing skin underneath.
Hydrate, hydrate, hydrate
You can slather on all the moisturiser and deep-conditioning lotions with fancy names (and price tags that make you faint) but the only way you can truly moisturise your skin is to start from within. That means one main thing – drink plenty of water. It's easy to forget this tip during the rains. Because the weather is a little cooler, you may not feel the thirst as strongly as you would in the warmer months. Plus, you may get fed up of water just because you see so much of it everywhere. But your skin (and your body) still needs that hydration, whether you feel like it or not. Drink at least 8 glasses a day (or about two liters). If you exercise, add two glasses more.
Eat right too
More fruits and vegetables. Less oil and processed food. Period.
Tuck your makeup away till the winter
We're not saying don't wear makeup at all. But do try to cut down on the amount you wear, especially if it's the heavy kind which is made for all-day wear. Heavy foundations too are a strict no-no too. A bright lippie and basic eye makeup are actually all you need to look great (and appropriate) plus protect your skin during the monsoon.
But don't ditch the face packs
Your skin is as it is quite agitated in the monsoons so avoid facials and heavy salon cleanups during that time. However, simple homemade packs that use classics like multani matti (Fuller's earth), turmeric, honey, yoghurt, besan or milk are gentle and nourishing. Don't overdo these too though. Once a week is sufficient for all skin types.
Keep your hair clean
You may notice that your hair gets, well, kinda icky during the monsoon. It is very likely that it gets dull, frizzy, too dry and too oily, limp, lank and (input unappealing adjective here). That happens because the humidity makes it susceptible to pollution and dirt. Dirty hair can affect the skin on your face too, as you may have noticed from the unsightly pimple that bids you good morning from your hairline where it wasn't last night. Don't be discouraged. Just wash your hair more often than you do with a mild shampoo and, this is important, dry it off quickly too. If you prefer to let it air dry, then dry off well with a towel and just gently blow dry for a bit to help move things along.
See, these tips aren't that daunting, are they? Just keep them in mind and you'll look just as glorious as you always do right through the monsoon. 
Image: Shutterstock