Paint the town red? No, we say paint the town blue! Don't associate the blue with anything gloomy anymore; think of its more electric or soothing tones instead. With blue being seen a lot on the red carpets and the runways, Glamcheck thought it is time we compiled the color in for the beauty world as well.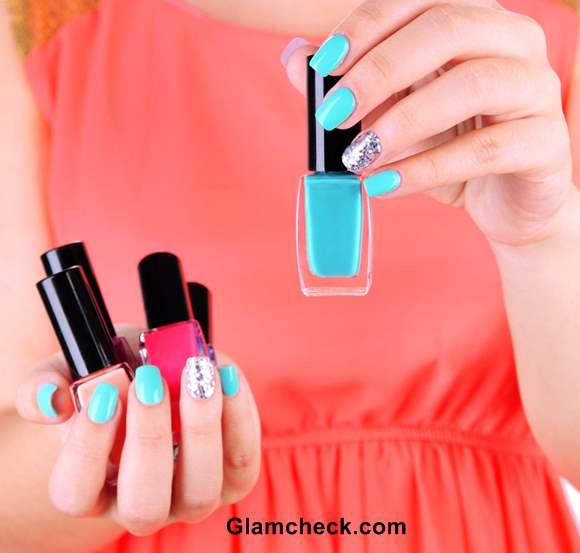 Blue Nail Art – Shades of Blue Nail polish
So today let's talk about blue nail art and manicures. You ask, can there be more than one? Oh yes, there are plethora of options. Read on, and you will be inspired.
Solid Color Blue Nails
All you have to do for this one is to simply paint your nails blue. Now you might wonder exactly which blue hue to choose. We have recommended two hues that look beautiful on many skin tones. But the tip is use the 'Try Me' nail paint at the store, test on a single nail to know how it looks and then make the purchase.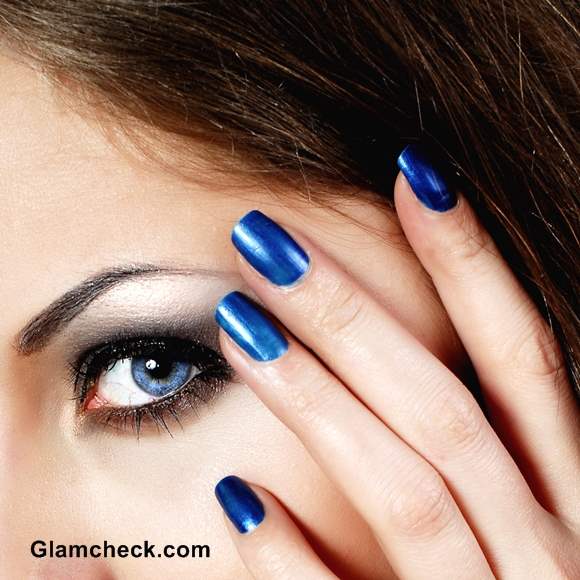 Blue nail art – Electric metallic blue nail polish
The first blue hue that won our heart is the electric metallic blue. Metallic colors and finishes are trending is no news, but giving it a blue twist is. We recommend this one for the evening.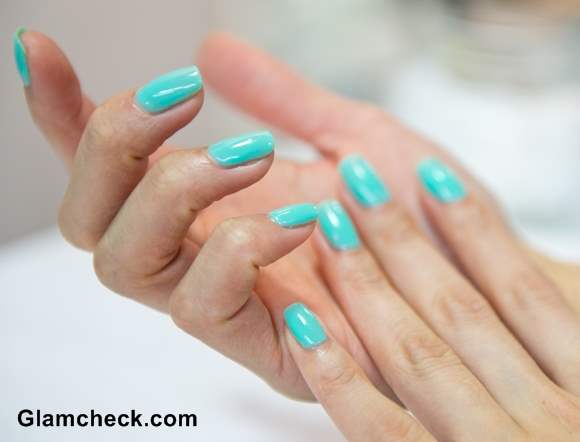 Blue nail art – Turquoise nail polish
For the day, we recommend you opt for a more turquoise shade of blue. It is refreshing and cooling. But what if you want to wear this hue for the evening as well? Next option!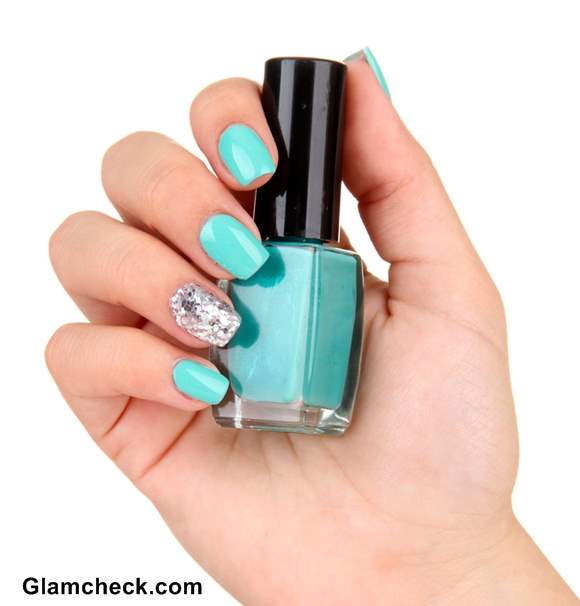 Turquoise nail polish – Blue nail art
Simply apply thick silver glitter on one of the nails. Choose big flashy ones as they are trendier now (Remember Chanel's Glitter eyebrow? Take a cue!) But there are slightly more sophisticated options for sporting blue on your nails too.
Blue Tips Manicure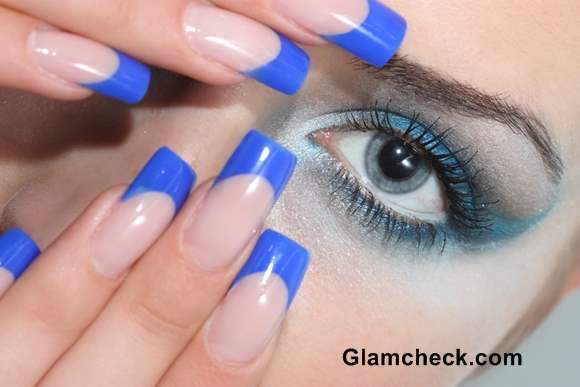 Blue nail art – French Manicure
Give your classic French Manicure a trendy twist by painting the tips blue instead of white.  For better results, do them on extensions. Also, file the nails square and end the blue in a curve – the contrast looks lovely. Don't forget to secure the manicure with transparent nail paint.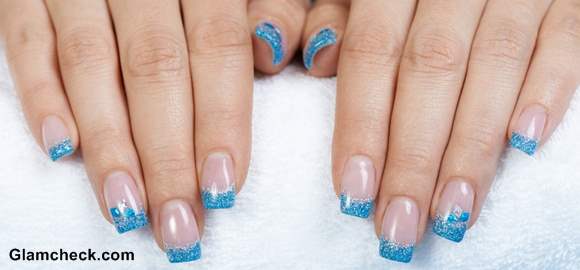 Blue nail art – Glitter nail polish
Next idea works on glitters again, but this time minute ones. You can achieve this look in two ways, either purchase a blue glitter nail paint for the tips or add a  coat of silver glitter nail paint on your blue tips. You can also stick some blue crystals in shapes of your choice on one nail per hand.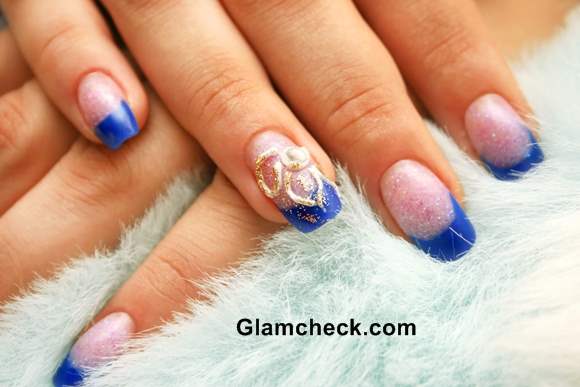 Blue glitter nail polish 
If you take the same inspiration and reverse it, you will have yourself another creative blue manicure. This time paint the base in nude glitter nail paint. Keep the tips as solid blue color. To further enhance the charm, add 3D glitter on one the nails, per hand.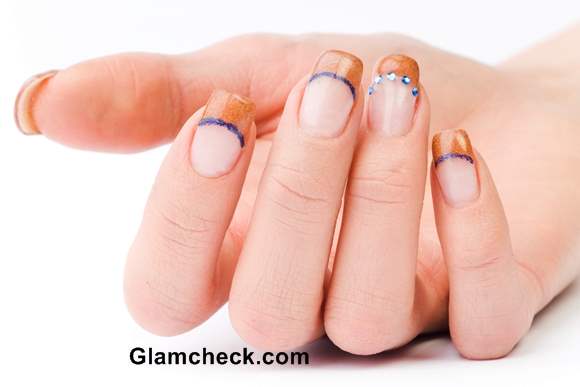 Blue Nail Art Ideas
The next one contains only the slightest amount of blue and contrasts it with ochre-rust color. Paint the tips in this color first, if the finish is metallic the manicure will look far better. Take the help of a brush to draw a blue line along the former color once it dries. For one of the fingers stick small blue crystals along the line instead of painting one.
Blue Flowers Nail Art
Give the obvious pink color flower nail art a breather, pick up blue instead. Have a look at these beautiful nail arts for inspiration.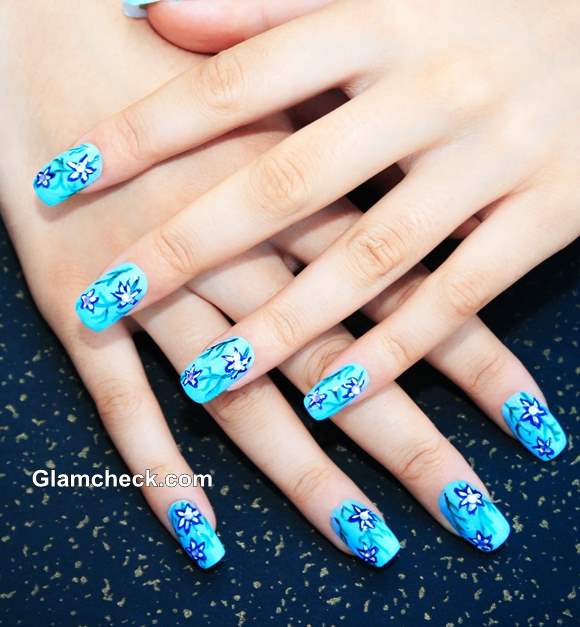 Blue Flowers Nail Art
Over a base of turquoise blue, you can paint simple slightly geometric flowers with electric blue and fill them in with white. Do not add any other color and it will come out to be rather soothing combination. Just be sure to dry off the base completely before starting the nail art on top.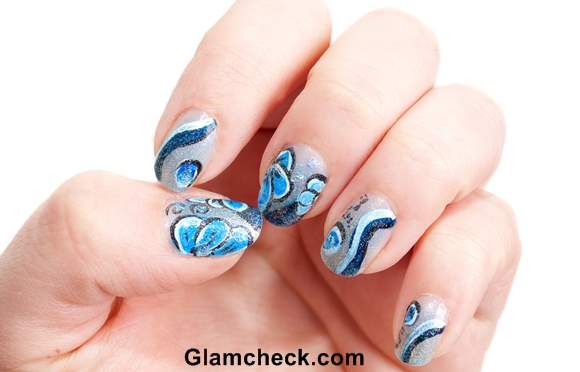 Blue Flowers Nail Art ideas
To go the glitter way, use a light grey as your base. Place random flower petals in turquoise color on top and some electric blue curves, resembling a river stream. Define the petals with black outline, white and blue. Using all these colors will give the nail art a detailed look. When everything dries up well, apply a finishing coat of silver glitter.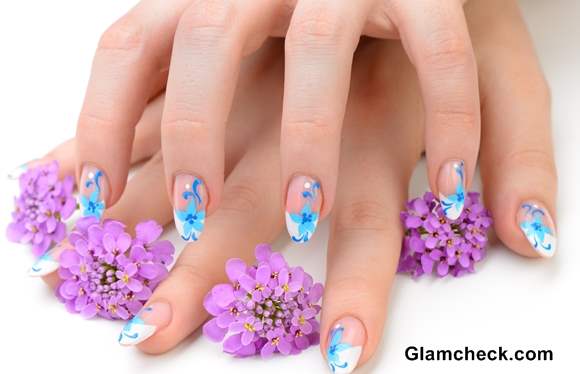 Nail Art ideas Blue flowers
Liven up your classy French manicure by painting blue turquoise flowers on them. Remember that since flowers are natural curves, other curvy shapes will compliment the nail art. Mix the turquoise color with a darker blue for a beautiful contrast.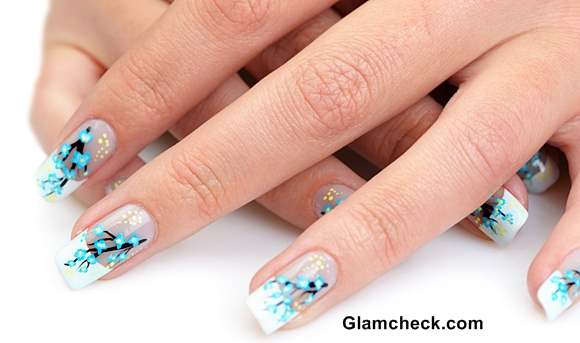 Nail Art Blue flowers
Taking some oriental inspiration, start your French manicure with a light grey as the base. Paint the tips white. Next draw black branches that will hold your blue flowers. Paint tiny turquoise blue flowers on the branches and define them with white dots. Paint very tiny yellow dots, in different sizes to fill up the space slightly. You can use a dotting tool or the back and front of a toothpick.
Abstract Blue Nail art
When art on canvas can be abstract, nail art too can be slightly so.  Though the inspiration for this one is leaves, it is less apparent in the result. Use extensions and file them to a triangular point. Paint your tips in a glittery blue. Contrast it with white leaf like designs painted over the nails. Define them with black.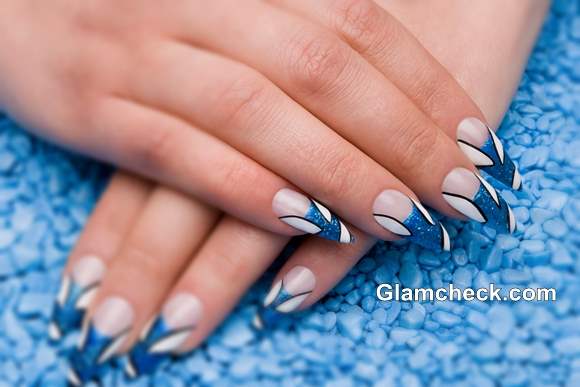 Abstract Nail Art
I am sure you are ready now to get yourself a blue manicure or even DIY at home. For the evening, you can use blue eye shadow to go with your nails, or colored lenses as well. A more fashion forward tip is to use blue mascara! Happy painting!
Image: Shutterstock