The floral wreath updo has an ethereal quality about it, which makes a good hairstyle for bridesmaids or those who are attending dressy functions in the morning – or for that matter any time of the day. It adds a dreamy, princess like appeal and transports one to a fairytale setting of sorts.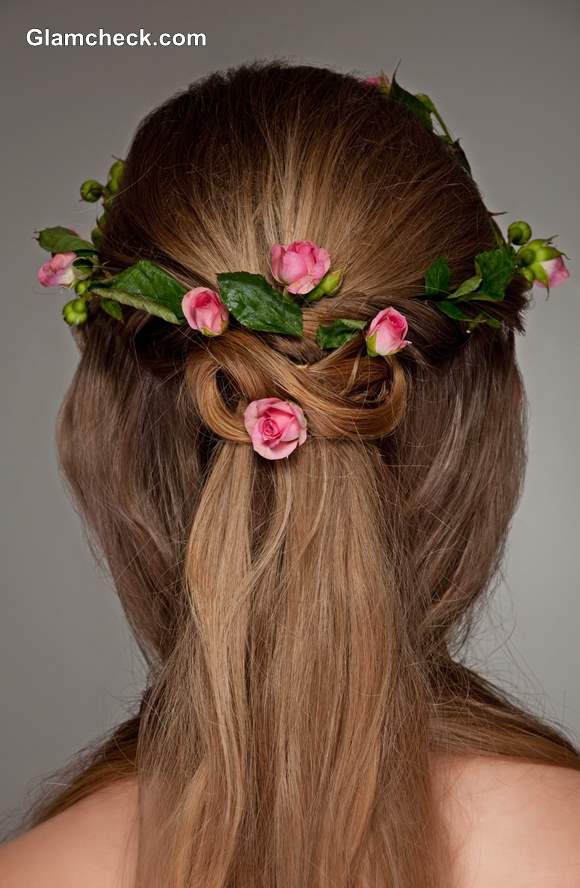 Hairstyle How To Floral Wreath Updo
If you are the romantic types, then this is a hairstyle that you should try. In fact, you can also try it out on little girls – like your daughter, niece or younger sister. It is easy to make but gives an elaborate feel.
Hairstyle DIY Steps: Floral Wreath Updo
You need half bloomed pink roses with their stems cut very close to the body, and with a leaf or two still attached to it. Do ensure that the thorns have been taken off the rose. You also need a few standalone leaves of the flower. Keep a lot of hair pins and elastic handy.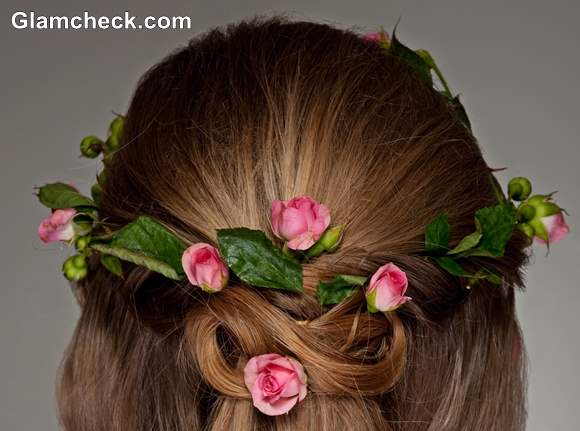 Hairstyle How To Sport the Floral Wreath Updo
Comb your hair well and then back brush it behind.
At the back of your head, divide your hair into two sections. Secure the lower section into a ponytail with the help of an hair elastic – this is to be done so that the hair in this section does not come in the way while you are making the updo.
Now take two thin sections from both sides of the upper part, and twist them till you reach the middle of the head. Secure both the sides together with hair pins. Then with this new section make a "bow like" arrangement (see photo) right at the middle of the head and secure well with more pins.
Open the lower part of the hair which was tied in a ponytail all this while and run your fingers through to set them.
Take the roses and pin them along the "twisted" part of your hair. Pin more roses around the "bow" that you have made with the hair. Once you are done pinning the roses, start with pinning the leaves. These have to be pinned close to each other in order to give the appearance of a wreath.
You can also pin the roses and leaves all around the crown of your head – the choice is yours.
You are ready to flaunt the floral wreath updo once you are done with pinning all the roses and leaves in a trail. 
Image: Shutterstock