Surprisingly, the best beauty secrets are found in the kitchen rather than a cosmetics store. The kitchen is a store house of natural ingredients which are beneficial for the skin, and two such food items happen to be yoghurt and honey.
The beneficial properties of both yoghurt and honey are well known. Yoghurt is a natural whitener, moisturizer, skin hydrator, pigment & acne fighter and suntan remover. It is no wonder then, that using yoghurt on the face has beneficial qualities like making it radiant and glowing as well as fighting blemishes, acne, fine lines and skin ageing. Honey has its own set of pros like being an anti-septic, anti-bacterial and anti-inflammation agent in addition to sharing the beneficial qualities of yoghurt. It is also good for toning and firming the skin and making it smooth and supple.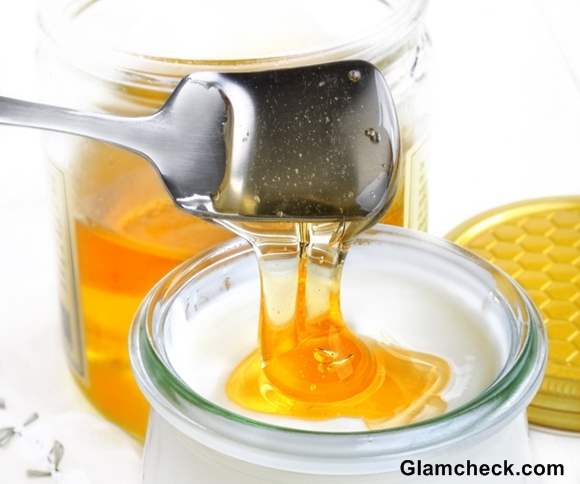 Yoghurt and Honey Face Mask For Radiant Skin
So when you combine these two ingredients, namely yoghurt and honey, the result is a highly beneficial concoction for the skin – which will leave your face looking like a million bucks. Therefore, using the yoghurt and honey face mask is one of the best ways to get radiant skin.
Yoghurt & Honey Face Mask
Kitchen Beauty Recipes-  Yoghurt and Honey Face Mask For Radiant Skin
Take a bowl and put one teaspoon of yoghurt in it. Add half a teaspoon of honey to this and blend well to form a fine mixture.
With the help of a face mask brush, apply this concoction all over your face – leaving out the area around the eye and the lips.
Keep the yoghurt and honey mask on your face for a period of twenty minutes.
After that, massage the face in circular motions before rinsing off with cold or room temperature water.
You can use the yoghurt and honey face mask twice a week for attaining skin that looks radiant and happy. 
Image: Shutterstock