Colored denims are fun, fashionable and totally in trend right now. They can look even more stylish when worn with horizontal stripes, and the overall look would be youthful and vibrant. Therefore, it is time to match those stripes with the denims.
How to Wear Horizontal Stripes with Colored Denims
Here are a few dressing tips on how to wear horizontal stripes with colored denims.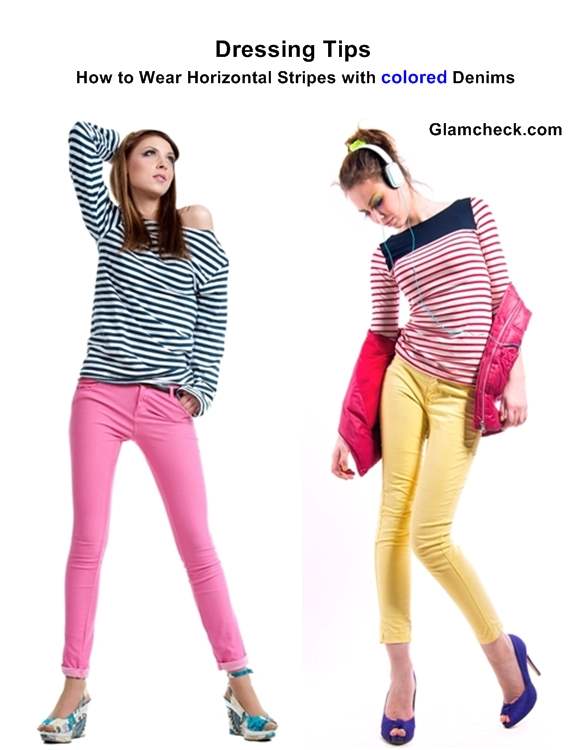 Colored Denims with Horizontal Stripes – Dressing Tips
Tops
The Classic Black and White Stripes: When it comes to stripes, the first combination that comes to mind is the classic black and white stripes. Hence, what can be better than wearing a black and white striped t-shirt with a pair of colored denims.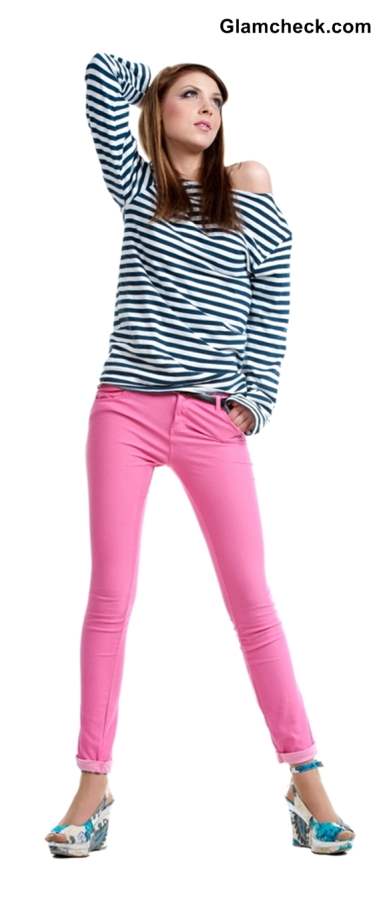 Wearing black and white stripes with Colored Denims
Wearing Colored Stripes:
Striped t-shirts in colors like red, pink, purple, blue, green or orange can also look cool when paired with colored denims. In fact you can even choose a t-shirt with a different base color, other than white. So, it could be a black t-shirt with violet stripes or a lilac t-shirt with candy pink stripes.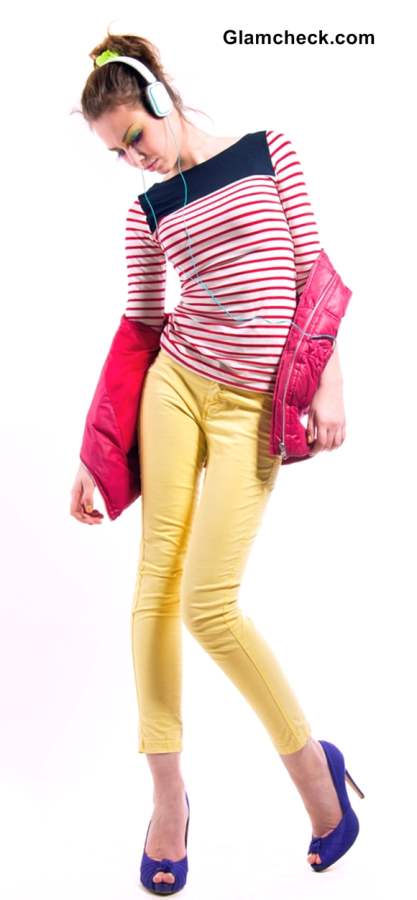 Wearing colored stripes with Colored Denims
You should be on the lookout for vibrant color combinations when you go shopping.
Playing it up with Multicolored Stripes:
The stripes do not necessarily have to be of one color, they can be in numerous colors. It could be blue and pink stripes on a base of yellow or anything equally or more colorful. So, if you find an interesting stripe combination t-shirt – buy it.
Choose From Various Styles Of Tops:
It is not mandatory that you have to only wear striped "T-shirts"with colored denims. You can choose from various other styles of tops as long as they feature stripes. It could be a shirt, a camisole, singlet, halter or a crop top. In fact, see how bollywood actress Priyanka Chopra rocks the stripes and colored denims combo by wearing a grey and black striped crop top with coral colored denims.
Shoes to Wear
A wide variety of shoes will go with stripes and colored denims, it all depends on the type of overall look you are aiming for. If you want to add more pizzazz to your ensemble then you can wear a pair of printed and colourful wedges. If you want to do a take on the color block trend, then pick a color keeping the hue of your denim in mind. Color block combos that work well are yellow and blue, red and purple, pink and orange – in fact, the list goes on. Apart from these, you may want to do a bit of experimentation yourself regarding what type of shoes to wear.
Bags to Carry
Usually, the stripes and colored denims pairing has a casual feel to it, so choose your bags and accessories accordingly. Big hobos and sling bags will look good.
Now that you have the tips, go right ahead and sport the look.
Image: Shutterstock