Back in the Game star Maggie Lawson looked striking in an all black ensemble at the PaleyFest Previews: Fall TV ABC at the Paley Center for Media in Beverly Hills, CA  
The Clothes: Lawson paired a black turtleneck crop top in halter style with a black lace skirt; the latter was see-through from the knee on.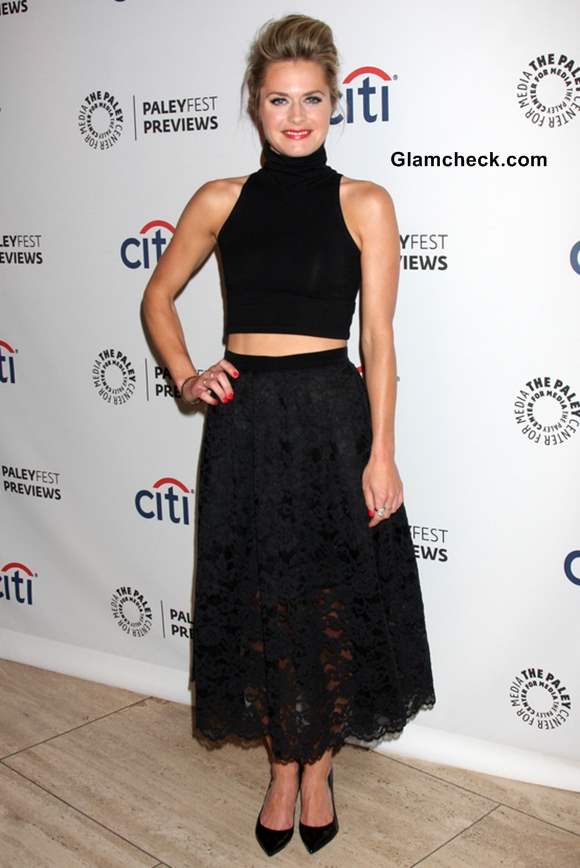 Maggie Lawson In Black at the Paleyfest Previews
Crop tops are really on top of the fashion bandwagon, and we love how the actress has included it in red carpet wear. The ensemble was lady like yet gothic and classic yet trendy – lending an eclectic feel to the look.  Also, we can't help but compliment the lady's absolutely toned arms.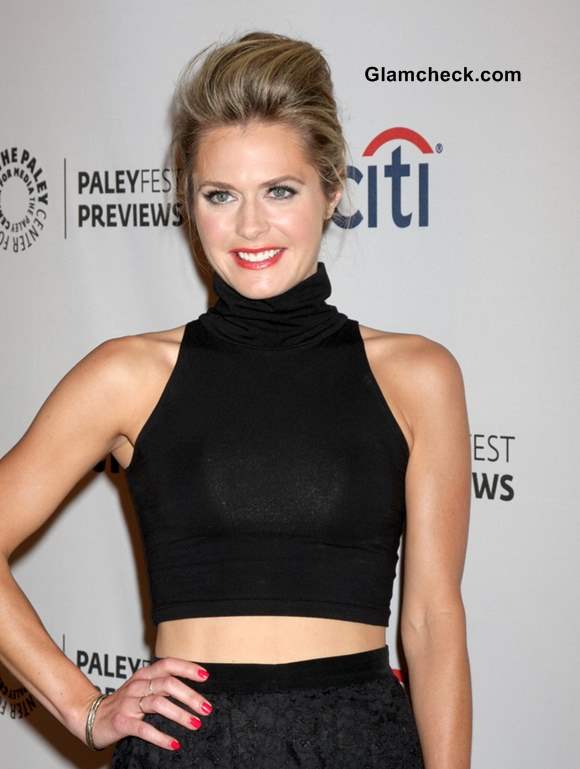 Black crop top worn with black skirt Maggie Lawson
The Accessories: A couple of dainty rings, a delicate bangle and a pair of black pointy toed pumps were Ms Lawson's accessory companions. She kept it simple without overdoing on the trinkets, which we feel was a smart move.
The Hair and Makeup: The piece de resistance of Maggie's look for the PaleyFest Previews was definitely her hairstyle – now that is what we call red carpet worthy. We love that voluminous chignon – it was chic, elegant, stylish and timeless all rolled in one. It also added length and structure to her face. This is one hairstyle that we will certainly be trying our hands on.
The makeup totally complemented the Psych star's outfit as well as hairstyle. The combination of heavily applied black eyeliner and red lips is always a hit, and one cannot deny its own star appeal. A red manicure further added to the Diva quotient.
Glamcheck's Verdict: Maggie Lawson totally owns the red and black combo that she stepped out in for the occasion. There is nothing that feels out of place in her look for the day. The pretty lady surely has our votes.  
Image: Shutterstock