Mermaid gowns took the red carpet by storm last year, and it seems like whoever didn't jump on that bandwagon initially is finally coming around to the rocking style now. Mermaid gowns are truly one of the most ethereal silhouettes in contemporary fashion, emphasizing the natural curves of petite women and buxom women, not to mention everything in between.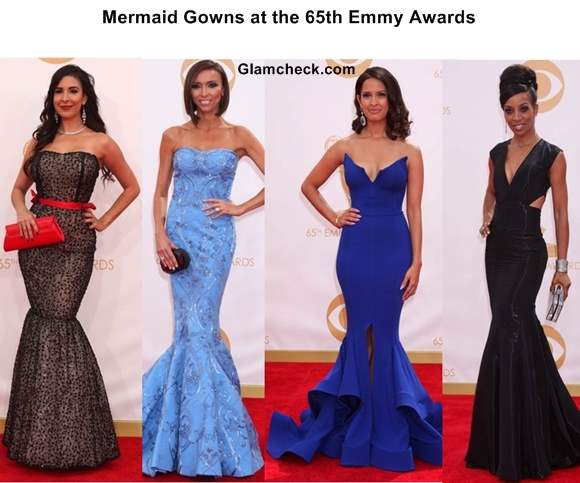 Mermaid Gowns at the 65th Emmy Awards
The celebs attending the 65h Emmy Awards didn't need to be told twice of the powers of the mermaid gown. Several women sported them, each gorgeous woman in the style that was just perfect for her. Check them out as they posed for photos on the red carpet at the Nokia Theater in Los Angeles, California on September 22, 2013.
Super-fit Giuliana Rancic went with a strapless blue mermaid gown, the skirt ending in a short train and with a bit of a flouncy feel to it. The silver blue embroidery was enchanting. She looked just right for a modern day fairytale with a happy ending.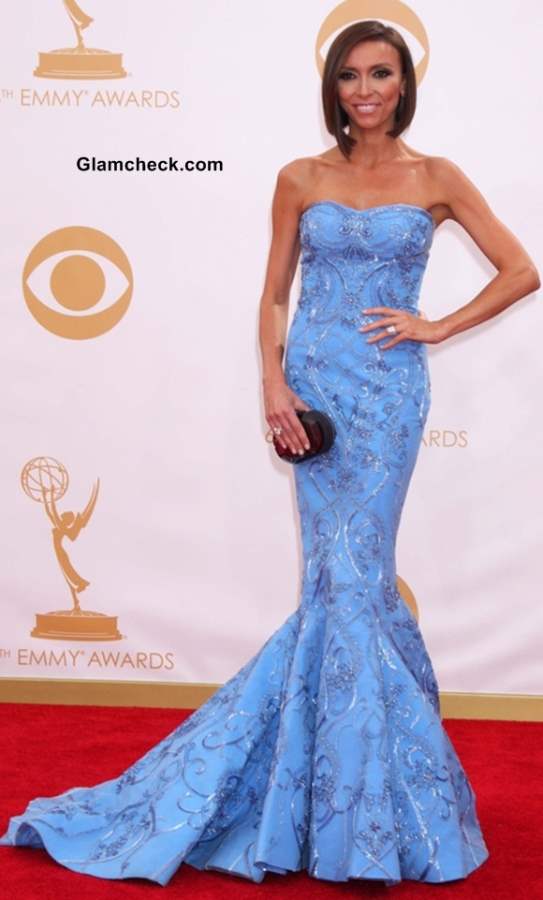 Giuliana Rancic at the 65th Emmy Awards
Pretty Jewel was delicate, feminine and heavenly in a soft pink one with silver embellishments all over. The color was sublime on her! And just look at those beautiful jewellery pieces which are the same shade as the gown.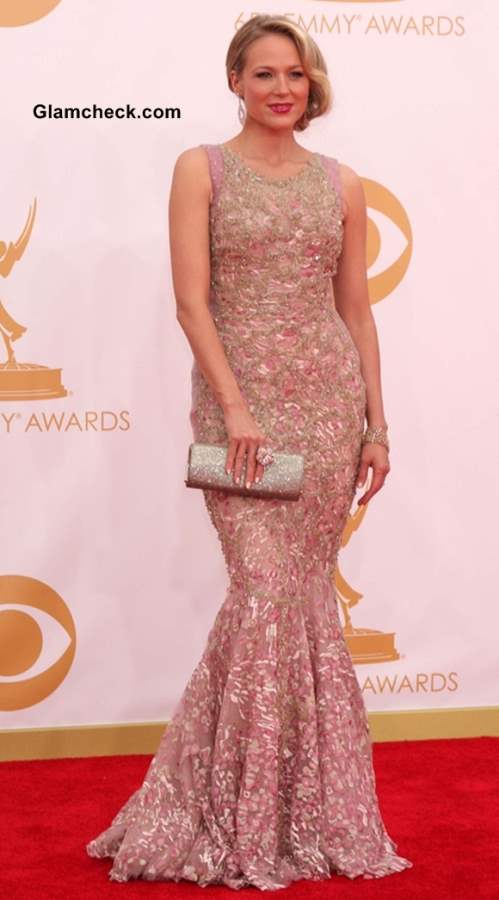 Jewel at the 65th Emmy Awards
A terrific ensemble, an unforgettable vibe, Jewel seems to be living up to her name.  
Mayra Veronica looked like one of those expensive porcelain dolls in her mermaid gown. It was strapless, fashioned from black lace with sequinned detailing over nude fabric.
Mayra Veronica at the 65th Emmy Awards
The mermaid feel was quite stark in this one, cinched in as it was by a red satin belt on the waist and cinched in yet again just above the knees to create the curve-flattering silhouette. We love the additional pop of color that red cutch brings to the ensemble too.
Nancy O'Dell's mermaid gown was modern, sharp and very sexy. A beautiful emerald green, it was panelled with black under the bust and on the sides, giving it a bit of an edgy look.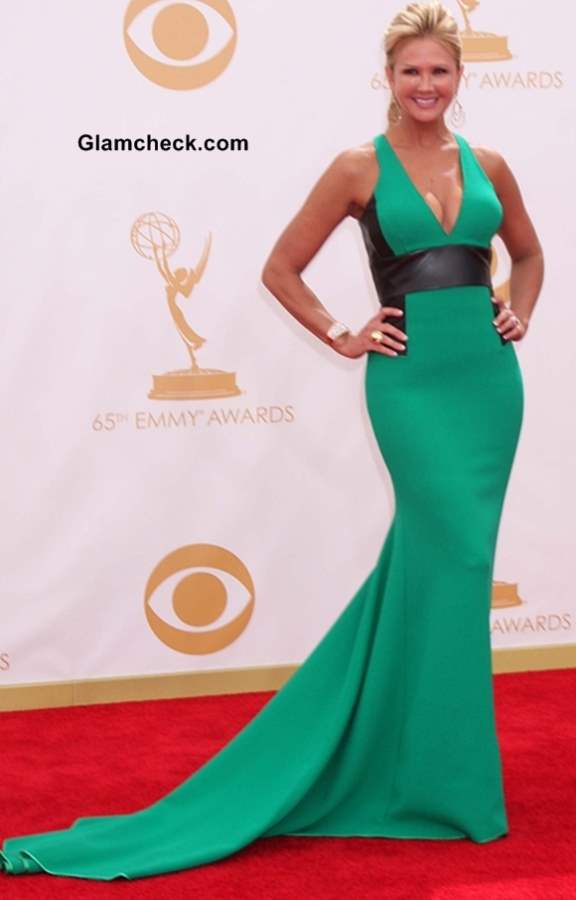 Nancy O'Dell at the 65th Emmy Awards
Rocsi Diaz was doing plenty of talking with her strapless outfit. The blue number had a structured and sort of futuristic silhouette with a deep V cut into the neckline and a split down the center starting from just above the knees. It accentuated her figure in all the right places.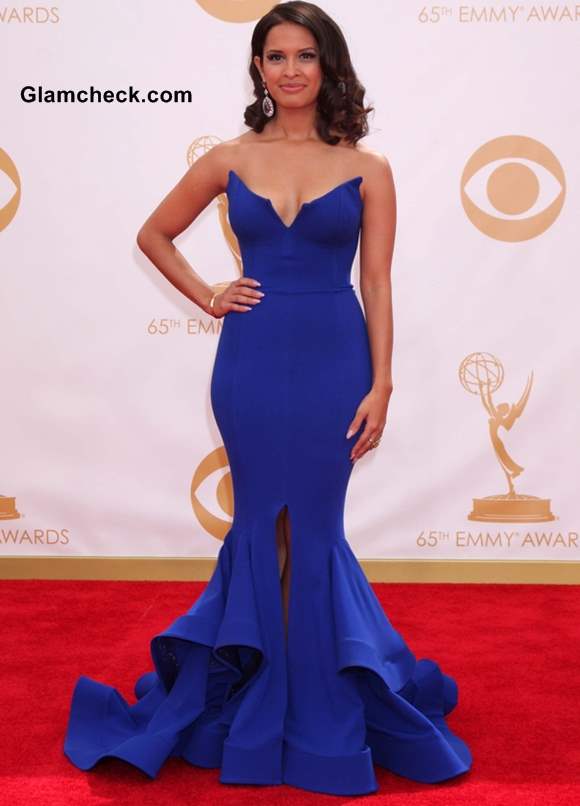 Rocsi Diaz at the 65th Emmy Awards
Roma Downey's flesh-toned evening gown had a subtle mermaid silhouette going for it. The silver sequins and embroidery spattered across its length made it quite elegant, which would have been the only vibe it was exuding if it wasn't for the fully sequinned neckline with a cutout underneath imparting a glamorous feel.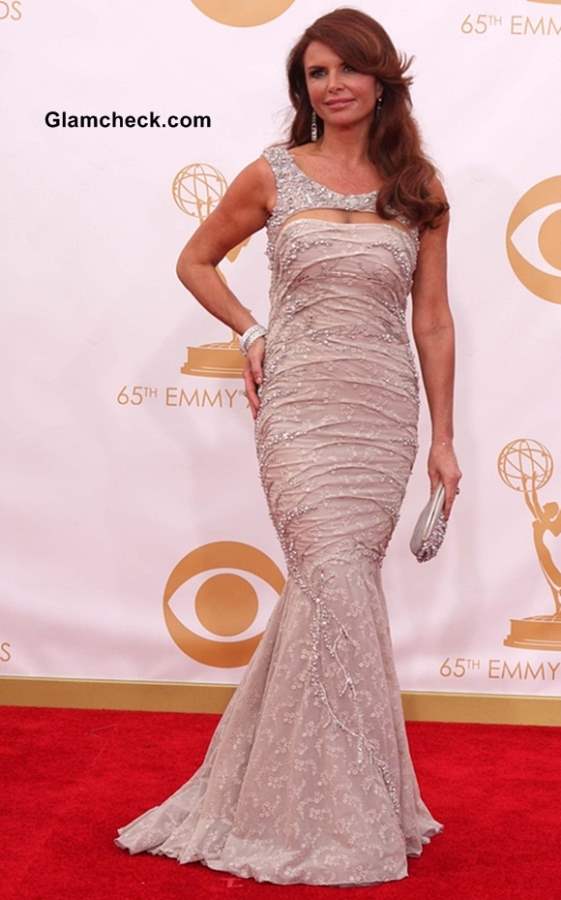 Roma Downey at the 65th Emmy Awards
Shaun Robinson sported one of the most edgy mermaid gowns on this red carpet.  Entirely black and with triangular cutouts on the waist, it was a modern look that would be hard to ignore.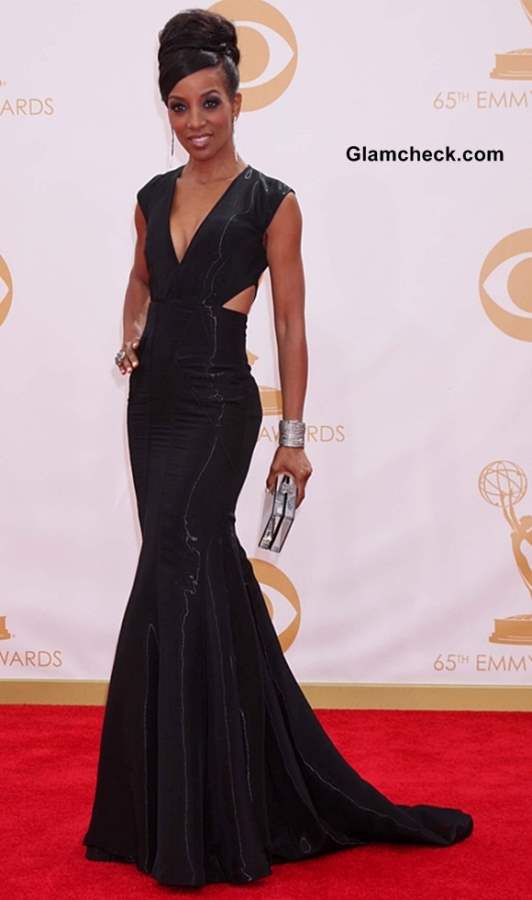 Shaun Robinson at the 65th Emmy Awards
It's impossible for Sofia Vergara to not look sexy. And in a mermaid gown, you can see clearly just why. She is one of the biggest fans of mermaid gowns and has worn them at almost every big red carpet event she's been to. This stunning, lacy red one is definitely in the top five.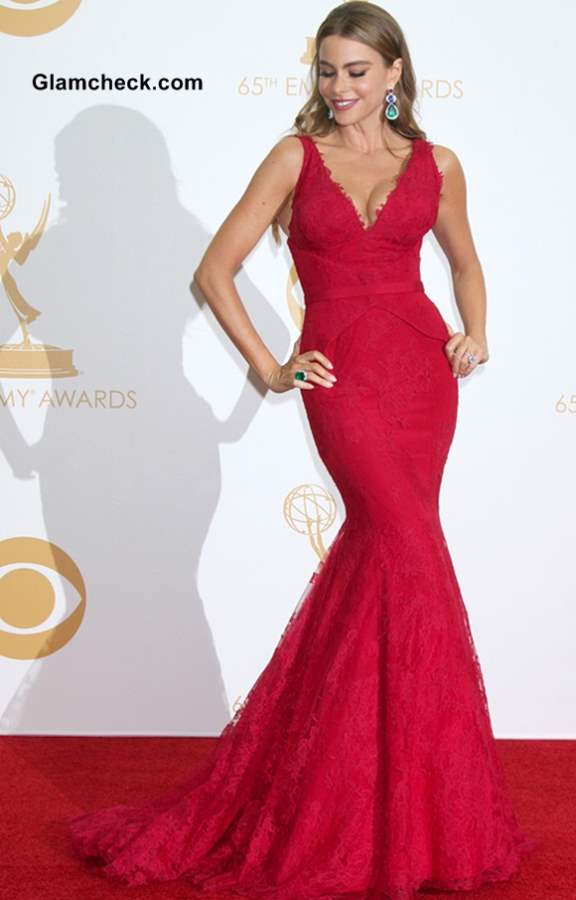 Sofia Vergara at the 65th Emmy Awards
Her emerald ring and earrings, her fake lashes and her curly loose locks just add to that undeniable oomph that she's oozing with this look. 
Image: Shutterstock