Brand Boudoir brings high end fashion conveniently to your doorstep with just one click. The shopping website, whose office is based out of Oxford Street, has a huge line up of designer labels that deal with various products related to style. This makes the company a convenient place to shop online primarily because there is a rather large collection of items, and therefore choices, in one place for you to select from.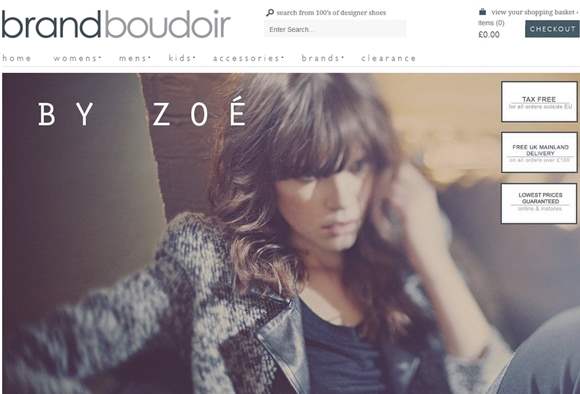 Brand Boudoir
The online shop has clothes, shoes and accessories for both men and women. So whether it is a pair of heeled trainers that you want or a metallic clutch – Brand Boudoir has something for every fashion conscious person. They have an extensive range of shoes and bags to suit every person as well as any type of wardrobe. Some of the big names that Brand Boudoir is associated with include:
Ash
BCBG
Bloch
Campomaggi
Canada Goose
Jeffrey Campbell
Juicy Couture
Just Ballerinas
Kato
Lola Cruz
Lucky Brand
Luxury Rebel
MICHAEL Michael Kors
Mou
Pauric Sweeney
Pure Italian
Rebecca Minkoff
Sam Edelman
See By Chloe
Sounds like an impressive list, doesn't it! In addition to this line up, there are new designer labels that join the company on a weekly basis.
If trend and fashion are your middle names, then Brand Boudoir is your "must not miss" place. The best part about this online store is their bargain prices, and frankly speaking who does not like the idea of getting a good deal. In fact, the label is perennially on sale or clearance, and this is exactly why they are so popular among their varied customers. It is quite easy to order from the site and the delivery is hassle free.
The website deals with only genuine products that are ordered directly from the suppliers. The items can be ordered easily from the site and there are no extra charges for international shipping, it is free. Therefore, even if you pay a lower rate for any product due to an ongoing discount, there is no compromise on the quality of the product itself. A visit to Brand Boudoir should be on your "to-see" list, especially if you like to be fashionably well turned out.