Ginger Snaps New Collection 2013 at Kids International Fashion Week 2013 on 5th and 6th October, 2013 in Bangkok, Thailand. The brand is known for its fashionable, global and trendy designs for children and mothers to be. What caught our attention were the beautiful handmade hair accessories on the kids. This accessory added a fun element to the outfits. It is quirky yet very cute and looked fabulous on the kids.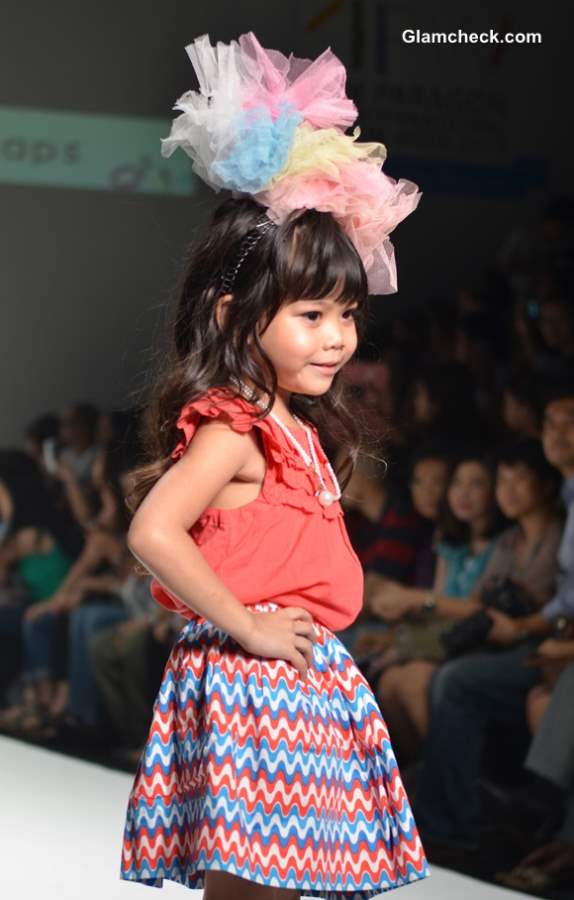 Ginger Snaps New Collection 2013 at Kids Internation Fashion Week 2013
The one in the collection has been made out of net through ruching. This simply means to ruffle, pleat or gather fabric to create multiple layers. It is a sewing technique used to add an element of detail to a product. It has the ability to funk up any outfit in a jiffy!
These delightful and handmade treasures look wonderful with any outfit. Do try these out this summer and give your child a surprise! The color palette can be pastel or absolutely bright and happy, either ways it will look very adorable! 
Do it yourself:
Things you need:
Some net/ chiffon fabric
Fabric glue/ glue- gun
Needle and thread
Scissors
Hair clip/ hair band
How to make a bow:
Fabric Flowers and Hair Bows
Start off by taking a bright colored net and cut it into a few rectangle pieces. Take a size according to the length of the bow u want; also make sure there is enough width in each piece.
Start pleating the breadth of the rectangular piece. Continue to do this on the remaining pieces. Stick or stitch them from the center.
 Now place these rectangular pleated pieces alongside each other to give more layers. Now stitch them all together.
Or you may want to consider folding them into half and putting them all together.
Your bow is now ready; you may fix it on a hair clip or a hair band for convenience.
How to make a ruffled lace flower: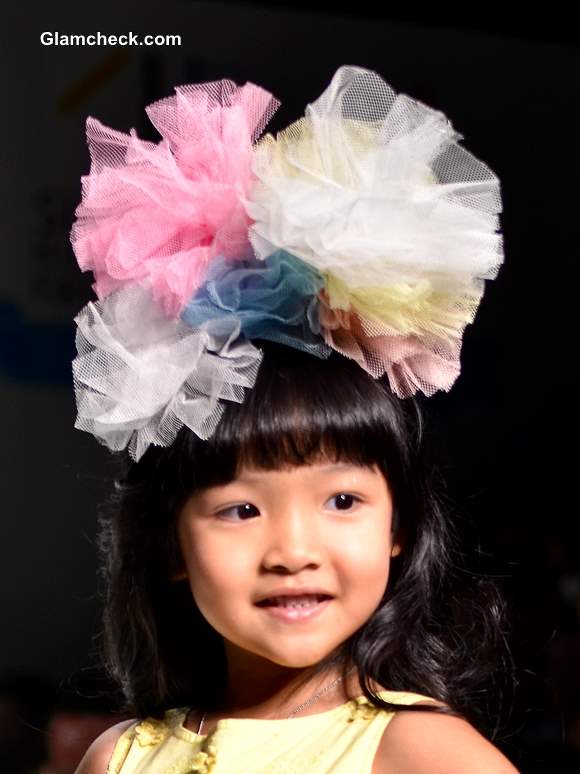 Little Girls Hair Accessory – Fabric Flowers and Hair Bows
Firstly cut a circle of about 2 inches in diameter from a thick fabric.
Then take the net strips and do a running stitch on one side and pull the thread a little to get a ruched effect.
Now apply glue around ruched edge and stick the net strip directly on the circular thick fabric with glue following the curve in a circular manner until you reach the center.
The flower is complete, you may consider putting a cute button in the center to give a finishing touch
Place this flower or a hair clip/ pin or a hair band.
The flower or the bow will quirk up the outfit and take the little one on a whimsical journey. The kids will love it and so will the moms. It would be a good idea to ask your kid to help you while you make this hair accessory. This style would simply be unique and fun to wear! 
Image: Shutterstock