We've been seeing the see-through lace dress consistently on the red carpet in Hollywood. The three most recent ones were on actresses Becca Tobin, Shantel VanSanten and Lea Michele.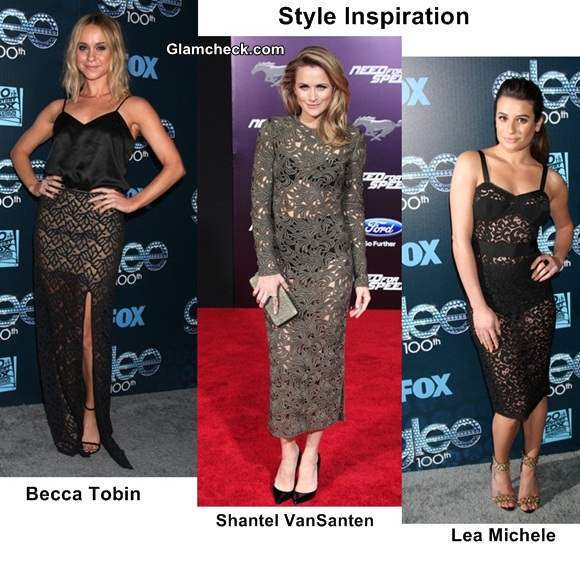 Lace Dresses – Style Inspiration
Lea Michele was seen in a very sexy, knee-length black lace dress, see-through all the way. She teamed it animal-print ankle-straps and the all-important strapless black bra and matching underwear which were as much a part of her outfit as the dress. 
Black lace dresss – Lea Michele
Shantel wore a very elegant dove-drey lace dress that fell just short of the ankles. While it had quite a modest cut with its crew neckline and full sleeves, it still had the see-through feature so it was high on sex appeal. She too chose black underwear to round out the outfit.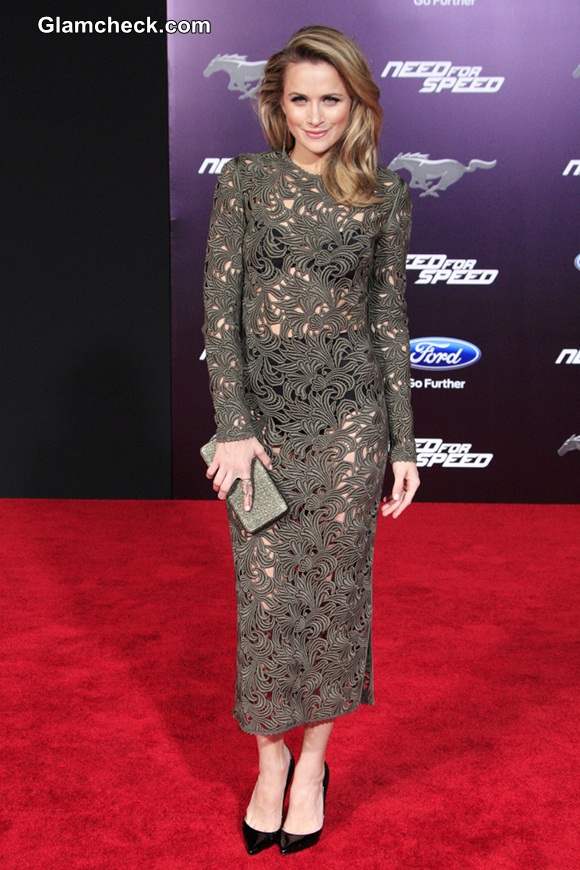 Gray Lace Dress – Shantel VanSanten
We spotted Becca at the Glee 100th episode party at Chateau Marmont on March 18, 2014. She was wearing a silk top with a lace maxi skirt. It was entirely see-through but a short lining covered up her hips. This is a great look for those who want to try out the lacy see-through look but aren't ready for the more risque types of dresses that Lea and Shantel sported.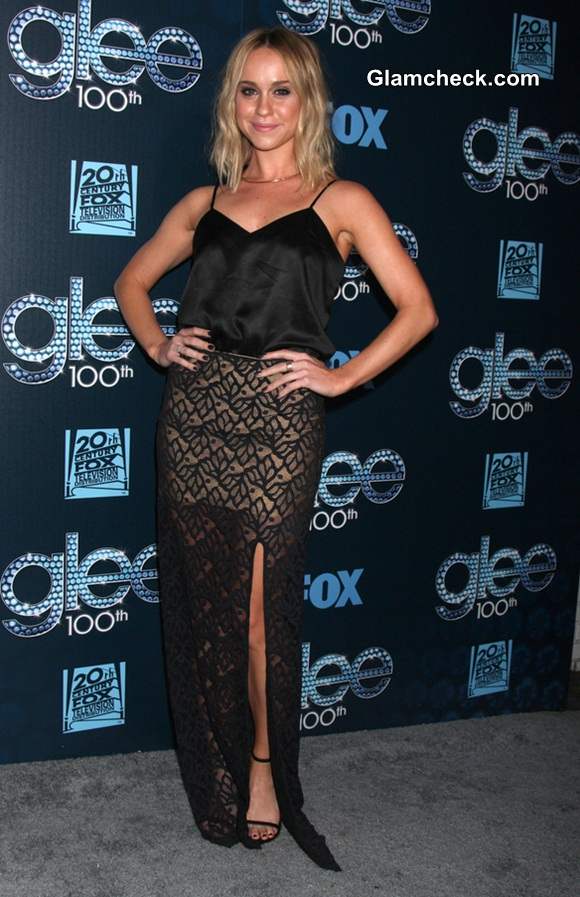 Becca Tobin 2014 in see through Dress
Get The Look
Pulling off a see-through lace dress is not easy. It's also hard to pinpoint the occasions that would be appropriate for such a look.
The most important thing here is your inner wear. Both your bra and panty must match, and you absolutely must wear the kind that gives you full coverage. Plus, the cut of both should be contemporary. Your underwear will be as much up for scrutiny as the rest of your outfit, perhaps more so, so be sure that it can stand up to it.
As you may have noticed, high waist panties are a far more popular choice for see-through dresses. This is a pretty crucial feature because no matter how skinny you are, your stomach will bulge out a bit when you are seated and the effect is not the nicest to look at. A high waist panty will keep things looking strapped in and sleek through all your movements.
Another important feature is your bra – most ladies pick the strapless variety and with good reason. When you wear a bra with a strap with a see-through outfit, the straps can sometimes hinder the visual aesthetic of the look. So sport a strapless one for a cleaner vibe.
Last but not least, avoid printed inner wear and go with solid colours only.  
Solaris Images