We are back with yet another styling option to go with your denim shorts. There is no doubt about the ocean like vast options that this interesting little piece of fashion called denim shorts has to offer. Whatever be the occasion, whether on the beach or just a casual summer drive with friends, it suits them all!
Another clothing style that has recently revealed its potential as the most versatile and sort after option is a -crop top! It has dictated its presence throughout the last two seasons and is still going strong! More recently the crop top has been combined by various designers across the globe in their swim wear, beach wear, and resort wear collections. The scope and dynamics of this wonder piece is unimaginable. This is definitely by far and undoubtedly one of closest competitors in versatility for denim shorts.
Today we ask you to combine your denim shorts with these two amazingly smart fashion options of crop tops- an ombre dyed- fringed crop top and a solid colour-polka dotted crop top.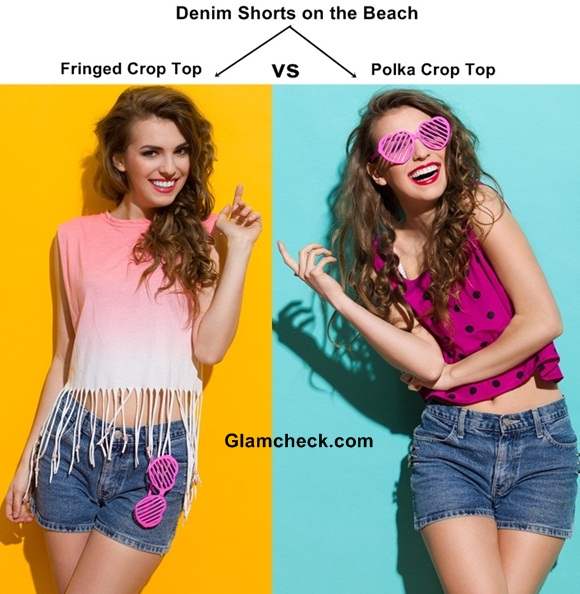 Denim Shorts on the Beach – to go with a Fringed Crop Top or a Polka Crop Top
The beautiful ombre dyed crop top is dyed in gradation from white to a rosy pink. The t- shirt styled crop top's hem is finished in a tassel style, with asymmetrical fringes dangling down and pink beads at the end. When combined with the denim short, the interplay of colours makes this style casual yet a very chic option. The peek a- boo effect at the mid-riff from the fringes definitely makes this style option to die for.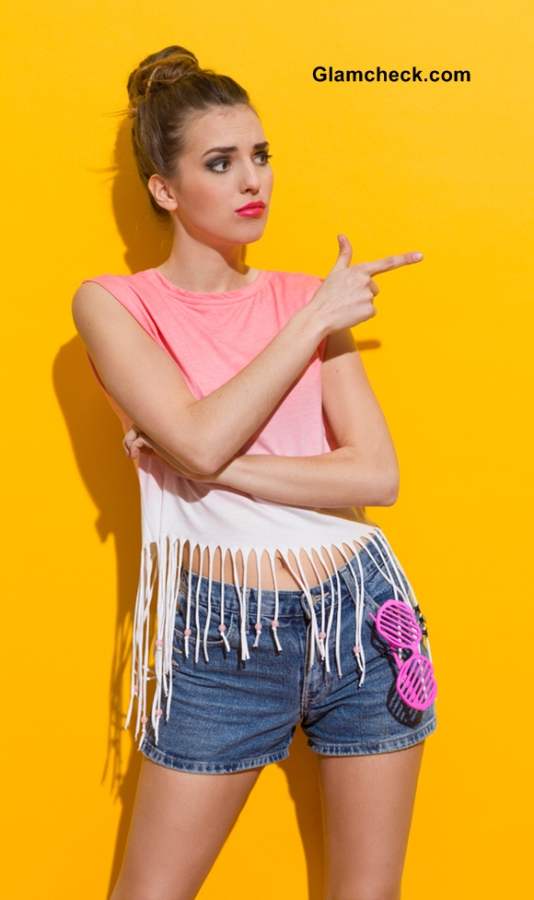 Denim Shorts on the Beach with Fringed Crop Top
This combination is perfect for a summer casual event or even to hang out at the beach. Style it up further with a scarf or a summer beach hat according to convenience of the occasion.
The second option is rather a playful one with the denim shorts now in combination with a sleeveless barrel shaped loose fit crop top. This flirty crop top has a solid dark fuchsia pink base colour with black polkas placed on top. This crop top looks like a choice for the keep it simple type, but according to us this option is shouting out loud on its fun quotient.
Denim Shorts on the Beach with Polka Dotted Crop Top
This option doesn't need any dressing up. Just a playful beach goggle should be good to go.
We are of the opinion that both these options are good to rock at any summer beach event. We would like to know, which out of the two options made you go ga-ga and has your vouched –for vote in this style poll- the fringed chic style or the flirty-fun polka style?
Image: Shutterstock