Bright colorful eyes are easily one of the best tricks in creating a captivating and alluring look but many of us can find colors too intimidating to work with. We'll show a simple D.I.Y eye make-up on how you could incorporate colors to your looks. The shade we've picked is a lovely golden yellow, keeping in mind the upcoming merry holiday season.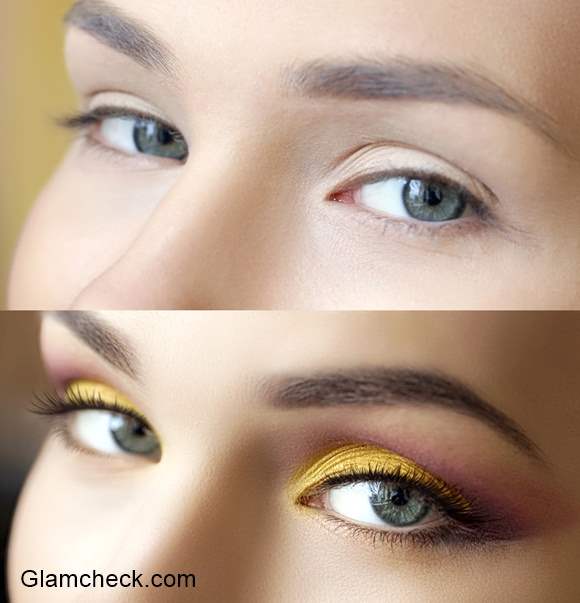 DIY Golden Yellow Eye Makeup
You'll need:
Nude Eye-shadow palette
Gold yellow eye-shadow
Black gel liner
Mascara
Makeup sponge
Eye makeup brush (angled, small rounded and crease)
Steps to achieve the look:
After you've finished applying the foundation, done with contouring and powdering the face, we move to the focus of the look – eyes.

Golden Yellow Eye Makeup DIY
First, the most important step for any makeup: 'get your eyebrows on fleek'.
Using the crease brush, pick a purple brown shadow or any dark brown with a midnight blue hue. Apply this on the crease, starting from the outer corner and going lighter as you close in.
Now blend with the round brush, moving above the crease as you blend.
The yellow eye shadow will now be applied below the crease using a clean brush. Also dab this color on the inner corners and along the lower eye lid.
Now use the angled brush and the black gel liner to define the crease a little more, focussing on the outer corner. The inner third will be left untouched.
With the same gel liner, define the upper lash line by drawing a thin line. Refrain from giving a winged or cat-eye and stop short at the crease corner.
Slightly define the lower eye with the black liner, starting from the mid section and moving to the outer corner.
Highlight the brow bone and remove any stray shadow powders from the face using the make-up sponge.
Finally, curl your lashes and top with mascara to give a luscious volume.
To wear this look, it is best you keep the features of your face subtle. So opt for a nude lips and go easy on the blusher.
How to sport the colorful eye makeup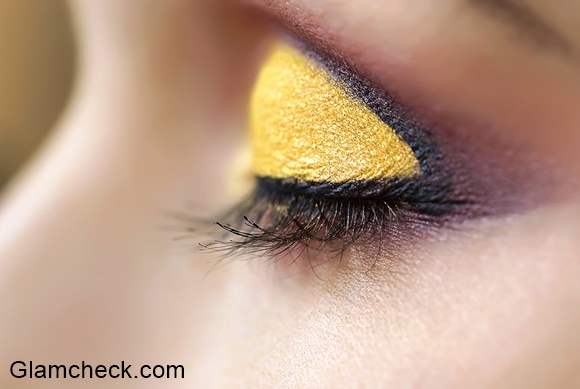 Golden Yellow Eye Makeup
Bright eyes such as the gold yellow we've used are sure to grab a lot of attention which is good. But clearly, it is not meant for office, formal parties or casual day time looks. Keep this alluring look for festive occasions and glamorous parties. It's perfect for night-time fun gatherings! We would also suggest, since the look is attention grabbing, to abstain from wearing bold or bright outfits. A little black dress with a pretty gold yellow eye make-up, wouldn't that be just stunningly glamorous?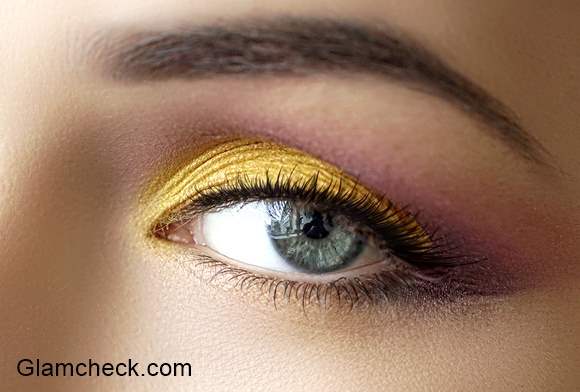 Festive Eye Makeup
Image: Shutterstock