The highly, perhaps the most, anticipated movie premiere of the year 'Star Wars: The Force Awakens' opened to a star studded, ultra glamorous red carpet welcome at the Hollywood & Highland on December 14th in Los Angeles. As foreseen, there were a number of Star Wars inspired looks that we were only too glad to see! One of the most popular among the ladies was, undoubtedly, Princess Leia's trademark cinnamon bun hairstyle.
Of the various Princess Leia hair versions, Maria Menounos's look was, for us, one of the most interesting and striking style. Instead of the famous centre parted, symmetrical side buns, Maria channelled four, super adorable, mini buns all around her nape.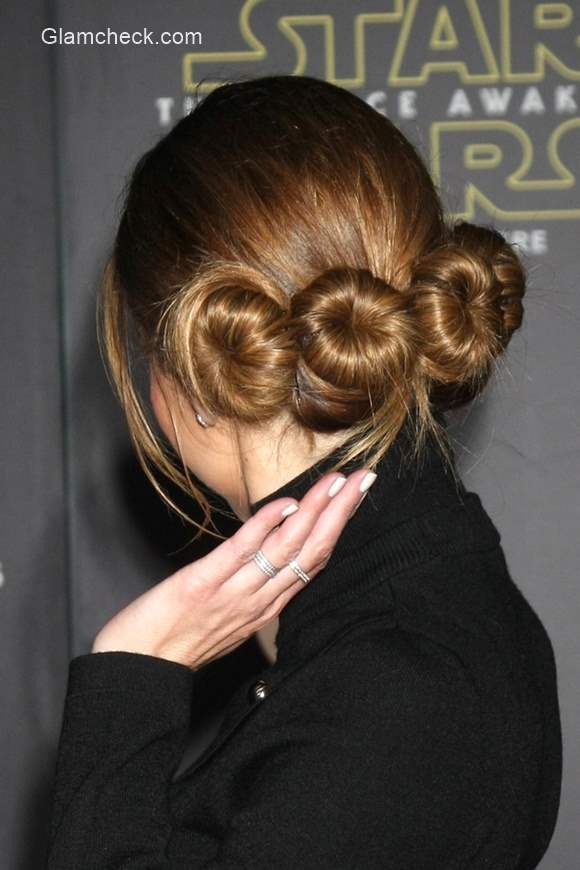 Princess Leia inspired Hairstyle
Geeky, stylish and creative, could there be a better way for fashionistas to flaunt their love for Star Wars?
Create Maria Menounos's Princess Leia hairstyle at home
You'll need:
Comb

4 small hair doughnuts

Bobby pins and hair ties
Ps: You can even use socks to create hair doughnuts; just cut off the toe portion. It is better to use a sock that matches your hair color and, for this particular hairstyle, pick a smaller sized pair. A kid's socks would be perfect.
Get the look:
Step 1: Comb your hair and give a neat middle parting.
Step 2: Divide your hair into 4 (or as per your wish) equal sections and use hair ties to make low ponytails.
PS: Unlike the original Princess Leia hairstyle, which is a little high up, this version is all about low buns.
Step 3: Pull the hair doughnut over the first ponytail and slide it towards the mid length. Now uniformly spread the lower length of the ponytail over it and secure with elastic. Grab the hair-doughnut and carefully, start rolling your ponytail towards the nape of your head.
The end-result should be a doughnut shaped bun. Secure with bobby pins.
Repeat this step for all the remaining 3 ponytails. If it gets a little messy, don't worry, a slightly messy look works just fine.
Ps: If this is your first time using a hair doughnut, you'll most probably need a little practise. Just make sure, as you roll the hair, to keep spreading and carefully tucking any loose ends around the hair-doughnut. Your hair should fully cover the doughnut. It will become easy peasy as you near the base.
Step4: Use hairspray to hold the hair.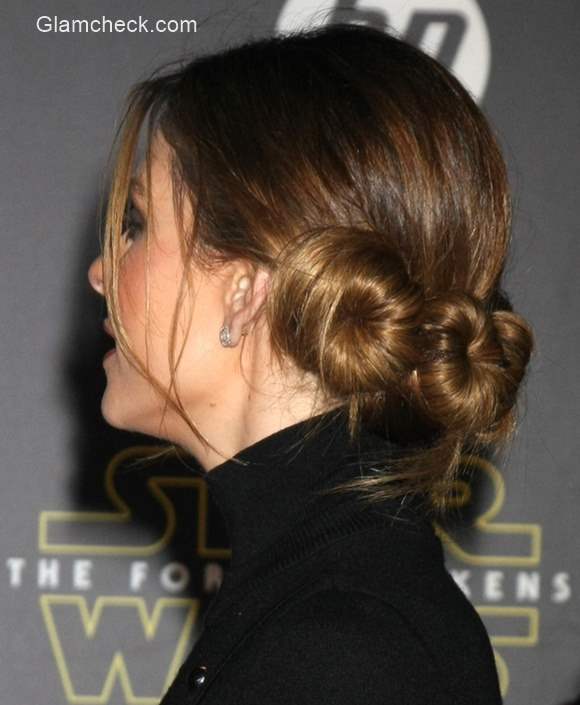 Maria Menounos Princess Leia inspired Hairstyle
The stunning Princess Leia inspired hairstyle is now done. It's time to have a Star Wars movie marathon!
Image: Shutterstock