Perhaps it had to do with the galactic theme, but indeed, sparkly and glittering fashion seemed galore at the World premiere of Star Wars: The Force Awakens at the Hollywood & Highland in Los Angeles, CA. The swanky red carpet event that took place on December 14th, 2015 saw most of the celebs turn up in Star Wars inspired looks and flashy sequins seemed like the hot favorite theme.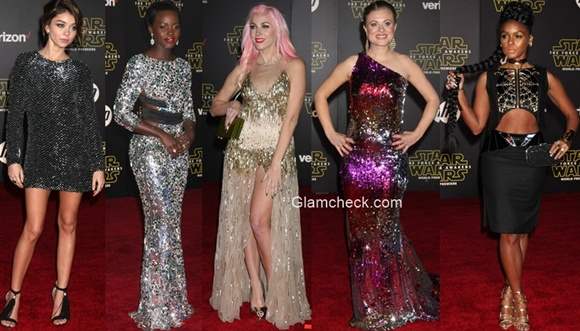 Celebs in Sequins Gowns and Dresses
Sexy, cute, futuristic or downright bold, here's the best 5 sequinned fashion from the red carpet event.
Bonnie McKee: Gold and Sexy
A sheer gold sequinned number with a thigh high split, there's an outfit only someone like Bonnie McKee can rock. Bright tangerine lips, a striking yet soft pink-ombre hair and contrast green nail-color (details ladies, details!), that's how you nail the look.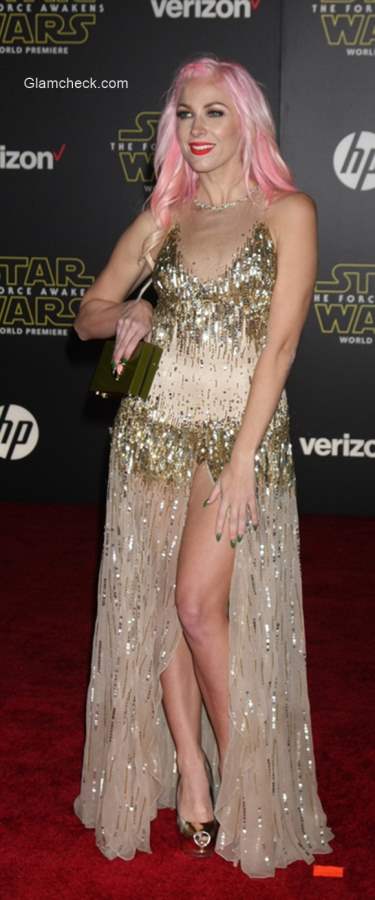 Sequin Gown Bonnie McKee
Bonnie Plesse: Galactic colors
Bonnie Plesse's one shouldered gown had a myriad of hues in glittering sequins that could have easily gone overboard. But thanks to the careful styling and light make-up, she managed to pull it off and also flaunt the unmistakable Star Wars effect.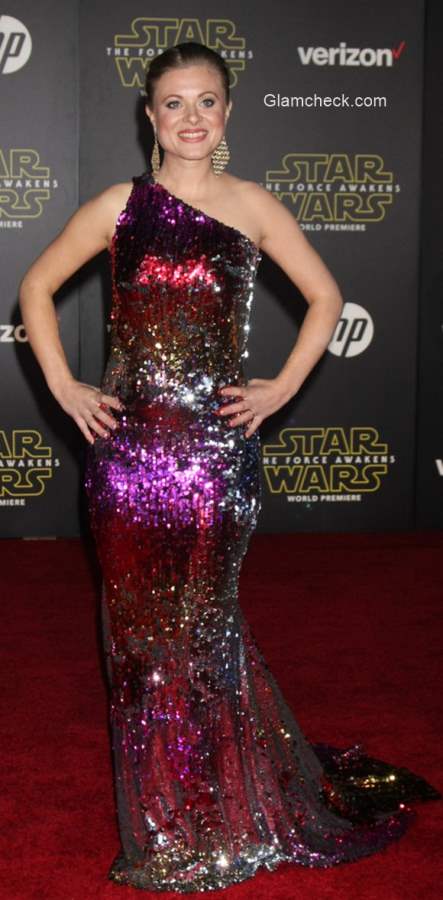 Sequin Gown Bonnie Plesse
Janelle Monae: Futuristic Glitz
One of our favorite looks from the evening, Janelle Monae in the embellished and ultramodern Erevos Aether dress had everyone going 'Wow!'. From the edgy accessories to the quirky choice of nail art, from the subtle gold-themed make-up to the striking braided hair-do, Janelle's red carpet look defined perfection.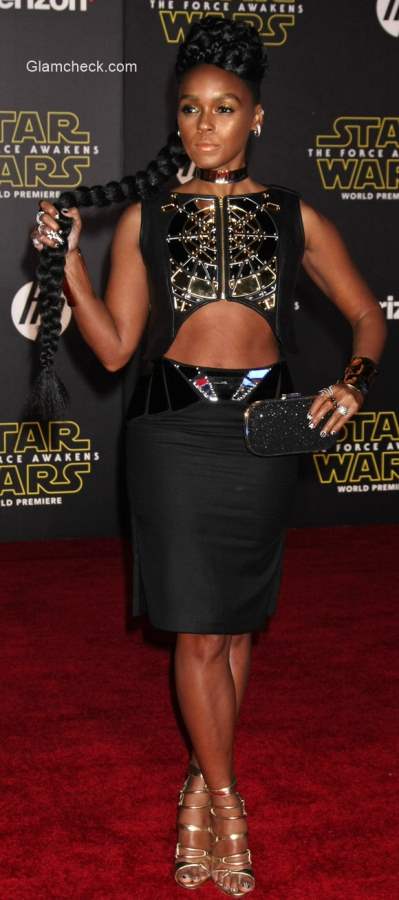 Sequin dress Janelle Monae
Sarah Hyland: A hint of Sparkle
Cute and young, Sarah's choice of sequinned Kaufmanfranco mini dress seemed tailored for her personality. With a fun Princess Leia inspired hairdo, edgy jewelleries and Jimmy Choo 'Viola' heels, Sarah Hyland once again proved her status as a style icon.

Sequin Dress Sarah Hyland
Lupita Nyong'o: Starry Sparkle
With Lupita Nyong'o, there is no room for being subtle, it's all about going all out and stealing the attention. A heavily embellished, sparkly silver Alexandre Vauthier couture gown was her choice for the Star Wars premiere.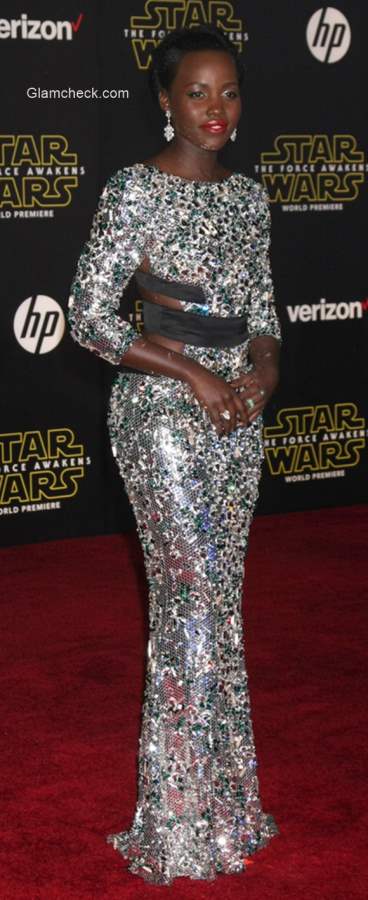 Sequin Gown Lupita Nyong'o
Stunning, it definitely was, no one can do it like her! The clever black cut-out detailing around the waist and back, somehow, helped balance the sparkle overdose. And Edie Parker clutch and Chopard jewelleries, that included 25.27 carat diamond earrings (!) completed this jaw-dropping look.
Image: Shutterstock