Bollywood actors Abhay Deol and Nargis Fakhri walked down the ramp displaying jewellery by Amrapali Jewels Pvt. Ltd. at the India International Jewellery Week in Mumbai, India on August 19.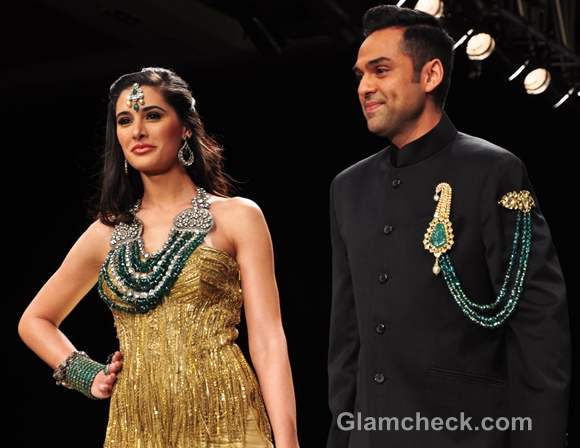 Nargis Fakhri presented a heavy jewellery set consisting of an elaborate neck piece, an equally elaborate bracelet, large hoop earrings embellished with jewels, and a hair accessory on her forehead. The dark-eyed beauty wore a gold dress that allowed the jewellery to really shine, but it was in fact her grace and inner poise that made even the elaborate pieces of the set look delicate.
Meanwhile, Abhay was handsome in a black sherwani which was embellished with a very interesting piece of jewellery inspired by the national bird of India. A large gold brooch pinned to the chest was designed in the shape of a peacock feather, with an emerald in the center of the piece creating a lovely contrast. More green jewels formed multiple chains which connected the brooch to a gold band strapped around Abhay's arm.
The jewellery for both Abhay and Nargis was obviously ethnic, but it also had a decidedly tribal feel to it. You can picture the rich folk culture of the country when you look at these pieces. 
Image: Indian Photo Agency