This Indian festival is about the celebration of the freedom of our soul. We are looking forward to creating a stylish wardrobe for you. Durga puja is just round the corner and Glamcheck has 5 looks decoded for you step by step.
Here are the fashion looks:
The Modernista Look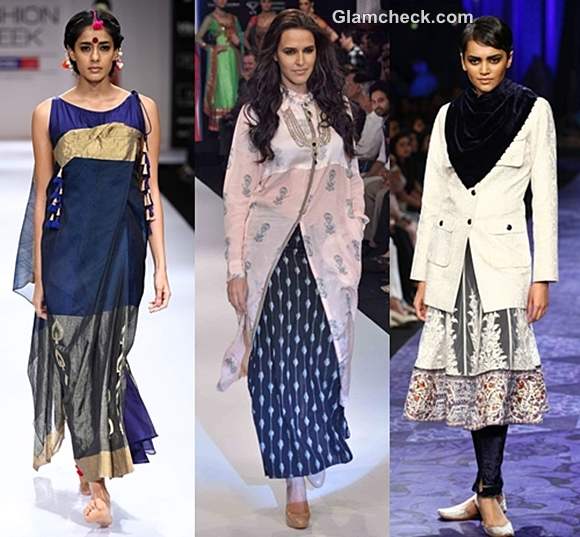 Fashion: How to dress for Durga Puja 2012 &  Navratri 
The look of a woman who blends her innate Indianness with modern elements justifies the modernista. Anarkalis with trench coats, saris draped to look like maxi dresses, long sheer kurtis over long skirts are all experimental fashion. This trend is for those women who can carry off this quirkiness with confidence.
Ways to sport the Modernista look:
Wear a maxi kurti with an open-front like Neha Dhupia
Prints will not die down soon so do not hesitate to buy prints
 You can choose an asymmetrical hemline for the kurti
Wear a long skirt or better wear a maxi dress under your sheer kurti; a nice strappy one or a bustier
Choose a statement neckpiece to wear with it
You can also carry an embroidered stole around your neck
Carry a chain strap purse for the day and a clutch for the night
Line your eyes with black liner and keep strong brows
Matte lips will be well-suited for this look
Sport mojris for that Indian appeal
Tip: We have seen accessories taking up a DIY look with acrylic strands of yarn knotting up to form earrings and maang-tikka. See the picture above (extreme left)
Eccentric Ashtami: Anjali Look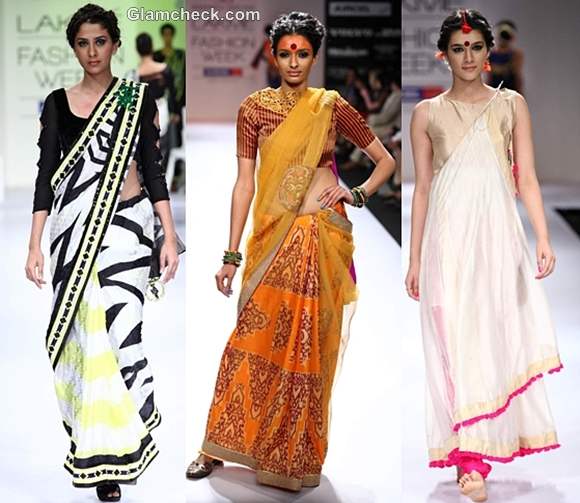 Traditional saree for Durga Puja & Navratri 2012
You have been fasting all the morning and standing in queues to give your 'Anjali' to Ma Durga and looking good is no secondary business. Arm yourself with saris that steer away from conventional prints and cuts. Layered, tiered, ombre, and prints all add up to give you that eccentric look.
Ways to sport the Eccentric Ashtami look:
Choose a sari with a modern twist
It can be a pre-draped sari, a jersey sari; yes, you heard me right. The jersey fabric is gradually but, steadily creeping into the stacks of ethnic wear in your wardrobe
Gaurav Gupta is doing a lot of pre-draped saris and also jersey saris. Lay your hands on one of those
Tiered saris like the one Sridevi wore for the premiere of English Vinglish by Sabyasachi Mukherjee exudes a new kind of elegance. Black&White is this designer's preferred colour palette for this Autumn/Winter season.
Ombre saris are a great catch this season. Make use of it. Madhuri Dixit was spotted in one of them at Jhalak Dikhla Jaa
 You can also wear a white wrap-skirt with a bright border like the picture above (extreme right). It will make for a good outing for the ashtami
Make-up should be clean. You can put some gloss and accentuate your eyes thickly with kohl
Bindi is optional but, if you wear it then, remember to make it large. A large (red or any other colour that goes with your ensemble) bindi will suit the occasion
Wear wristlets or thick bangles in one hand
Carry off a chunky watch in the other
 Tip: A braided chignon will uplift this look a notch higher.
Opulent Ashtami Evening Look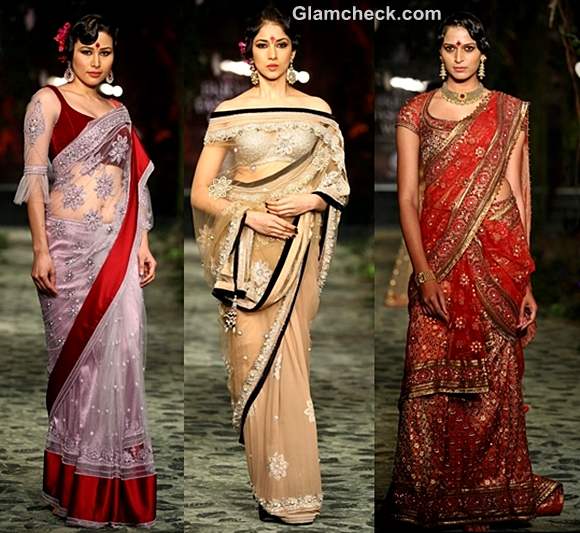 Durga Puja 2012 Traditional Looks for Women 
Indulge in 9 yards of pure fascination in an ornate sari. Opulent saris are the order of the night. Embellished saris, tulle saris, embroidered saris and so on call for celebration on the auspicious night of the Navami. Rich textiles like brocade, satin, velvet give a majestic appearance to your sari and you will feel like a princess in it.
Ways to sport the Opulent Ashtami Evening look:
We have seen a lot of Indian textiles being experimented with by the designers this AW12
Embellished with sequins and zari your sari can be a work of art
Kantha embroidery to shadow work, luxurious motifs and plentiful of drama will elevate your look for the night
Be more dramatic with your make-up this time. Smoky eyes will look glam and if you add some bronzer to your cheeks and chin, you are on a roll
Experiment with your hair accessory too. A simple or dramatic gajra will look good
You can also try the hair jewellery by simply braiding your hair and adorning it with jewels
Ornate danglers, hoops and jhumkas can be paired with this look
Tip: Try a quiffed chignon with this ensemble.
'Dhunuchi' Dance Look: Navami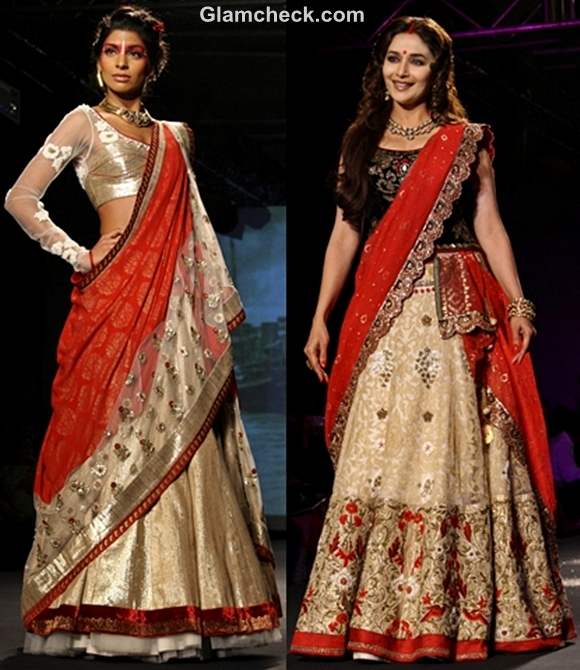 Dress Traditional for Durga Puja 2012 Navratri
The Dhunuchi dance is an integral part of Durga puja celebrations. A lamp or pradeep is lit with coir and incense and is called Dhunuchi, men and women dance with this fire-lit lamp in front of Goddess Durga. People gather around the mandap to witness this dance, popularly called Dhunuchi Naach.
We know how excited you are to behold this spectacle with your own eyes. We have conceived a look for this special performance.
Ways to sport the Navami look:
A traditional lehenga with contemporary styling is a good option for watching over a Dhunuchi naach
Madhuri wears a plush off-white lehenga embroidered beautifully with an ornate red dupatta in the picture above
Another way to style this look is wearing this ensemble like a sari. The dupatta can be draped like a sari
Pair this look with a choker, lovely bangles and dazzling danglers
Use creative ways of wearing a bindi. Experiment with the bindi shapes and make it fun and creative
Tip: Keep your beautiful hair open and side-swept. Sport a pretty smile and get ready to witness the dance moves in style. Add a cropped jacket for the chilly night. It will add some element of sharpness to the otherwise fluid attire.
Divine Dashami: The Anarkali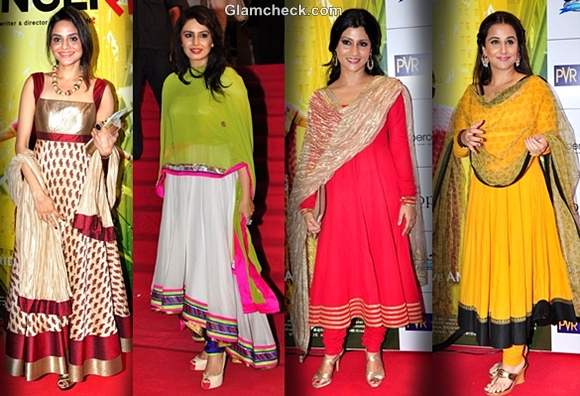 Ethnic anarkali suits for 2012  Durga Puja & Navratri
Maa Durga will take leave from us on the day of Dashami. You need to up the style quotient on the final day of festivity. Anarkali is a favorable ensemble for this pious day. Look at the celebs sporting this look in style in the picture above.
Ways to sport the Divine Dashami look
The Anarkali is an apt ensemble to wear for the dashami. Choose vibrant colors for your attire
Crimson, scarlet, mustard, mint green, citrus, and other hues to sum up the dynamism of your look
Wear a colorful dupatta if you are wearing a neutral color kurti
Choose a border which is embroidered or brocaded. The whole kurti can be kept modest but, the border should be embellished
Wear beautiful sandals with this look
Asymmetrical hemlines are this season's style staple. From hems to necklines this trend has been featured in most ensembles.
Tip: Wear a bright pop of color on your lips andkohl-rim your eyes. Wear danglers and hoops as accessories. A nice statement neckpiece is always preferred.
Sport this look like Madhoo, Huma Quereshi, Konkona Sen Sharma and Vidya Balan.
Glamcheck wishes you a wonderful Navratri and Durga Puja.
Traditional Bengali Look – WATCH the VIDEO –
Indian Photo Agency, IANS