Bollywood actor Shilpa Shetty wowed us with her typically Maharshtrian avatar on a recent episode of her dance show Nach Baliye 6. Her hair, makeup and accessories were what made it such a success. Here are some tips on how you can get the look too.
Side Braid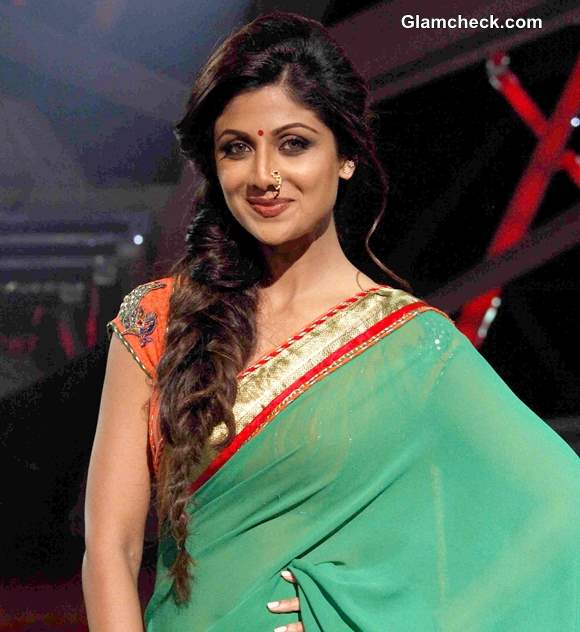 Get Shilpa Shetty's Marathi Mulgi Look
Shilpa's thick side braid is very sexy. If your hair is not naturally thick, you can make it appear voluminous by frizzing up individual sections of your hair with a comb and then fashioning the plait. Avoid a parting of any kind, choosing instead to create a slight bump on the crown and then drawing your locks over your preferred shoulder. Another tip to make the braid appear thicker is to plait it loosely. Plait all the way to the end and tie it off with an elastic.
Makeup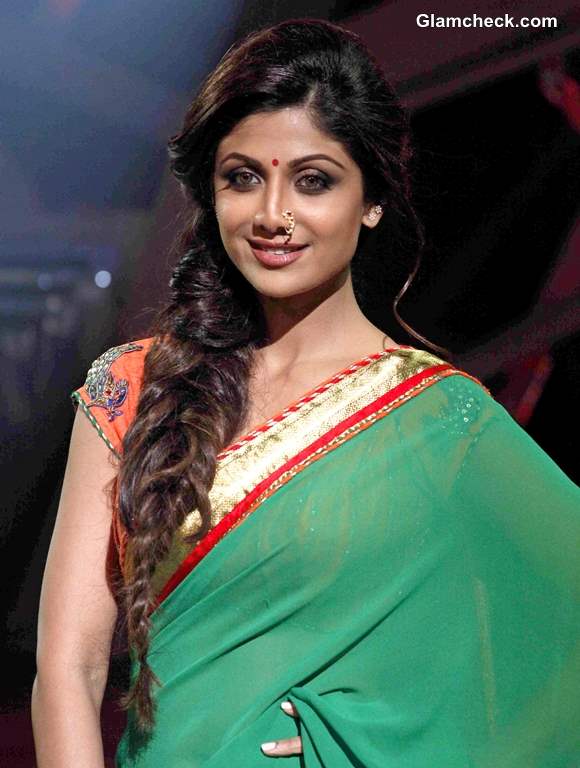 Republic Day Makeup Hairstyle – Get Shilpa Shetty Marathi Mulgi Look
The eyes are the defining feature of this look. So bring out your blackest eye liner and don't get stingy with your mascara. Use elongating mascara for better results. If you don't have naturally long lashes, give fake ones a try. Your cheeks should be moderately glowy and boasting a natural color. As for your lippie, go with a natural shade that you know looks good on you.
Accessories
The bindi really makes a difference to any ethnic look. While you're at it, try the nose stud too. You don't need to get a piercing as there are plenty of varieties of clip-ons available. Look for ones that have a traditional Maharashtrian design to make your look authentic.
Where to Sport the Look
Because this look can be interpreted as a little dressy, it's best to avoid it at work unless there's a theme day in the office or a national day celebration like Republic Day or Independence Day. However, it's perfect for a formal evening especially if the dress code is traditional like at a wedding or an Indian holiday celebration. If you're a college going gal, then this is a great look for traditional day or just when you want to take a break from your jeans.
Solaris Images