Bollywood's gorgeous Bipasha Basu was present at the launch of PC jewellers store on 18th January in Varanasi, India. The sparkling jewelleries apart, Bipasha was just stunning and radiant in her pink dress. A lot goes into achieving a diva look like hers, the perfect dress, accessories, hairstyle and make-up. If not the expensive designer wear, what we can achieve is Bipasha's make-up and hair tricks.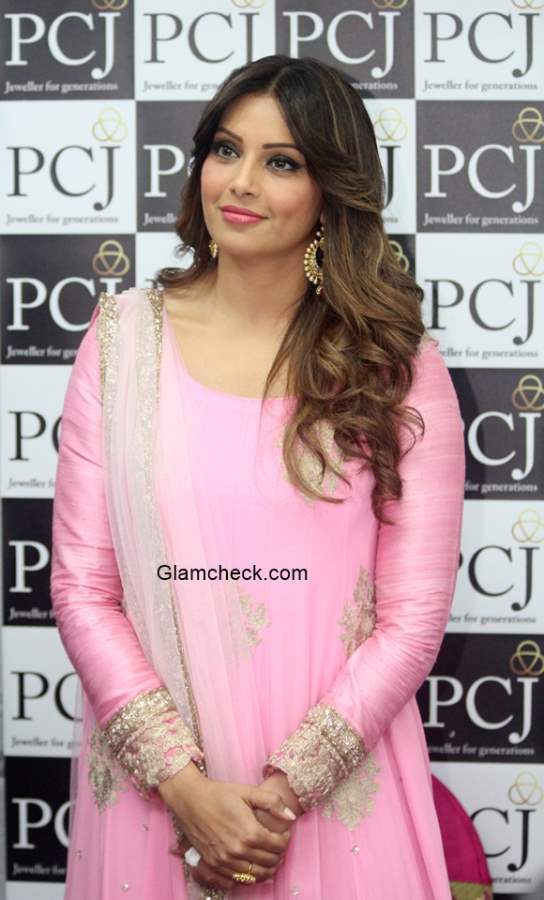 Makeup
Bipasha hardly ever goes wrong with her make-up and she pays attention to details. Her favourite look is the smokey eyes with natural lips; she loves pink with a coral undertone. Check out how she plays with her make-up to enhance the soft, feminine look of her pink anarkhali suit.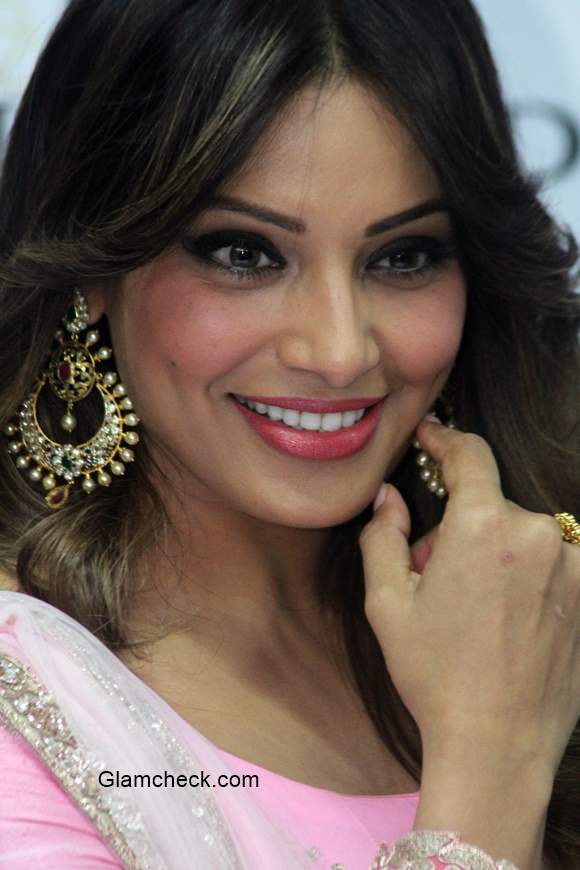 Bipasha Basu makeup and hair – during the launch of a PC jewelers store
The first and the hardest step to achieve Bipasha's flawless make-up, is mastering the art of applying foundation. Invest and take special effort in selecting the perfect shade and texture. Always make sure it suits your skin type and blends naturally to your skin tone.
The next step, which most people get it wrong, is the eyebrows. Bipasha's eyebrow is arched perfectly to suit her face structure and the shade blends with the color of her hair.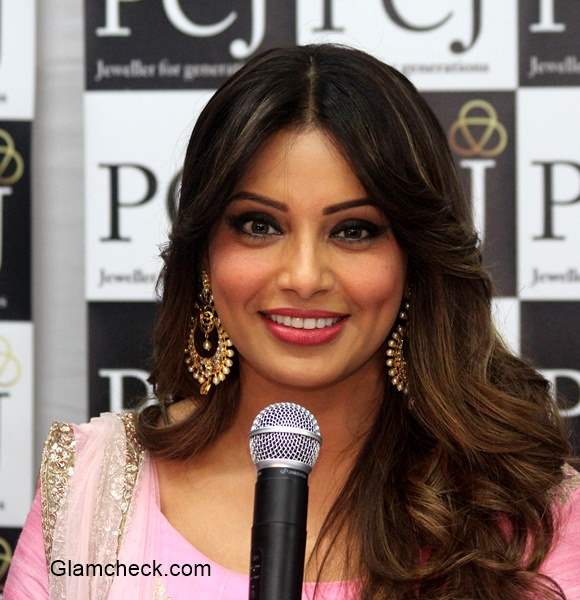 Bipasha Basu 2015 makeup
To achieve her favorite winged eye, first use a gel liner or pencil to roughly outline the wing. Follow the shape of your lower eye and draw a short line outwards and upwards to extend the natural shape of your lower lashline. Then pull it toward the crease of your upper eyelid to form a triangle. Now you can fill in the triangle with a black or dark grey eyeshadow and outline it with liquid eyeliner to achieve the perfect smokey eyes.
Bipasha often opts for false eyelashes, but you can just top your lashes with mascara.
Use a blush to give your cheeks a natural glow. Bipasha is blessed with a gorgeous dusky complexion, so tones with pink and orange look lovely on her.
Next finish off with a lovely pink lipstick, one with a hydrating, moisturizing and good SPF content. Pink is one color which compliments most skin tones.
Hair
Bipasha's naturally lustrous hair has been given soft highlights and lowlights to enhance her wavy curls. The lighter highlights are placed around the front lower sections of the hair to frame her face and just a touch of ribbon highlights are given on the top. We always recommend the work of a professional to achieve the perfect color.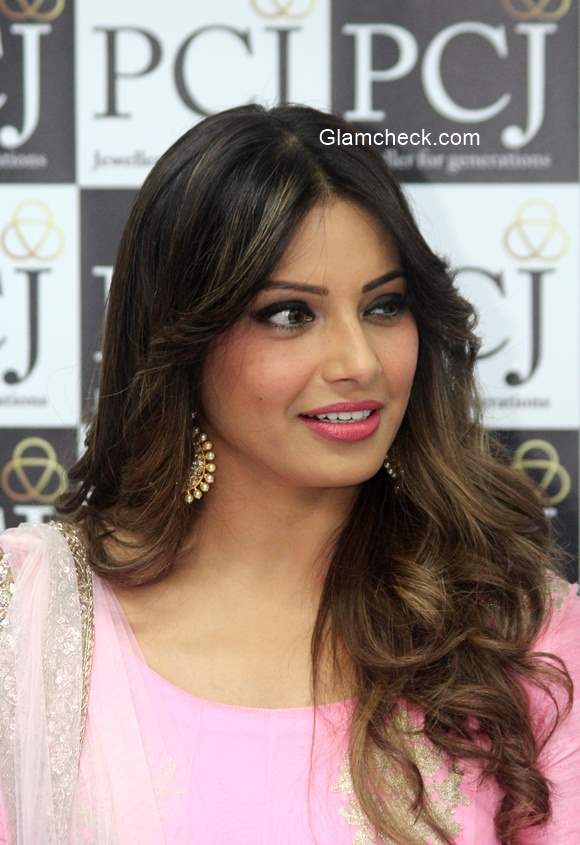 Bipasha Basu 2015 Curly Hairstyle
She gave her hair soft curls to the front lower section of the hair and the bangs that framed her face. This made sure she achieved a softer framing to the face.
Finally, the most important tip – Bipasha swears by healthy living and natural remedies to achieve naturally gorgeous skin and hair. To quote Bipasha, a healthy diet and lifestyle combined strict skin care and hair care routine is a must to achieve the ultimate diva look.
Bipasha Basu 2015
Solaris Images