Arzoo Govitrikar sported a rocking ensemble as she attended the launch of Brunch at Polpo Bar 'n' Cafe at Shatranj Napoli in Bandra, Mumbai.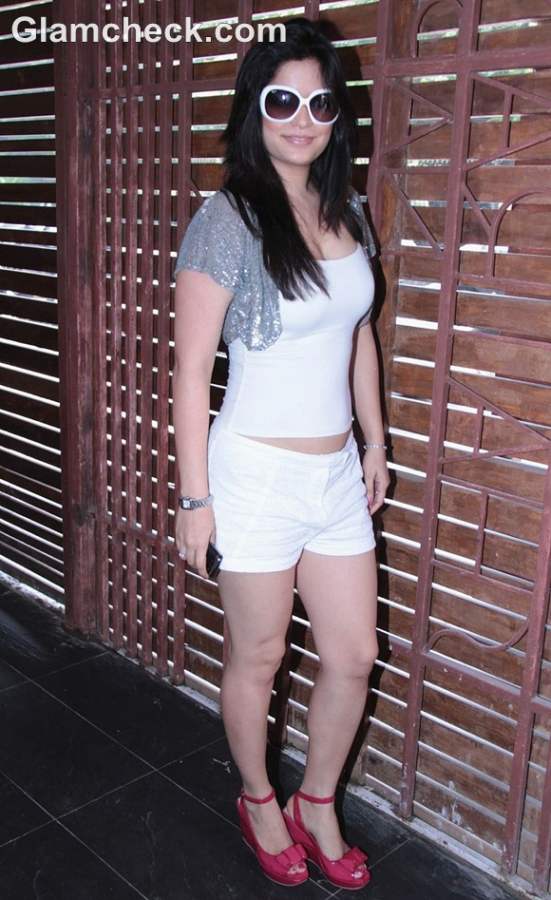 Arzoo Govitrikar 
She wore white shorts with a white tank top and a statement shimmery silver shrug, accessorizing with darling white-rimmed retro sun glasses, a silver watch and bracelet, and cute ankle-strap, peep-toe platforms with bow detailing. She completed her look with pink nail polish and natural makeup.
The look is fantastic. It's a stylish ensemble for both day and night, and the shrug can be removed to make the look more casual. There are so many interesting things about her outfit from the colored accents to the monochrome simplicity. And the latter is really what this look is about.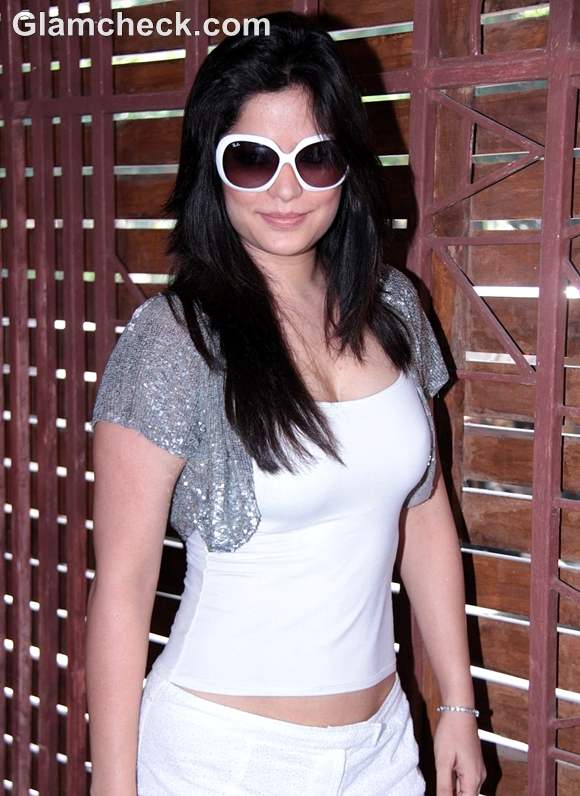 Arzoo Govitrikar at the launch of Brunch at Polpo Bar 'n' Cafe
The KISS principle applies here – Keep It Simple, Stupid. This is not a difficult ensemble to break down and emulate. The elements are very basic but the final effect is one that reflects style and know-how.
Get out a pair of shorts that is of a plain color, preferably white or black, with no print or discernible pattern. If it's summer time, you can go with brighter hues. For an all-season look though, you're safer if you stick to the basics. So once you have those shorts on, get out a tank top – a plain one again – in a matching color. Don't forget to wear the correct bra underneath to make your assets prominent. The snug top will be putting your figure on display so make sure nothing's sloppy.
Now that you have your main outfit in place, it's time to get down to the most important part – accessorizing. If you have a silver shrug jacket with sequins, that's perfect for both black and white outfits. You can also go with gold and metallic colors for night. The idea of the shimmery shrug is to add some zing, so make sure it stands out.
Wearing the right shoes is next on the agenda. Get out a pair of your most-girly heels with some color. Remember that this is supposed to be a fun summer look too aside from being glamorous. Your footwear can tell a lot about you so bring out those sunshiny yellows or hot reds to get your spunk on. Since the ensemble here is quite simple, you can safely go with a pair of shoes that has a bit of detailing, but just a bit. You don't want anything in the outfit to stand out more than the other.
Jewellery is not mandatory but it adds a nice touch of elegance if you wear one or maximum two understated pieces. Finish off with large bee sunglasses, the frames of which match your tank top and shorts. For fun, you can even contrast the colors of the frames to that of your main outfit. Don't forget to add other subtle accents of color with your nail polish too.
IANS