Denim on denim has managed to touch the fashion sensibilities of many, for a while now. There have been endless articles and styling tips over the web about this trend. But unless you brave it and try it on your own – you will never quite know how to work it right for that is what I found out with experience. Though having a picture of the look in mind, and the tips always help you move in the right direction.
The Inspiration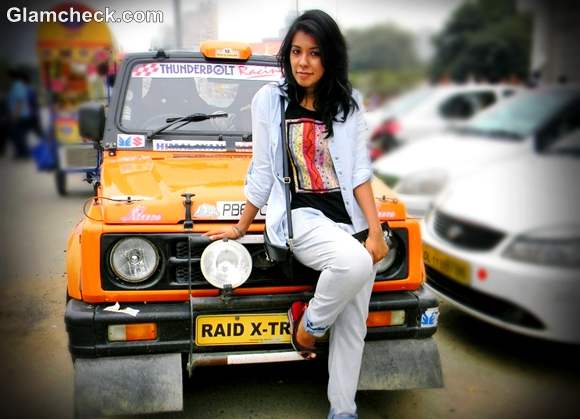 How to wear denim on denim – Glam Chic
Rihanna has been known to wear light denim shirts over a pair of darker denim pants. She has sported denim shirt with cut off torn shorts and thigh high leather boots. Denim jumpsuits, denim skirts – basically she has been everywhere. For me she often defines the epitome of rocker chic right now and hence the inspiration for today's look.
The look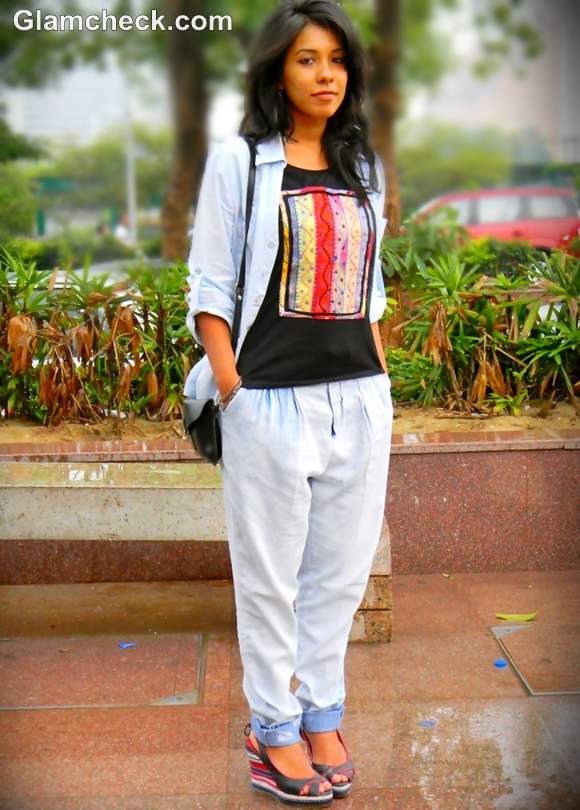 Taking denim on denim as channeled by Rihanna as my starting point, I decided to give the look a twist. It's a chance that I possessed two separates in similar washes and hues and hence clubbed them to give the effect of a casual denim suit.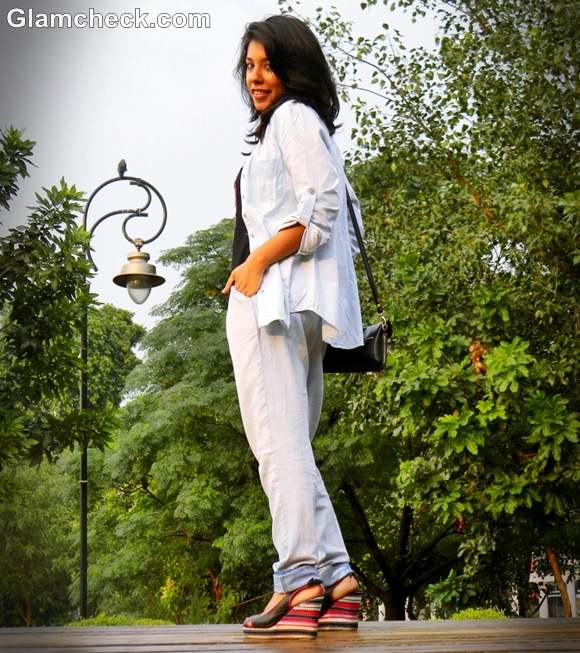 How to wear denim on denim tips
To get the look, you will need a lightly washed denim pants. Here I have chosen an anti-fit variety; I cuffed and rolled them to expose a darker inside. Devil sure is in the details!  Next I chose a black tee with a hand crafted patch. I personally dig the peculiarity of mixing Indian crafts with western silhouettes and hence the selection. To top it up, I wore a denim shirt over it with open buttons – to act more like a blazer. The cuffs of the sleeves are again rolled up.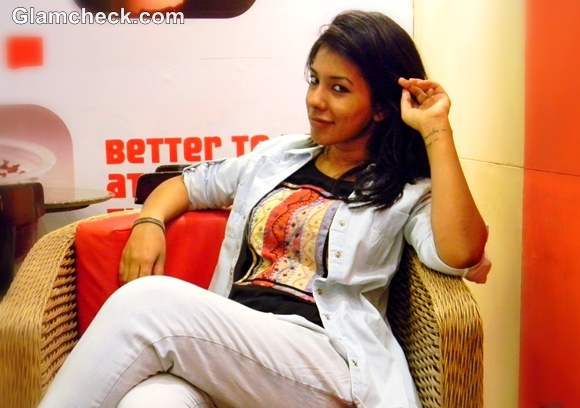 How to wear denim on denim
I am wearing
Anti-fit Denim Pants – Only
 Handcrafted Tee in Black – Tubhyam
Denim Shirt – Thrifted
Bag – Splash
One ear earring – Forever 21
Silver necklace worn as bracelet – Gifted
Wedges – Haute Couture
Accessories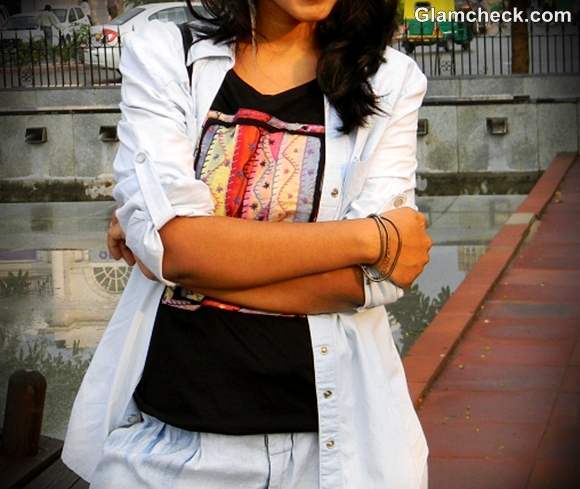 Denim on denim works great with silver accessories which I have used sparingly. I wore a simple chain around my wrist to form a bracelet. I often use this technique and it has served me well.
Next I polished the look with a 'one ear earring'. I think it's a beautiful and with the times idea when you want to wear a statement earring and just don't wish to go overboard. I have spotted it a lot internationally and was a must-have this season.
The emphasis in this look however, went to my wedges whose striped heels matched the tee well. It had all the colors of the look and hence was a perfect fit.
The black shoulder bag is my constant companion as it never ceases to be stylish. Another tip by my own experience, buy a perfect and classic black bag that fits all day-to-day belongings and you will never regret your decision as it will always come to your rescue.
Hair and Makeup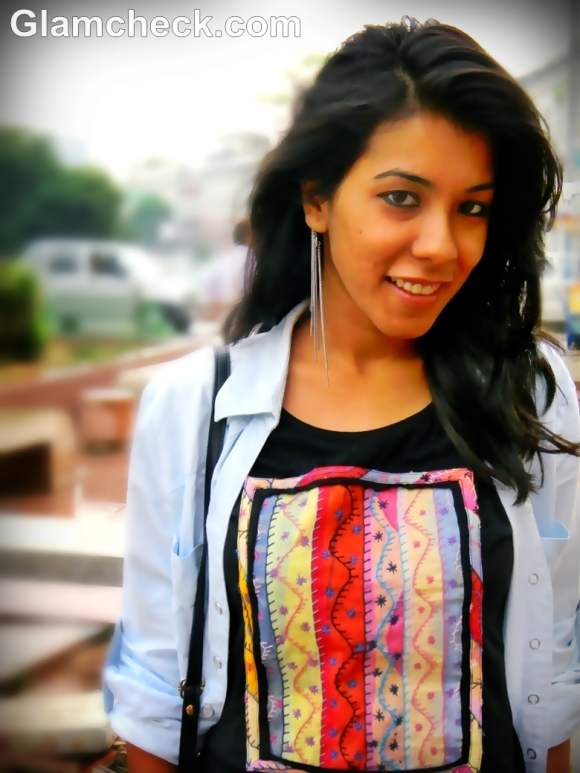 I usually wear my bangs neatly on one side. To notch up the wilder quotient I skipped the neat, finger combed my hair and parted opposite to my natural part. The result was no bangs and soft waves. It was a welcome change and went well with the look. If the length of your hair allow, you can go for a messy braid too.
Wing eyed makeup for the eyes and natural lip color over moisturized lips completed my look.
The trend works for all, what you need is an inspiration and a search through your wardrobe for the perfect separates that gel together. Similar washes, like the one I sported looks great when it is lighter in hue. Contrast of light and dark works very well too with black or nude accessories. Remember to keep it classic and pay attention to details.
Glamcheck